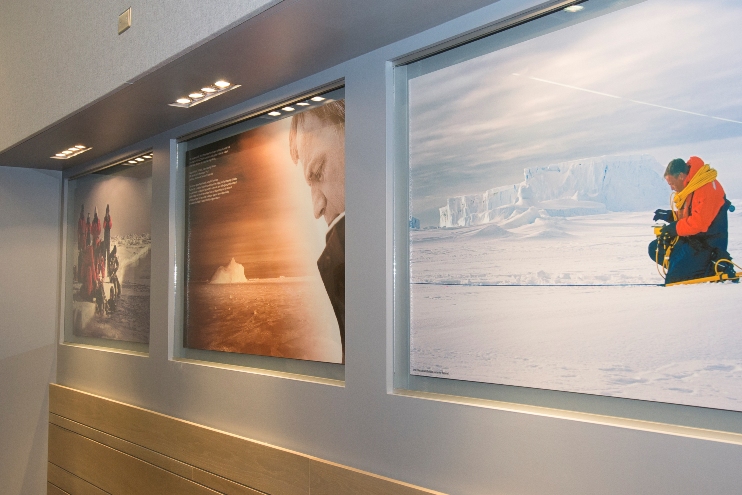 Dr. Klaus Hochheim Memorial Theatre opened at private ceremony
March 3, 2014 —
On Feb. 28, friends and family of the late Arctic researcher Dr. Klaus Hochheim gathered to celebrate his life's work and to dedicate and name the new lecture theatre at the Nellie Cournoyea Arctic Research Facility in his honour.
Dr. Hochheim was a respected climatologist and research associate with the Centre for Earth Observation Science (CEOS) at the University of Manitoba. His enthusiasm and passion inspired students and colleagues and he provided the scientific community and stakeholder of this science with critical insights into the Arctic System. It is not common to find someone with a scientist's mind and an adventurer's spirit and bravery, but Dr. Hochheim possessed both and it enabled him to study sea ice climatology and microwave and optical remote sensing in extreme Arctic conditions.
His research focused primarily on the latter — using space as a platform to study Earth. Distinguished Professor David Barber, his colleague, spoke about their early work together as graduate students in the 1980s. They were working for the Department of Fisheries and Oceans trying to take a census of walruses. Counting walruses by eye is difficult and somewhat unreliable since the animals lay almost atop each other, obscuring members.
Hochheim, an imaginative scientist, had an original idea: count the bodies from high above by examining their longwave radiation — their heat signature — something reliable and unobstructed by nuzzling neighbours. It worked, wonderfully.
A decade later, still only a student, he lent his talents to the Canadian Wheat Board (CWB). The Board wanted to estimate crop yields over a hundred million acres of land using satellite imagery. Thinking outside the box, Hochheim suggested to the team "Don't, look at what is crop but rather what is not crop." Twisting the approach like this allowed for much better reads. But more so, Hochheim realized that the satellites were only calibrated before their launch, and not again afterwards. The data were not reliable. Not to worry, he told the CWB, he developed an algorithm that adjusts for it and all previously collected data were salvaged. His career continued on this arc towards excellence as he investigated the nature of Arctic climate change and how our changing climate is linked to changes in sea ice extent, type and thickness.
Prior to the ceremony family and friends toured the new facilities, seeing the laboratories that helped him leave an enduring and sterling academic legacy. Later, they were presented with a commemorative book compiling his scientific peer reviewed articles. "A memento from his academic family to his biological family," Barber said as he presented it to Martha Hochheim.
At the end of the event, Dr. Hochheim's wife, three children, daughter-in-law, and 2 grandchildern, alongside his close colleague Greg McCullough, unveiled the lettering of the new theatre. Then University of Manitoba President David Barnard and Norman Halden, Dean of the Clayton H. Riddell Faculty of Environment, Earth, and Resources, unveiled the plaque that will adorn the Dr. Klaus Hochheim Memorial Theatre in the Nellie Cournoyea Arctic Research Facility.
It reads:
 We dedicate this theatre to the memory of

Dr. Klaus Hochheim

(1958-2013)

who lost his life while conducting

arctic climate change research on

behalf of the peoples of Manitoba,

Canada and the World
Research at the University of Manitoba is partially supported by funding from the Government of Canada Research Support Fund.