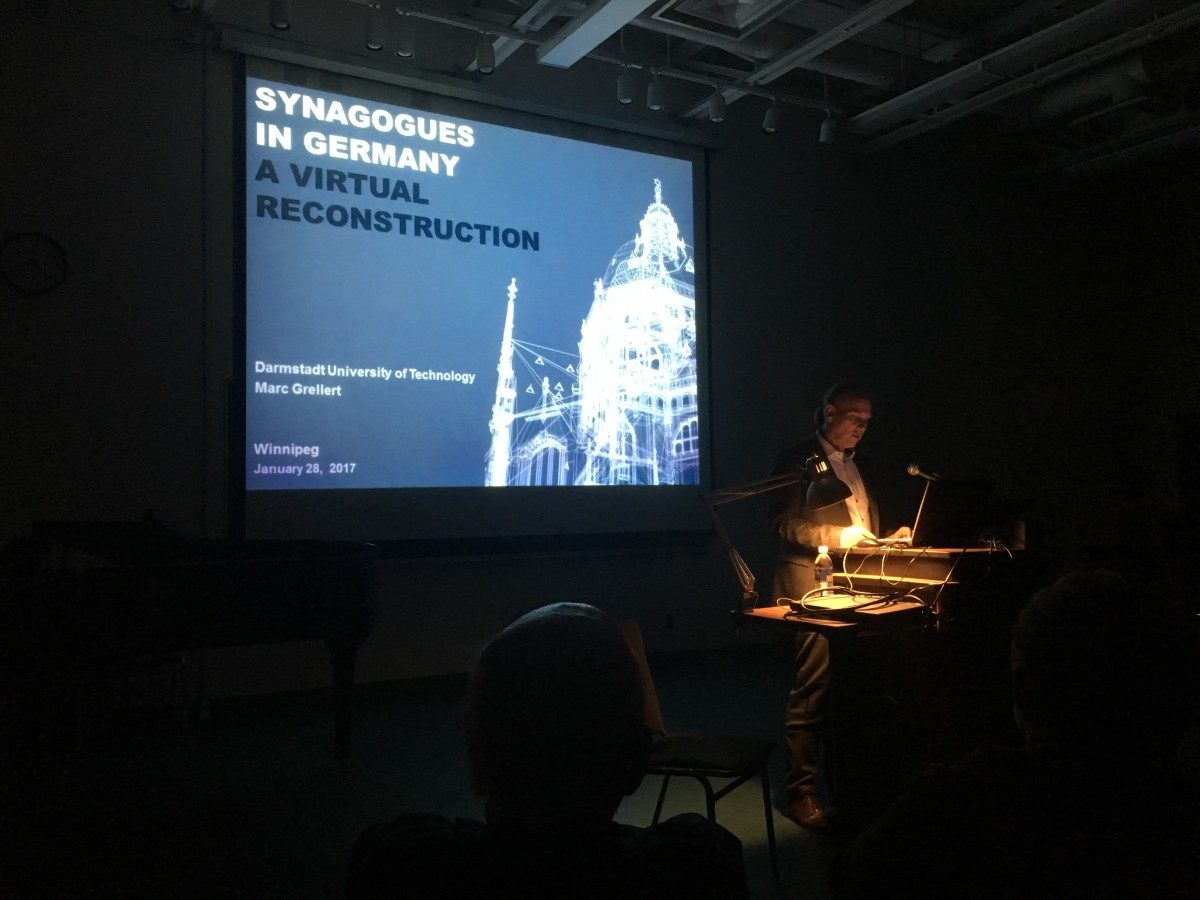 Doors Open on Virtual Synagogues Exhibit
February 2, 2017 —
On Saturday, January 28 Stephan Jaeger and Adam Muller hosted the opening of the exhibition they have worked on bringing over for several months. Previously covered in another UMToday article, the exhibit is entitled Synagogues in Germany: A Virtual Reconstruction and creates a method of understanding the nature of the buildings that were destroyed during the Reichspogramnacht in 1939. The event was well attended by dignitaries from the academic community at the University of Manitoba, and the Jewish, Mennonite, and German-Canadian communities, as well as members of the general public.
Adam Muller's remarks at the opening contextualized the events remembered in the exhibit, the destruction of Synagogues in Nazi Germany and their place in Raphael Lemon's concept of cultural genocide. Other speakers at the opening included Peter Fahrenholtz, Consul General for the Federal Republic of Germany; David T. Barnard, President and Vice-Chancellor of the University of Manitoba and Belle Jarniewski, chair of the Freeman Family Foundation Holocaust Education centre. The exhibit was introduced by a formal lecture on the creation of the exhibit by Marc Grellert of the Technical University of Darmstadt, who emphasized the importance of digital and online media in working through and remembering our past.
Following the introductory greetings and lecture, attendees were the first to see the exhibit installed in Canada. Greg Smith, associate dean of arts responsible for internationalization said that the exhibit "reminds us that the attack on Jewish religion, culture and community by the Nazi regime also left permanent holes in the physical landscape of Germany. By reconstructing the synagogues virtually and in such detail, visitors are able to experience a kind of cultural time travel which both celebrates what was, and reiterates what was lost. It's truly impressive."
The exhibit remains open until March 4, 2017, hours and available exhibit programming can be found on the events calendar here.