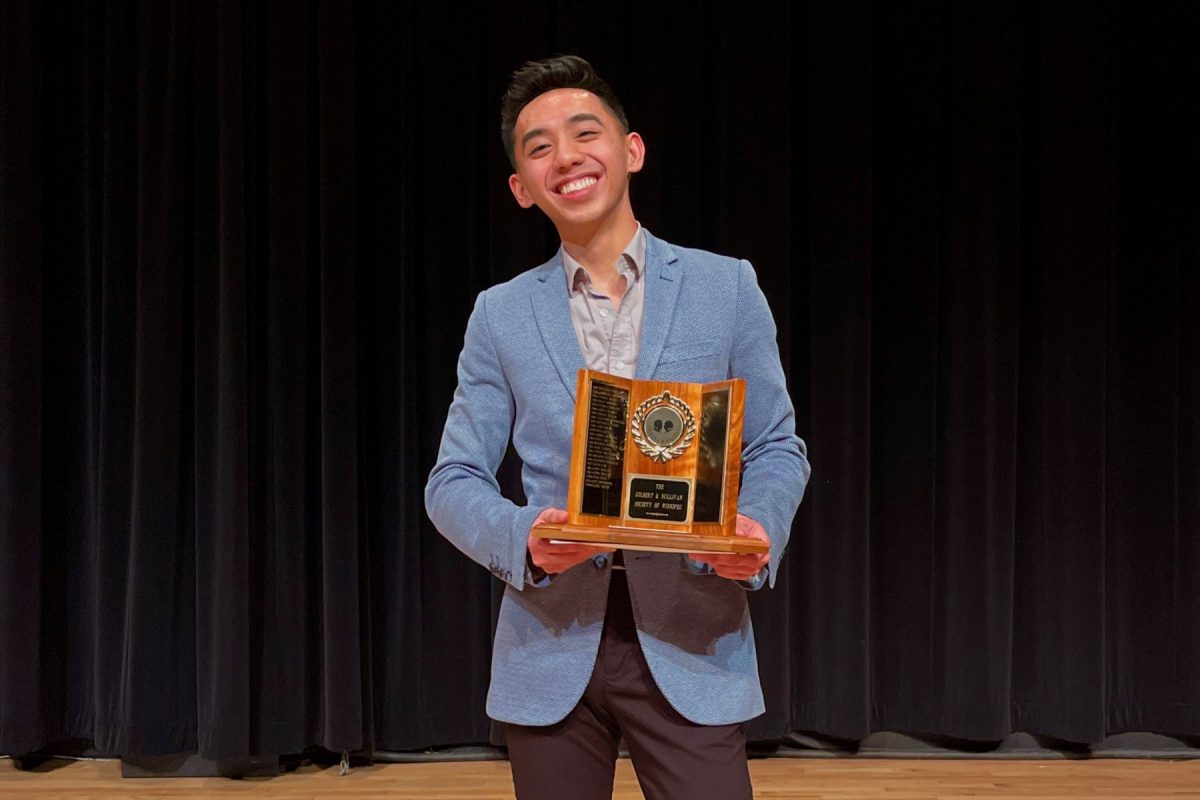 Don't Cry for Onello Bahingawan
The Desautels Faculty of Music's Onello Bahingawan won over the Winnipeg Music Festival judges with his performances of "Cry For Me" and "I Don't Care Much."
May 23, 2023 —
Being a music student is a lot of work. The coursework, ensemble rehearsals, masterclasses, major practical study, and practice, practice, practice can be a lot to juggle, and adding extracurriculars to the schedule can feel daunting.
Not for Onello Bahingawan, though. While many Winnipeg Music Festival competitors focused on one category to compete in, Onello competed in FIVE, and that jam-packed performance schedule paid off!
The journey to becoming a musician
Onello's family immigrated to Canada from the Philippines when he was young and settled in Weyburn, Saskatchewan. It was clear from a young age that Onello had a gift for music, and he loved pop and R&B music.
"There are videos of me from when I was 7 performing songs from Adele, Bruno Mars, Sam Smith, and anything else that was current at the time," says Onello.
He jumped at every opportunity to perform, whether it was singing at talent competitions, fundraisers like TeleMiracle, performing with his high school dance team, playing piano for festival, and even singing to residents in the care homes where his mother worked. However, in high school, a new world opened up to him.
When he was 15, Onello joined SaskExpress, a musical theatre group based in Regina, and immediately became passionate about the genre.
"I fell in love with the rehearsals, travelling, and touring during my first SaskExpress contract," he says.
From that point onward, he knew that he would pursue a career in music.
"My best experiences in high school always took place in our choir room," says Onello of the care he took in planning his future.
He knew he wanted to balance a stable career in music with the flexibility to audition and perform, and ultimately chose to pursue music education, due to the support he himself had received in his formative years.
"My choir teachers inspired me and made me believe in myself musically, and I would love to instill that same passion in music for other students," he says.
Onello enrolled in a university music education program elsewhere in Manitoba, but ultimately decided that he wanted to be in a city and faculty with more opportunities to perform, so he transferred to the Desautels Faculty of Music. As a result, many doors were opened to him.
Under the wing of Donna Fletcher, the director of the UM Musical Theatre Ensemble, an instructor of voice in the Desautels Faculty of Music, and Onello's major practical study instructor, Onello applied his outstanding work ethic to building his talent. Fletcher was immediately impressed.
"Through this past year Onello has progressed rapidly into a versatile and promising performer gifted with an ability to sing an expansive range of music with a sensitivity and skill that is exciting," says Fletcher.
"Onello is growing into an artist of huge versatility and promise," she says.
With new opportunities in a new city, Onello entered the Winnipeg Music Festival, selecting five categories for competition.
"I chose to enter into five classes, which I'm getting the sense now that that's kind of out of the norm," he told Discover Weyburn, which recently wrote an article about his success.
"I thought it was what everyone else was doing, so I panicked when my other colleagues started mentioning they were only doing one or two," he told the news outlet.
Preparing for the festival
The festival tends to take place at a busy time in university music students' lives, when university ensembles are usually gearing up for their final performances of the year. At the time, Onello was also preparing for the University of Manitoba Musical Theatre Ensemble and the University of Manitoba Choral Ensembles spring performances, so preparing for five classes of competition was a lot to add! How did Onello manage it?
"A lot of time management!" he admits. With careful attention to his calendar and reminders app, he knew exactly where he had to be, when to practice, and how long it would take him to get to his many rehearsals, classes, and performances.
Onello also got by with a little help from his friends.
"I had a lot of help from Donna Fletcher, who has been an absolute joy to work with," he says.
"We would meet every Friday for our lesson, and I always leave the lesson feeling energized and inspired, even on the days when it felt too hard to practice" he says of his time in Fletcher's studio.
In addition to his work in the studio, Onello was thankful for his collaborative pianists.
"I had a lot of help from Anica Warkentine, Dexter Furber, and Leanne Regehr Lee, who wonderfully played the piano for me," he says. Both Anica and Dexter are students in the faculty, and Leanne is an alumna and frequent collaborator in the Desautels Faculty of Music.
"I also had a lot of support from my friends and partner who would be there when I felt like I couldn't handle what life would throw at me!" he says.
Show time
For the musical theatre classes he entered at the WMF, Onello ultimately performed "Cry For Me," from Jersey Boys, and "I Don't Care Much," from Cabaret.
When it came to the results of the competition, he wasn't sure what to expect.
"The finals night for the musical theatre portion of the festival was filled with so many talented people," he says.
"I had such a fun time hearing other people's work, and that was the highlight [of the competition] for me," he says.
The time came to announce the winner of the Gilbert & Sullivan Society Trophy, awarded for the most outstanding performance in a competition of winners of Gilbert and Sullivan classes.
Onello had won.
"I remember thinking that they must have called the wrong name for Gilbert & Sullivan [when it was announced]," he says.
Many performers spend years vying for the prize. That Onello received it on his first foray into the Winnipeg Music Festival is remarkable.
While Onello may have been shocked at his win, it came as no surprise to Donna Fletcher, whose students always do well in the category. In the past few years, alone, Fletcher's students Sarah Luby, Julia Ulayok [Davis], and Claire Wright have all taken home the Gilbert & Sullivan Society Trophy.
"Onello is intuitive, focused, incredibly musical, adept in his ability to learn, and most important of all, an honourable and thoughtful colleague," Fletcher says.
"I have been endlessly delighted by Onello's fearless approach to his work and by his remarkable dedication. He is never afraid to work hard, researching his repertoire with care and a wonderful curiosity that puts more experienced artists to shame. Onello is a motivated student who has dedicated himself to becoming a multi-faceted artist," she says of her student.
In addition to winning the Gilbert & Sullivan Society Trophy, Onello was named runner-up for the prestigious Rainbow Stage Trophy, awarded for the most outstanding performance in a competition of winners of Musical Theatre classes, another huge honour.
No time to stop
Onello was thrilled to have been the recipient of the Gilbert & Sullivan Society Trophy, and the runner-up for the Rainbow Stage Trophy, but there wasn't much time to sit down and take it all in. He was in the middle of final rehearsals for the UM Musical Theatre scenes production Love Thy Neighbor, where, in addition to his work with the full ensemble in scenes from Oklahoma!, Mamma Mia, and Love Thy Neighbor, he gave a showstopping turn as resident groundskeeper Dickon from The Secret Garden, performing "Wick" alongside Sophia Cap's lovely performance as the uprooted orphan Mary. In addition to his phenomenal singing, his acting and theatricality was superb.
"I have a lot of favourite moments [from the show], but my most memorable would be the 'attempts' at Dickon's accent!" says Onello of the role. (Dickon has a broad Yorkshire accent.)
Following the two-night show, Onello then had to work on the final rehearsals for The University of Manitoba Choral Ensembles production of Journeys, where he performs with the University Singers. The ensemble was performing in five different languages, which added layers of complexity to the preparation.
"The Suite de Lorca song cycle we performed was probably the most difficult piece," he says.
"It wasn't the language [Spanish], but the harmonics and melody that got us. It involved a lot of unconventional melodies that involved sirens, and almost screech-like noises enharmonically layered all together to create this soundscape. It was quite difficult, but it was so fun to perform once we'd mastered it!" he says of the experience.
On the night of the final concert, which was an ethereal and eclectic mix of cultures, languages, and themes, the piece that resonated most with Othello wasn't one of the ones he was performing, but one that connected him to his heritage.
"One of my favourite pieces was the Filipino lullaby [Ugoy Ng Duyan/Rocking the Cradle] the Concert Choir sang," he says.
"It's so awesome to hear Tagalog within the faculty!" says Onello.
From the Philippines to Saskatchewan to Manitoba to the Desautels Faculty of Music to the stage, Onello has had a long and winding journey thus far, and he has been his own light on that path.
"He is a person who creates a sense of joy in every lesson or rehearsal hall and makes everyone feel better for sharing the space with him," says Fletcher.
With all the places in the world he could have ended up, we're so happy and grateful he chose us for this part of his journey.
Congratulations, Onello!