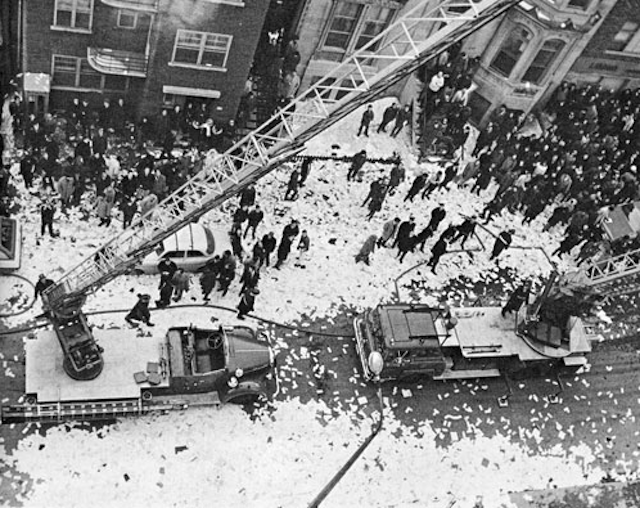 Documentaries recount historical experiences of Black Canadians
February 11, 2019 —
Two documentary films will be screened at the University of Manitoba during Black History Month.
A screening of the NFB feature documentary, Ninth Floor, about the George Williams Riot protest in 1969, takes place February 11. Called a watershed moment in Canadian race relations, the protest began when a group of Caribbean students at Sir George Williams University (now Concordia) lodged an official complaint of racism against their biology professor, which was dismissed by the university. Eventually the two-week peaceful protest turned into a full-scale student uprising, with students occupying parts of the Hall building, including the computer lab on the ninth floor.
On February 11, 1969, after negotiations between the student protesters and the university broke down, a fire broke out and the university's computer was destroyed. Millions of punched computer cards and other documents were sent flying out the windows, onto the counter-protesters chanting racist slogans in the street below, littering de Maisonneuve Boulevard and surrounding streets.
Montreal police and riot squad officers stormed the computer room, arresting 97 people.
Another film, We are the Roots: Black Settlers and their Experiences of Discrimination on the Canadian Prairies, will be screened February 28. It tells the story of a wave of African American immigrants who moved to Alberta and Saskatchewan between 1905 and 1912 to escape slavery, racism and persecution in the United States. Taking advantage of Canada's offer of 160 acres of land for a $10 fee, 1,000 to 1,500 individuals moved to the Prairies and helped develop several settlements throughout the provinces. Through the stories of 19 descendants of the original settlers, We are the Roots focuses on the experiences of discrimination these individuals encountered while living in the rural communities and in Edmonton.
A Shiloh Centre for Multicultural Roots film, directed by Jenna Bailey in collaboration with David Este.
Winner of Four Prestigious Awards:
· 2018 Governor General's History Award for Excellence in Community Programming
· 2018 Alberta Heritage Awareness Award
· Oral History Association's 2018 Elizabeth B. Mason Award and Oral History in Nonprint Format Award
· "An intriguing and moving new documentary" Paula Simons, Edmonton Journal
Black History Month – Screening of NFB film, The Ninth Floor
February 11
6:00 to 8:00 p.m.
Director Mina Shum makes her foray into feature documentary by reopening the file on a watershed moment in Canadian race relations – the infamous Sir George Williams Riot.
Registration is required to attend but is free. Register here.
For details about The Ninth Floor visit the film's webpage.
Contact Myrna Donald (204-474-9542); Myrna [dot] Donald [at] umanitoba [dot] ca for more information about the screening.
We Are The Roots Film Screening
February 28
8:00 to 10:00 p.m.
GSA Lounge, 221 UMSU University Centre
Fort Garry Campus, The University of Manitoba