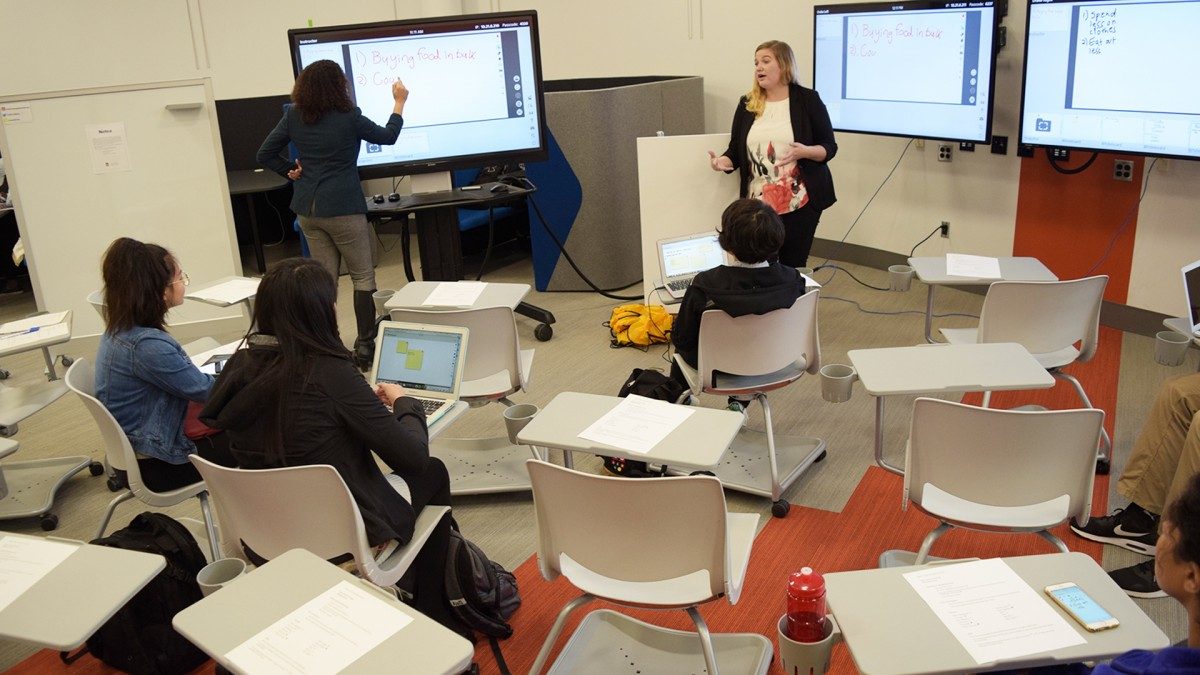 Digital active learning space launched on campus
Demos of new space take place Oct. 5 and 6
October 3, 2017 —
The world's first ever active learning space featuring Sony Vision Exchange will be launched by UM Libraries at the Albert D. Cohen Management Library. Sony Vision Exchange is a new collaborative digital learning solution.
The active learning space transforms the student learning experience by allowing peer-to-peer learning on BYOD (Bring Your Own Device) as well as opportunities for the instructor/librarian to offer real-time feedback to students on class-based assignments or exercises. Unlike a traditional lecture style classroom, the digital platform affords dynamic group discussion and instructor feedback in a flexible seating environment.
Collaboration takes place through pod-sharing, a feature of Vision Exchange that allows groups of students to mirror their personal work from their device to one of three display monitors and work through problems in a visual manner. Students have the ability to highlight and comment on their collaborative work or take snapshots of the work for later review.
The instructor/librarian can control which group content is being viewed across all monitors and can make annotations and comments. This top-level feedback may be shared across all group pods or narrowed down to a specific pod requiring more guidance from the instructor.
Afra Bolefski, acting head of the Albert D. Cohen Management Library, Mary-Jo Romaniuk, university librarian and Robert Legal, supervisor, learning technology solutions, infrastructure development, technology services – IST, were responsible for bringing the system to the U of M.
Bolefski notes that the active learning setting is the perfect spot to adopt pedagogical methods such as the flipped classroom or problem-based learning and could provide opportunities to enhance experiential learning.
Demos of the new space will be offered during the fall term break in 206 Drake Centre: Oct. 5 at 10 a.m. & 2 p.m. and Oct. 6 at 10 a.m. Register here.
Please contact Afra Bolefski at Afra [dot] Bolefski [at] umanitoba [dot] ca for more information.