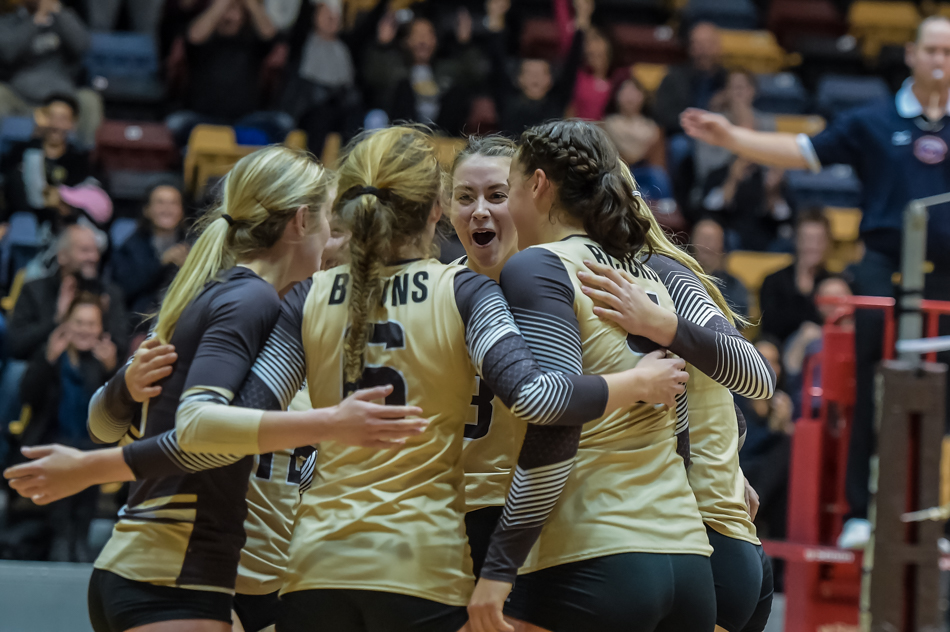 Dig this – Bison Volleyball back in business this weekend
Men's and women's teams kick off their 2017-18 season
October 17, 2017 —
Bison volleyball teams open their season at home this Friday night against the Brandon Bobcats. Women start off the night at 6 p.m. with the men to follow at 7:45 p.m., all matches are played at Investors Group Athletic Centre.
Tickets are available online and at the gate for $10 (adults) and $5 (senior). U of M students and fans 17U are free.
Check out the Bison Instagram channel, @umbisons for takeovers by Laura Findlay on Thursday and Kevin Negus on Friday.
For full schedule and ticket information, visit gobisons.ca.
Women's volleyball – Winning experience returns to Bison for 2017-18

By Carter Brooks
The 2017-18 season will be a very unique for the Bison women's volleyball team. Following a season in which Head Coach, Ken Bentley took a much deserved reseach/study leave, the 33-year bench boss will be back in the fold for 2017-18. And he's not alone.
Also returning for the Bisons will be long-time veteran setter, Brittany Habing, and veteran middle blocker Emily Erickson. Both were part of a national championship won by the Bisons in 2013-14 season. After some time away from the game of volleyball, the two former Bison student-athletes independently felt the call to return to the team as a way to finish off their university careers.
Last season that volleyball program experienced some challenges with a young team. However, with the return of coach Bentley, a new mindset seems to be floating through the air.
"Ken is undeniably focused on our team and is a true believer in the benefits of our training," said Erickson. "He reminds us that every training session, practice, and game is crucial to our overall success."
"The competitive side of Ken never simmers," added Habing. "I love playing for coaches like that. I think that is why he and I get along so well, because we both have that competitive streak to win. If this year is going to be anything like previous seasons with Ken, there will be a lot of winning going on here."
Men's Volleyball – New Era ahead for Bison men's volleyball
By Carter Brooks
A new crop of faces will line the court for the Bison men's volleyball team this fall. The pressure is off, and the rebuild has begun.
After a historic 2016-17 season that saw a 20-game conference winning streak and a birth at the Canadian Nationals, the 2017-18 new-look men's volleyball team will be ready to strike, or as they say – spike.
Led by Head Coach, Garth Pischke – who is entering his 36th year behind the bench – veterans, Adam DeJonckheere and Dustin Spiring, and a boatload of new recruits, the upcoming season is sure to be an enjoyable experience for all.
"There is no more pressure as we have graduated an incredible nine players from last year's team," said coach Pischke. "I don't think many people are going to expect a lot out of us this year. But I do think that the improvement that we are going to show between September and April in my mind is really going to blow a lot of people away; I think that we are going to surprise a lot of teams this year."
Pischke knows the game of volleyball better than anyone, and if he says that it will be a surprising year, you better believe it.
Two players who are expected to serve in key leadership roles this season are outside hitter and co-captain, DeJonckheere, and middle, Spiring. The two former St. Paul's Crusaders have now been to the U SPORTS Nationals with last year's team, and hope to provide some veteran experience this season as the team hopes to grow in this transition stage.