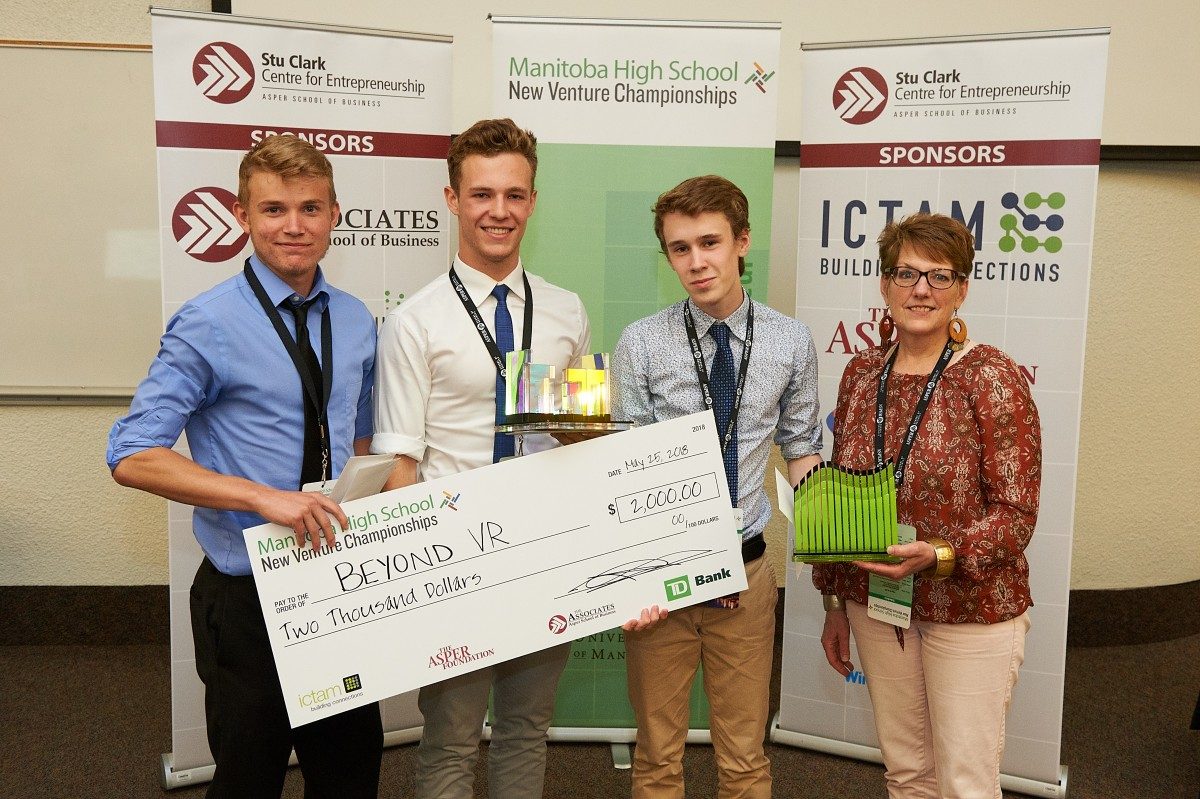 Developing future entrepreneurs
Team from St. Paul's High School wins first place at Stu Clark Centre competition
June 13, 2018 —
The Stu Clark Centre for Entrepreneurship recently hosted over 80 high school student entrepreneurs from across Winnipeg and the Province, for an exciting one day event and the opportunity to compete for thousands of dollars in scholarships and cash prizes based on their new business ideas they have created.
The competitors can compete in up to four events including: a business plan presentation, a two minute idea pitch, a trade show competition and a logo competition. This year Jonah Perron, Ian Willison and Eric Steinke from Beyond VR (St. Paul's High School) took home 1st place in the Business Plan Presentation, 1st place in the Trade Show as well as winning the Best School in Manitoba award. Beyond VR is a multi-faceted virtual reality (VR) learning tool to help people improve their public speaking abilities and delivery of presentations.
Perron says, "public speaking is the number one fear in the world and the best way to overcome it is through practice and we make practicing fun, easily accessible, convenient."
At the moment, Beyond VR is already making waves. It has now been used in 138 countries by over 4,000 people through organic growth and word of mouth. Some of the team's users include students and professors in universities around the world including Syracuse University and Marshall B. Ketchum University. Beyond VR is also excited to now officially partner with Oculus as part of the company's Start program. This partnership will help connect people with experts in the VR community, and receive early access to new hardware such as the new Oculus Go.
The first place prize of the business plan presentations won a $2,000 scholarship for each student on the winning team. Judges of the event included local business professionals from a broad range of public and private sector organizations. These judges gave valuable feedback and advice to students based on their experiences in the workforce.
2018 Manitoba High School New Venture Championship – Competition Winners are:
Business Plan Competition
1st Beyond VR – St. Paul's High School
2nd Heart – Nelson McIntyre Institute
3rd Belle Visage – Portage Collegiate Institute
4th All Season – Fort Richmond Collegiate
Trade Show Competition
1st Beyond VR – St. Paul's High School
2nd Heart – Nelson McIntyre Institute
3rd LLYR – St. Maurice School
Idea Pitch Competition
1st Laser Engraved- Kelvin High School
2nd Thread Tweed – Kelvin High School
3rd Get Juiced – Birtle Collegiate Institute
Logo Competition
1st Ethereal- Fort Richmond Collegiate
2nd LLYR – St. Maurice School
3rd Social Clothing – Niverville Collegiate Institute
Best School in Manitoba
St. Paul's High School