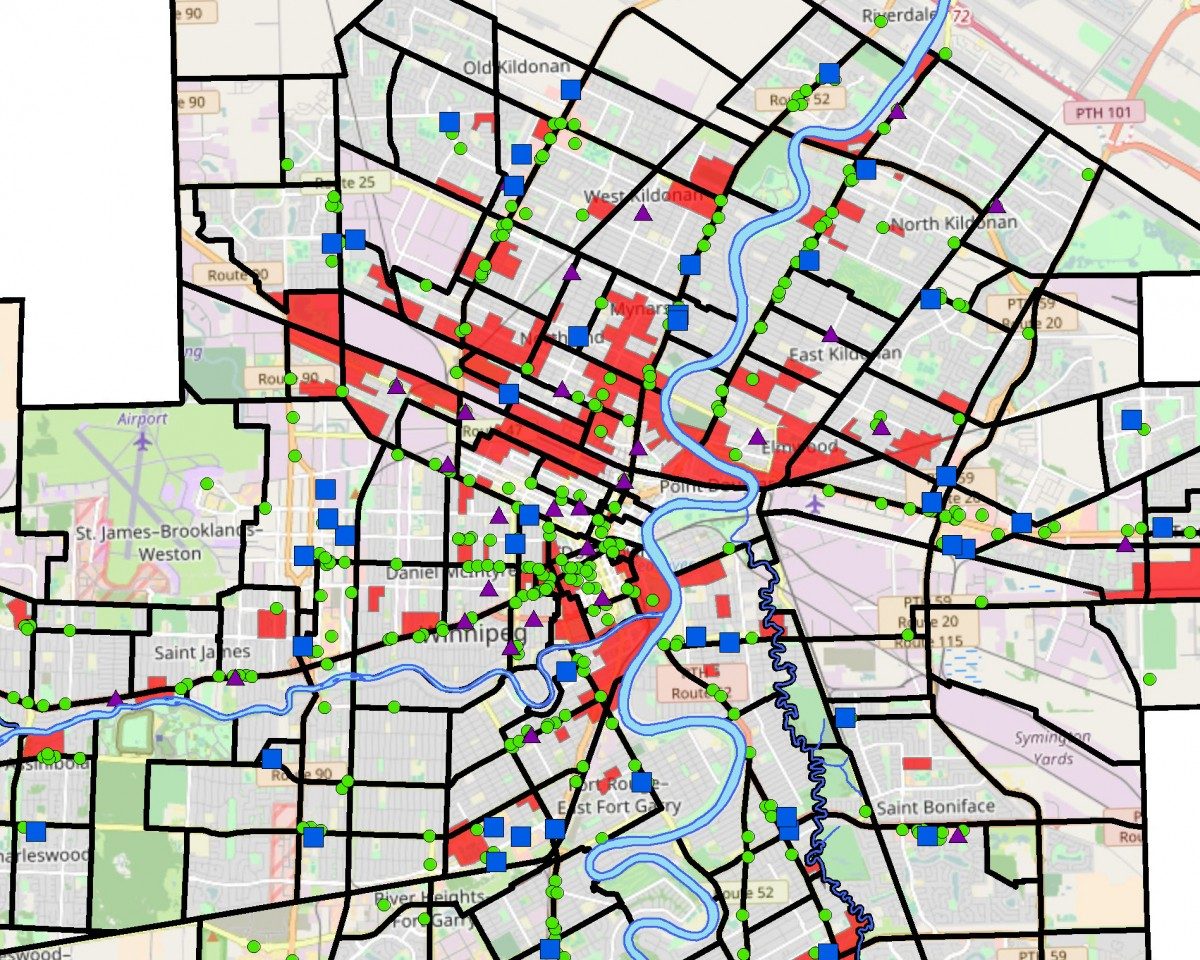 Deserts within our urban food system
February 22, 2018 —
That food deserts exist in Winnipeg was made abundantly clear in the first Food for Thought seminar of the newly formed Food Systems Research Group at the University of Manitoba. Kicking off the series with a topic close to home, Dr. Joyce Slater [MSc/92 PhD/09], associate professor in Food and Human Nutritional Sciences, challenged the audience of students, academics and community members to think critically about the accessibility of nutritious food in different Winnipeg neighbourhoods.
Slater is a registered dietitian who worked in various public health organizations for 18 years before obtaining her PhD and joining the University of Manitoba, bringing to her academic position first-hand knowledge of the nutritional struggles faced by individuals and groups in our city. She presented findings of her recent research collaboration with Food Matters Manitoba and the Winnipeg Regional Health Authority on Food Deserts in Winnipeg, published in the journal Health Promotion and Chronic Disease Prevention in Canada.
WHAT IS A FOOD DESERT?
If you are new to the term, "Food desert is not when your son opens the fridge and says 'There's nothing to eat!'" laughs Slater. The term itself can have many definitions, but in relation to this study it was defined as "an urban area where low income residents have limited or no access to retail food establishments with sufficient variety at an affordable price". Food deserts have emerged over the past 20 years as spaces of concern for communities, public health authorities and researchers because of their potential negative impact on dietary quality and subsequent health outcomes. The idea is that if people do not have access to quality affordable food, they may be forced to turn to convenience stores where prices tend to be higher and there's a preponderance of junk food.
For the study, data from the 2011 Statistics Canada Census and Manitoba Centre for Health Policy were used to map out Winnipeg based on five income quintiles. The lowest income quintile is concentrated in the downtown region, but surprisingly, low-income neighbourhoods are present throughout the city. Adequate retail food establishments were classified into national chains (e.g. Superstore) and full service local grocery stores (e.g. Food Fare). Food deserts were identified where the lowest income groups were located more than half a kilometre from either national chain stores or both of these food retail types.
Results showed that food deserts exist primarily in the city centre, but are also found throughout Winnipeg, with 14.5% of Winnipeg's population – 100,000 people – living in low income areas situated more than half a kilometer from a national food chain. When proximity to either a national chain or full grocery store is considered, more than 60,000 people (or just under 10%) are still affected.
LISTENING AND LEARNING
A 30-minute discussion session followed Joyce's presentation. A series of exchanges around solving the issue of food access brought up another food construct – food mirages, where neighbourhoods have sufficient grocery stores within this ½ km range, but accessibility is still a challenge for financial reasons – people don't have sufficient income to afford enough healthy food. Here Slater emphasized why it is important for researchers and community organizations to go out and engage with community members to learn about their issues – which they are doing. Their approach to this study produced a good knowledge translation tool to enable dialogue with the community to understand what is going on with food.
As a member of the new Winnipeg Food Council, Joyce is leading by example, bringing forward research and ideas to respond to the food needs of our communities. "As a city, we should be proud of this step and look forward to tackling topics of shared interest such as food education, urban agriculture and food waste," concludes Slater.
FOOD FOR THOUGHT KNOWLEDGE SHARING SERIES
What is the Food Systems Research Group? The FSRG is an umbrella group fostering creation of multi/trans-disciplinary collaborative research to advance the theme of Safe, Healthy, Just and Sustainable Food Systems.
To receive future notices from the Food Systems Research Group send an email to foodsystems [at] umanitoba [dot] ca to join our mailing list.
Tanvi Vakil is a science student in her final year, currently helping with communications with the Food Systems Research Group and the National Centre for Livestock and the Environment.