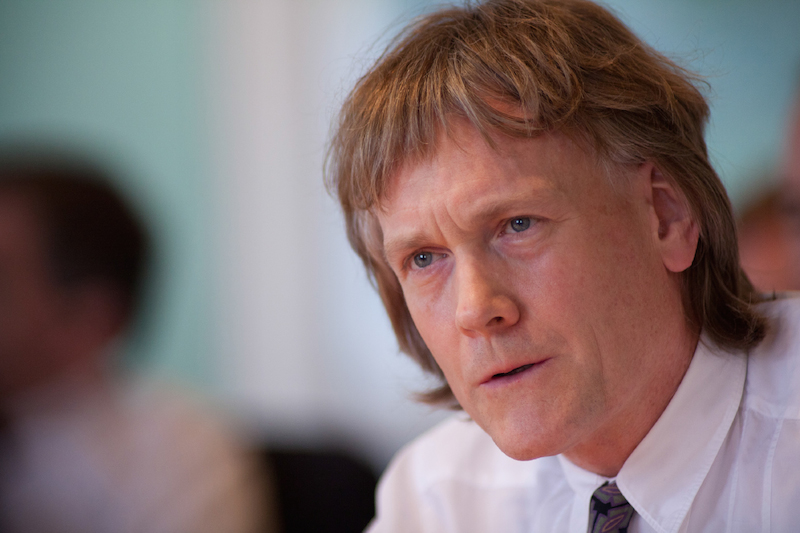 David Thomson receives IDEA honour
June 1, 2015 —
David Thomson received the University of Manitoba's 2015 International Distinguished Entrepreneur Award (IDEA) on June 1, 2015.
"The University of Manitoba is honoured to recognize the achievements of David Thomson," says University of Manitoba President and Vice-Chancellor David Barnard. "As an important Canadian business leader and philanthropist, he stands apart as a role model for those who seek to contribute to the economic life of this country and communities around the world."
The award was presented by the Associates, a group of more than 260 prominent business leaders who support the Asper School of Business. The University established the IDEA award in 1984 to honour leaders who have achieved outstanding entrepreneurial and business success, and who have made an exemplary contribution to global economic life.
David Thomson is Co-Chairman of the Woodbridge Company Limited, the Thomson family investment company, Chairman of Thomson Reuters, and Chairman of The Globe and Mail Inc. Mr. Thomson is an active private investor with a focus on real estate and serves on the boards of several private companies.
The award, a custom-made pure gold medal produced by the Royal Canadian Mint, was presented to him at a gala dinner in Winnipeg's RBC Convention Centre. Paul Soubry, President and CEO of New Flyer, acted as Master of Ceremonies of the 2015 IDEA Dinner.
"The return of the Jets to Winnipeg has stimulated our economy, but more importantly, the contribution of David Thomson, in partnership with Mark Chipman, has set the groundwork for a surge of civic pride, which is only gaining momentum," says Arni Thorsteinson, chair of the IDEA Committee for the Associates and President of Shelter Canadian Properties Limited. "David took a leap of faith in investing in a city's dream for the return of an NHL franchise. His willingness to take a risk and his belief in our city has been transformative for Winnipeg and Manitoba."
Dean Michael Benarroch of the I.H. Asper School of Business applauded the recipient choice, "I am delighted that we have the opportunity to recognize a man who has had an impact on people and communities all around the world and has directly contributed to the growing vibrancy of our own city."
Mr. Thomson joins past IDEA recipients including, Albert D. Cohen, O.C., Isreal H. Asper, O.C., Q.C., Richard Branson, Paul Desmarais, Akio Morita, Ross Perot, Heather Reisman, Dame Anita Roddick, Gerald Schwartz, Jim Sinegal, Stu Clark, Chip Wilson and last year's recipient, Linda Hasenfratz.