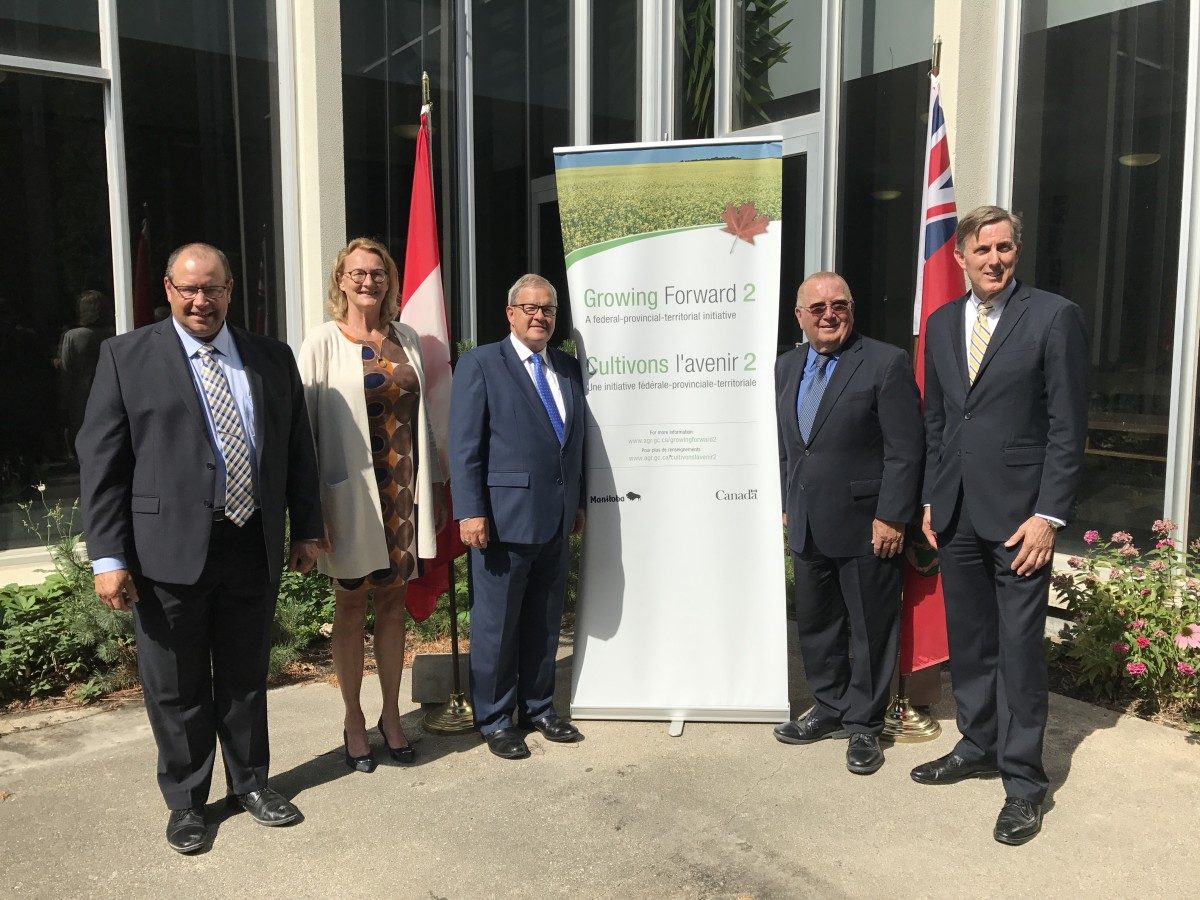 Dairy research facility slated for upgrade
Glenlea Research Station barn to receive renovations, equipment to enhance research and teaching capabilities
August 16, 2017 —
The governments of Canada and Manitoba are partnering to invest more than $1.4 million to expand scientific research capacity at the University of Manitoba's Glenlea Research Station dairy barn, Federal Agriculture Minister Lawrence MacAulay and Manitoba Agriculture Minister Ralph Eichler announced today.
"Our government understands the key importance of science and food research to keep our agricultural sector on the cutting edge," said MacAulay. "This investment will contribute to a robust Canadian dairy industry and help meet growing demand for high-quality, sustainable food, while strengthening the middle class."
"The renovations and equipment upgrades being made at Glenlea Research Station will allow the university to continue its important research in the area of animal nutrition, health and welfare," said Eichler. "We are proud to be a partner in this investment, which will enable faculty and students to further their understanding of the dairy industry while contributing to the sustainability and advancement of Manitoba's livestock sector."
Funding will allow the University of Manitoba to expand its dairy facility through a repurposed swine barn and install a new automated milking system, free stalls for dairy cattle, dedicated spaces for calves, milk collection tanks, above-ground manure storage, new flooring and related laboratory equipment.
The ministers noted the new equipment will ensure the dairy research facilities meet industry standards and support the growth of value-added dairy processing in Manitoba.
"This investment enhances our researchers' ability to develop holistic practices that will produce safe, affordable and healthy food for Canadians. It will also provide students with an outstanding hands-on learning experience in exceptional facilities," said Digvir Jayas, distinguished professor and vice-president (research and international) at the University of Manitoba. "Supporting our world-class Glenlea Research Station ensures University of Manitoba researchers can continue their work that is relevant to producers, consumers, and the economy. It's a great investment and we welcome the public to come and visit the station and learn more about what goes on at it."
The Dairy Farmers of Manitoba (DFM) is also making a substantial investment in the barn renovation project, providing over $1.5 million in infrastructure support and ongoing funding to research programs.
"Dairy Farmers of Manitoba is proud to invest in the renovation of the Glenlea Research Station dairy barn, to further expand our support of dairy scientific research in Manitoba," said Henry Holtmann, vice-chair, DFM. "We have long understood the value of investing in research to advance our industry by continually providing milk of the highest quality, excellence in animal care, and improving environmental stewardship."
The dairy industry in Manitoba generates over $250 million in farm gate revenues.
Funding for this project will be provided through the Growing Forward 2 (GF2) Growing Innovation – Capacity and Knowledge Development Initiative. It provides financial assistance to lead and implement innovation in Manitoba's agriculture, agri-food and agri-processing sectors.