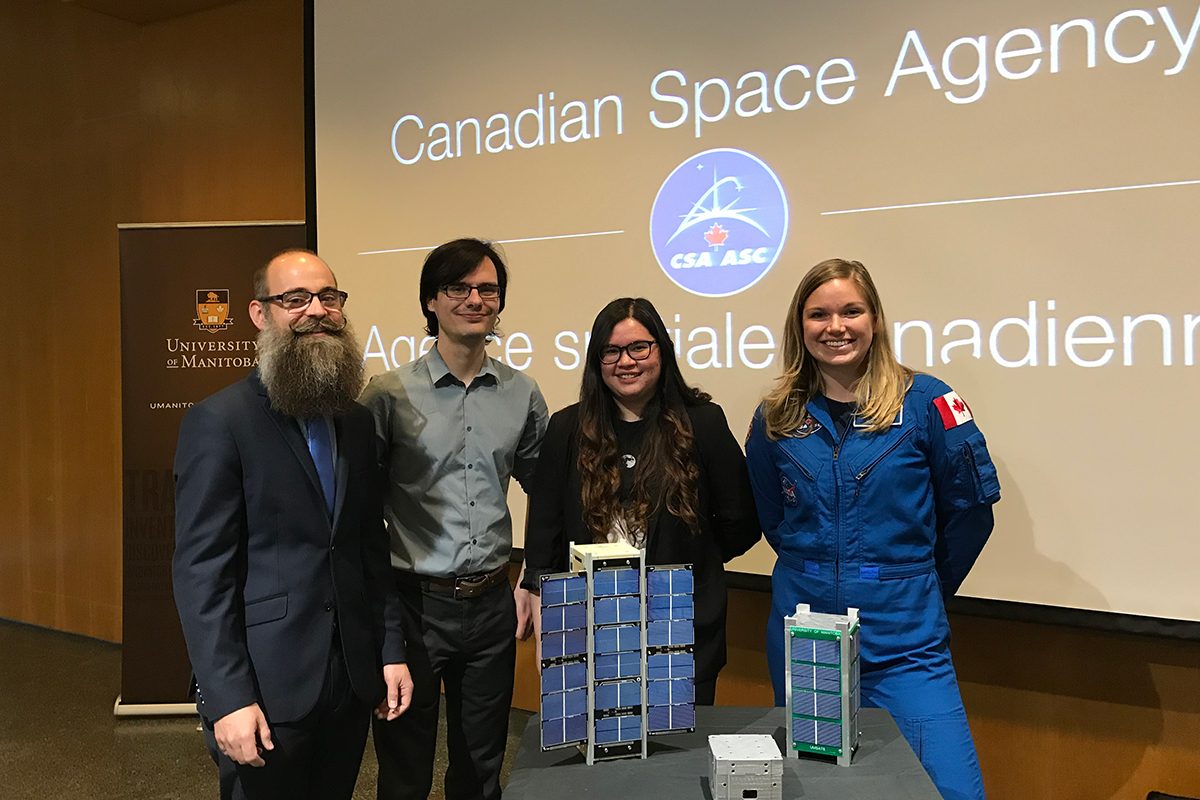 CSA to help students design, build and launch their own satellites
Canadian Space Agency astronaut Jenni Sidey announces student teams
May 4, 2018 —
Today, at an event hosted by the University of Manitoba, Canadian Space Agency (CSA) astronaut Jenni Sidey announced the teams selected to take part in the CSA's Canadian CubeSat Project.
The team based at the U of M is led by Dr. Philip Ferguson, professor of mechanical engineering with the Faculty of Engineering. His research focuses on satellite navigation, control and manufacturing technologies that could reduce the cost and cycle time of designing and executing satellite missions.
For the CubeSat project at the U of M, the ManitobaSat-1 leadership team includes: Dr. Witold Kinsner, electrical and computer engineering; Dr. Edward Cloutis, University of Winnipeg; Dr. Regina Lee, York University; Ms. Maria Nickel, Interlake School Division; Mr. Corey Mack, Magellan Aerospace, Winnipeg; and a group of more than 25 students who will actually design and build the satellite.
A total of 15 teams composed of 36 organizations will participate in the Canadian CubeSat Project, thanks to several inter-regional, inter-provincial and international collaborations that even include universities from Europe, Australia, and the USA. The CSA is awarding grants ranging from $200,000 to $250,000 and will cover costs associated with CubeSat launches. The ManitobaSat-1 team is receiving $200,000 over three years.
"This CubeSat project will empower students with the skills, tools and industrial connections to design, build, test and operate their own satellite," says Ferguson. "These are the kinds of hands-on skills that cannot be learned in a classroom or lecture hall, and are vitally important to the ongoing strength and vitality of the space industry here in Canada."
The ManitobaSat-1 project is designed to investigate how space weathering affects asteroids and the moon by exposing meteorites and other material to the space environment in low Earth orbit and also test a new sun sensor. A CubeSat is a small, cube-shaped satellite measuring 10 × 10 × 10 cm. Nickel's Grade 8 students will build and test the CubeSat's onboard gnomon, the calibrated sundial used on space missions to independently measure the direction of the sun in space.
CSA experts, as well as representatives from the Canadian space industry, will guide the teams throughout the Canadian CubeSat Project, to optimize the success of each mission.
Research at the University of Manitoba is partially supported by funding from the Government of Canada Research Support Fund.