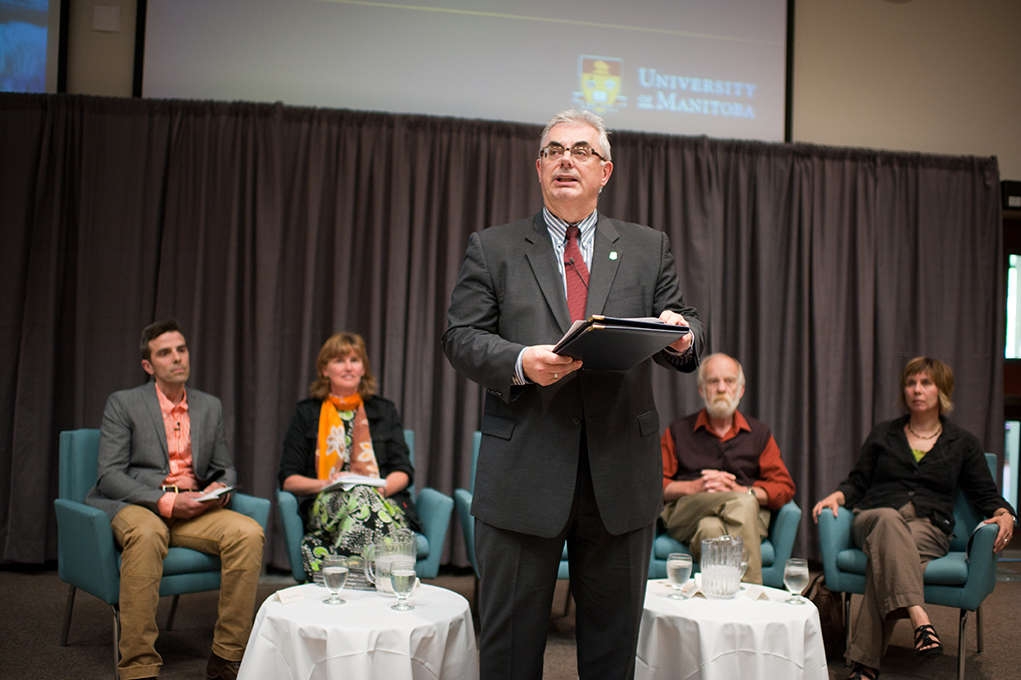 Creating a Dialogue: Visionary Conversations tackles today's top issues
August 22, 2014 —
WHAT: Visionary Conversations is a speaker series hosted by President and Vice-Chancellor Dr. David T. Barnard that explores bold topics like the right to die and freedom from religion. These events provide a forum where the university's researchers and alumni experts can share with the community their unique insight on issues affecting our world.
HOW IT WORKS: Each lively conversation reflects the role the university can and should play in fostering dialogue around emerging issues. The 90-minute events consist of a panel discussion and time for questions from the audience.
THE GOAL: To engage with the community while showcasing the university's global research leadership and promoting the University of Manitoba as a centre for lifelong learning. Dr. Barnard has greeted crowds in full-to-capacity theatres for almost every event, encouraging everyone in attendance—from key community and political leaders to entire school classes—to take part in the conversations. Visionary Conversations has also gone on the road, holding events in Vancouver, Victoria, Calgary, as well as Hong Kong.
WHY IT'S IMPORTANT: By making the university president and the researchers accessible, it has given the Winnipeg community—particularly the local alumni—a new way to interact and connect with the university in a meaningful and relevant way. "Giving the community the opportunity to interact with researchers and have a conversation about topics important to them is a priority for us," says Dr. Barnard. "Through these events we have a forum where the public can hear about the latest research and feel a connection to the exciting discoveries being made."
NEXT STEP: The 2014-15 season brings another exciting line-up with the following topics: Free Expression – Who Pays the Price? (Sept. 17); Giving the Red Light the Green Light – Would Legalizing Prostitution Change Canada? (Oct. 15); A Culture of Conflict – What Have We Learned About War? (Nov.26); Popular Science – Has Innovation Caught Up With Imagination? (Jan. 21); Are You Happy Now? The Pursuit of Happiness in the Modern Age (March 4); and Universities Today – Where Do Century-Old Institutions Fit in Modern Society? (April 29).
---
FUNDERS: University of Manitoba
---
LEARN MORE