COVID-19 in Manitoba public policy, new book
November 23, 2020 —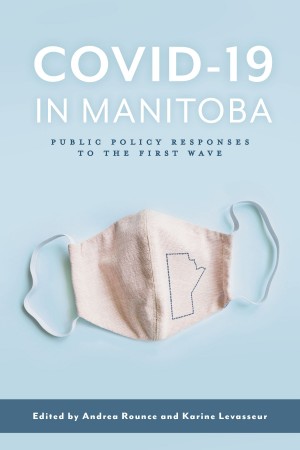 Two University of Manitoba professors are launching their book, COVID-19 in Manitoba: Public Policy Responses to the First Wave, on Nov. 26, with a launch party held by UM Press on Zoom on Dec. 1 at 7 p.m. (details here).
Written by Andrea Rounce and Karine Levasseur, both associate professors in the department of political studies, COVID-19 in Manitoba seeks to understand how Manitoba fared during the first months of the pandemic, with twenty-seven chapters that address key aspects of the pandemic and discuss how government policy can help lay the foundation for resiliency in the midst a continuing public-health crisis.
This open-access volume identifies policy gaps and successes of Manitoba's early COVID-19 response to inform efforts to prepare for and curb oncoming waves of infection. As the province contends with hundreds of new cases daily, hospitals near capacity, and our communities enter "code red" status, this book is a timely and essential resource for citizens and policy-makers alike.
The book has many contributors. Those from UM include:
Fletcher Baragar, Marleny Bonnycastle, Emily E. Cameron, Andrea Charron, Sarah Cooper, Delia D. Douglas, Diane Driedger, Bruce Erickson, Sid Frankel, Laura Funk, Shannon Furness, Julie Guard, Avery Hallberg, Jesse Hajer, Stewart Hill, Kiera Ladner, Lisa Landrum, Paul D. Larson, Josée G. Lavoie, Karine Levasseur, Darcy L. MacPherson, Aaron A. Moore, Natalie Mota, James P. Mulvale, Sally Ogoe, Susan Prentice, Kristin Reynolds, Razvan G. Romanescu, Leslie E. Roos, Andrea Rounce,
Paul G. Thomas, Shirley Thompson, Lori Wilkinson