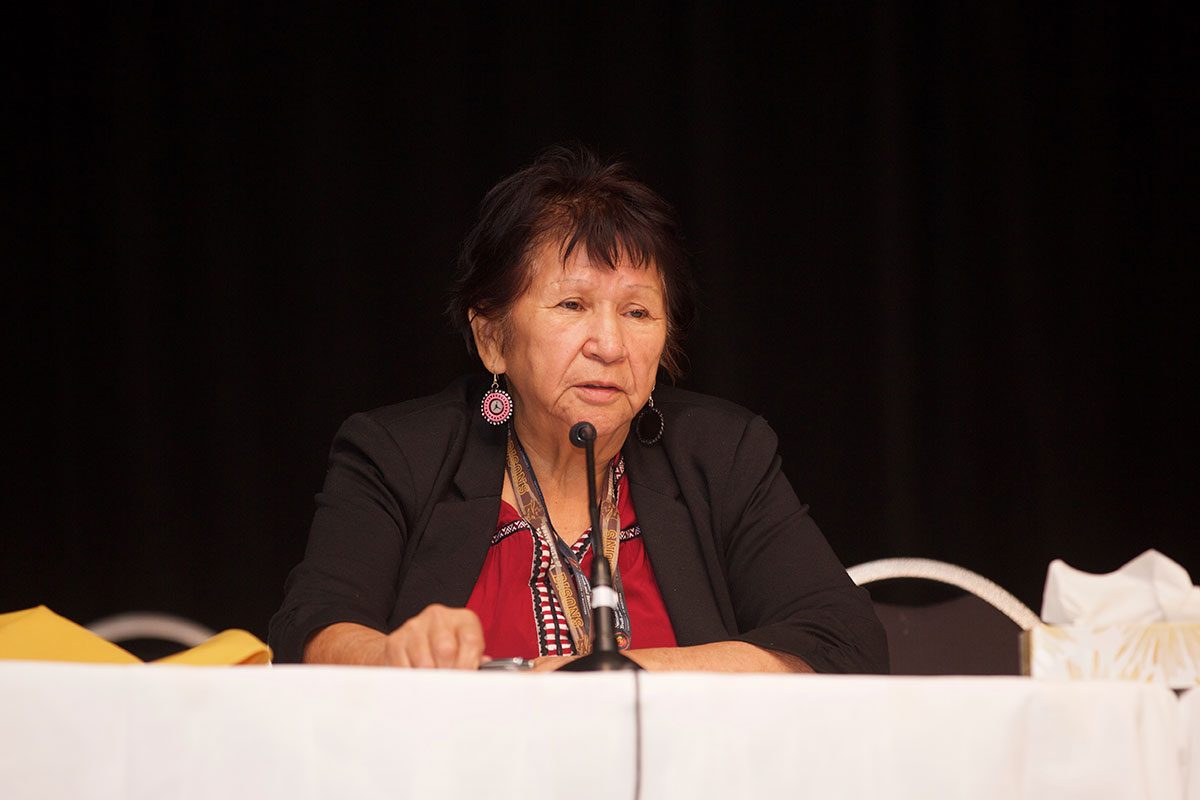 Continuing the journey towards a reconciled education system
November 22, 2017 —
More than 350 leaders from Indigenous communities and post-secondary institutions across Canada gathered at the University of Manitoba on Nov. 8 and 9 for the 3rd Annual Building Reconciliation Forum, which began as a response to the 94 calls to action from the Truth and Reconciliation Commission of Canada.
This year's forum titled The Journey Toward a Reconciled Education System, explored the institutional changes that need to be made in order to engage more effectively with Indigenous communities and become leaders and partners in reconciliation.
Over the course of the two-day event, a number of stories were shared by Residential School Survivors and Elders from across the country.
At times their stories revealed the ongoing hurt caused by the Residential School system and colonialism, and challenged attendees to recognize that the journey to reconciliation must include these uncomfortable truths.
"The more you talk, the more you get things out. I think all of us need [to talk about reconciliation]," Marlene Kayseas, Elder-in-Residence at the U of M said about the forum. "The Elders say when you have garbage inside of you, it blocks everything. And when they start sharing it, because of the pain, the pain helps them to get it out. I'm so glad that people were asked to share, because everybody is part of this and they need to talk."
An emphasis on future generations, and ensuring that Indigenous languages and teachings are not forgotten, generated much discussion.
"When I think of reconciliation, it's the children who I care about," Kayseas said. "They need to know who they are and where they came from."
Dillon Courchene, co-cultural coordinator for the University of Manitoba Aboriginal Students' Association, was present at the forum, and agreed that offering degree programs is a massive step in the journey toward reconciliation.
"There's only a handful of people who can speak [Indigenous languages] fluently, and a lot of them are the Elders," he said. "And so to be able to bring the languages back, it shows the resilience that Indigenous peoples have. It also shows that people within the university are willing to step forward and walk together with the Indigenous community."
In response, last week, UMSU council passed a motion that will advocate university administration to implement TRC call to action #16, by exploring and offering degree programs in Indigenous languages.
The implementation of call to action #16 across Canada would signify a key step forward for universities, and looking ahead, Kayseas emphasized the importance of ongoing discussions about truth and reconciliation.
"I think it should continue with everybody talking and sharing, maybe every month with smaller gatherings," she said. "Having somebody each in turn say what they need to say. It takes a while, but that's how work gets done."
Upon the event's closure, it was announced that the University of Victoria would be hosting the fourth annual Reconciliation Forum in 2018. The Forum walking stick will be kept in the U of M's care for the year, before being passed on to the University of Victoria.