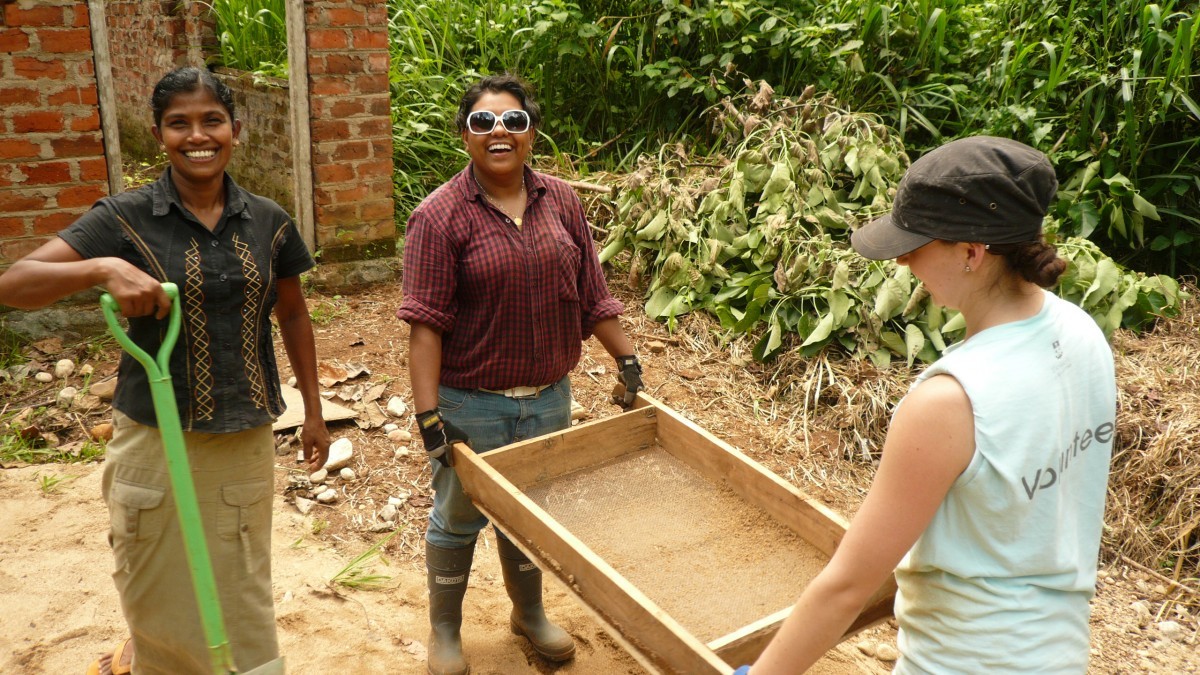 Construction projects in Ghana, Sri Lanka, Uganda and Turkey: Giving students global context
July 4, 2014 —
WHAT: The travel-study course Service Learning in the Global Community (SLGC) is led by Kelley Beaverford, Faculty of Architecture associate professor.
HOW IT WORKS: The course gives architecture students an opportunity to work alongside communities affected by poverty, war or pandemic while learning about international issues.
HOW IT BEGAN: "[The course] started with a group of students who didn't want to sit in a classroom talking about global issues—they wanted to get out and do something," explains Beaverford.
ITS REACH: Since 2005, 63 students, seven faculty members and hundreds of community members have collaborated on construction projects overseas—from a primary school library in Ghana to a tea house in Turkey.
THE GOAL: To give students opportunities to connect design to human rights, culture and global citizenship; accommodate opportunities to work with community organizations; extend research, service and teaching opportunities for academics committed to strengthening the citizenship roles and social responsibilities of higher education; and demonstrate relevance, commitment and demand for socially responsible practice in the disciplines of architecture and design.
THE INSPIRATION: "Participants are motivated by a desire to engage in something larger than what they already know," says Beaverford. "I believe that SLGC students are drawn to opportunities to learn from, and with, a diverse group of participants including people from different cultures, ages, disciplines and social backgrounds."
WHY IT'S IMPORTANT: "SLGC projects are about common goals, lessons and accomplishments," she says. "The construction projects provide a venue for learning about the role of architectural professions in a global context. All participants—students, community and faculty members—build relationships that promote intercultural understanding and global citizenship."
THE IMPACT: "If there is one lesson that I have learned from SLGC it is that people are more alike than different. Although cultures and situations are unique, we are interconnected with the same need for security, respect and opportunity to thrive," says Beaverford. "There is one standout moment that occurs at the end of every project. It happens when we drive away from the construction site for the last time. Everyone, even the toughest member on the crew, cries."
---
FUNDERS: Funding and donations for this initiative have been provided by the communities of Deydinler, Katebo, Damongo & Meegahayaya; the Faculty of Architecture and the Department of Interior Design, University of Manitoba; Partners Program, University of Manitoba; Academic Enhancement Fund, University of Manitoba (2010); Faculty of Architecture Endowment Fund (2008); Tools for Schools Africa (2010 & 2013); Architects Without Borders Canada; University of Manitoba Bookstore; Home Depot; Home Hardware and Work Boot Factory Outlet Store. Administrative Support for this initiative has been provided by Travel Study (University of Manitoba); Experiment in International Living (Turkey); Future in Your Hands (Sri Lanka); and the Damongo Catholic Diocese (Ghana)
---

LEARN MORE