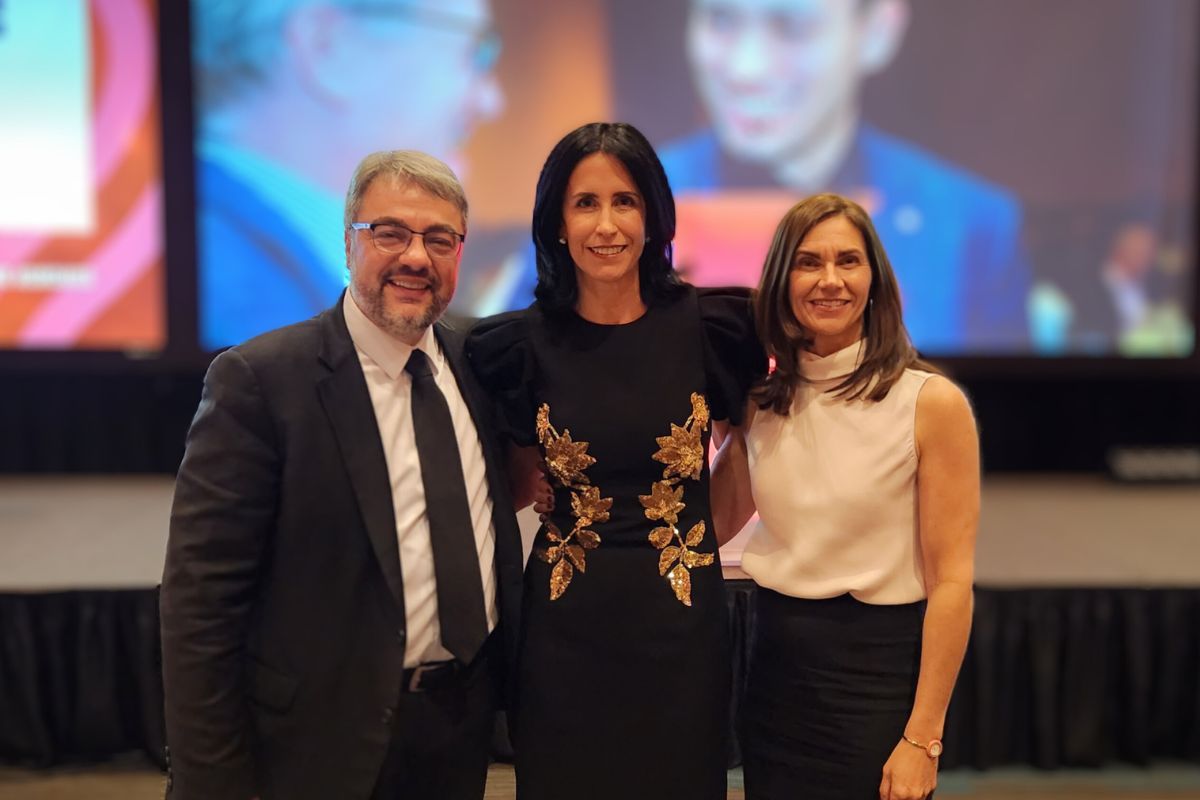 Connecting, learning and giving back at the 2023 IGNITE Awards
The Young Associates celebrate business leader Dayna Spiring and welcome new Asper students
September 8, 2023 —
On Thursday, September 7, members the Manitoba business community and the Asper School of Business, including many new Bachelor of Commerce students, gathered at the RBC Convention Centre for the 2023 IGNITE award ceremony, a key part of Asper's annual The Commerce Week (TCW).
The Commerce Week combines orientation activities with opportunities for students to meet their new classmates, explore the campus and start designing their dream BComm experience.
The Drake Centre has been abuzz all week for this all-hands series led by Asper faculty and staff and the Commerce Students' Association. From the excitement of the Asper welcome day and pinning ceremony to Commerce on the Quad this evening, this year's TCW is another resounding success.
Hosted by the Young Associates of the Asper School of Business, IGNITE returned for a second year with 585 guests in attendance, following a strong debut in 2022.
"I am thrilled to see IGNITE become the flagship event welcoming Asper School of Business students into the business community as part of The Commerce Week. TCW and IGNITE set the tone for students' Asper experience, giving them an opportunity to connect with inspiring business leaders, learn from generations of experience and see first-hand the value in giving back to the community," says Asper School of Business Dean Bruno Silvestre.
Dayna Spiring, former president and CEO of Economic Development Winnipeg Inc., received the 2023 IGNITE award in recognition of her inspiring legacy as a business leader.
Chair of the Young Associates, Joshua Zaporzan [BComm(Hons)/17] explains how Spiring's leadership and passion for the local business community elevate IGNITE and make her a perfect recipient for the 2023 award.
"Dayna Spiring is a leader who embodies tenacity, vision and a deep-rooted commitment to the Winnipeg community," says Zaporzan. "The IGNITE Award recognizes those who not only forge ahead, but also look back to ensure those who come after them will find their own successful paths. As someone who exemplifies this ideal, Dayna is a well deserving and admirable IGNITE 2023 award recipient. She is a local thought leader and a true inspiration!"
Spiring accepted the award and shared how her career took shape in often unexpected ways. She expresses her gratitude for this honour and offers first-year Asper students a word of advice.
"Awards like this are never won by one person," said Spiring, acknowledging the support of her husband Charlie Spiring, the inspiration of last year's IGNITE recipient Ash Modha and the impact of every team she has been a part of.
"As you start on this journey know that, in my experience, things rarely work out exactly the way we plan. And the path to get to where we want to go is rarely straight. Embrace that and take advantage of unexpected opportunities as they arise."
IGNITE is aptly named, designed to encourage the sparks of students' business goals, ambitions and dreams, all stoked by those who help them take advantage of these unexpected opportunities—a supportive and engaged community of Manitoba business leaders, Asper alumni and everyone dedicated to excellent business education.
___
The Young Associates is Manitoba's premier network of young professionals, working alongside the Associates of the Asper School of Business. Together, they are dedicated to the advancement of the business education at the Asper School of Business through mentorship, networking and philanthropy.