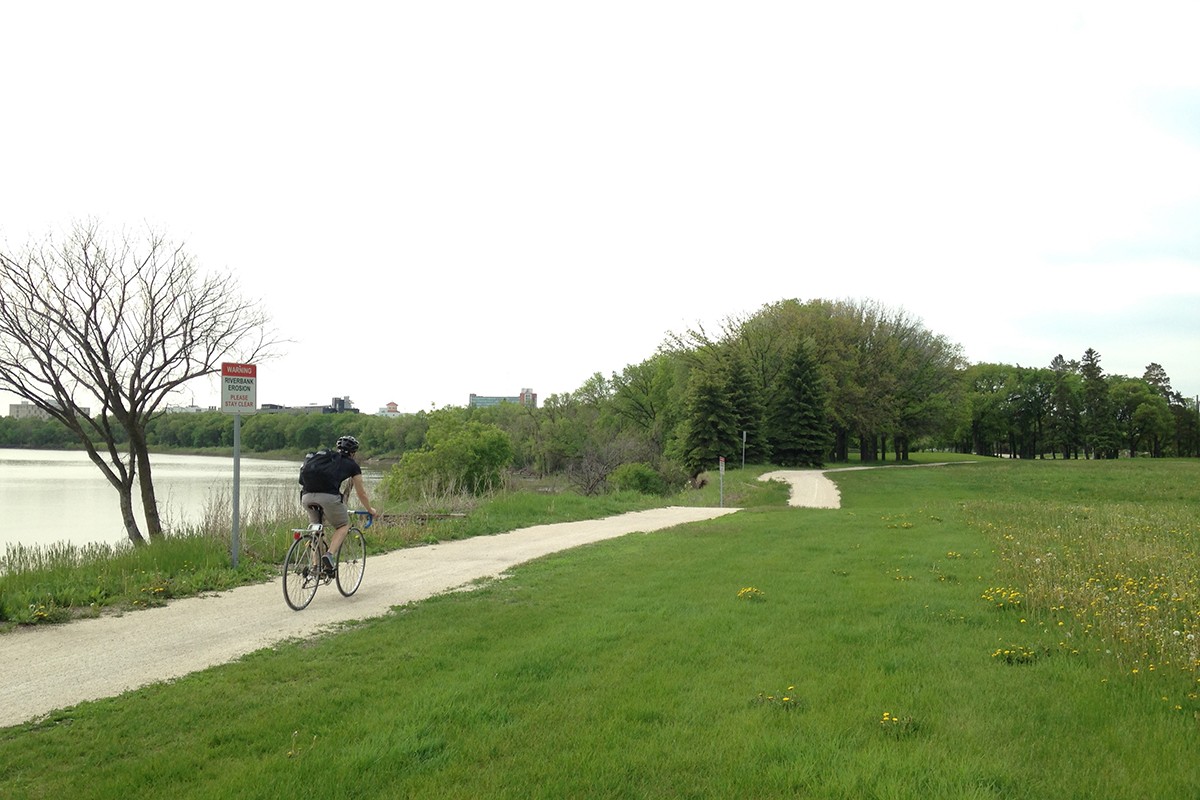 Commuter Challenge 2016
Sign up and win prizes!
June 8, 2016 —
The University of Manitoba is a registered workplace in the 2016 Commuter Challenge – a friendly weeklong competition that challenges participants to leave their cars at home and walk, cycle, carpool, take transit or even telecommute to school or work.
The majority of students, staff and faculty already commute to the U of M so this national competition is an easy way to further encourage sustainable transportation options, and reward U of M participants with a variety of prizes.
Last year, 245 U of M staff and students registered, thus officially participated in the Commuter Challenge. This translated into collectively travelling more than 21,000km and avoiding 3.2 tons of greenhouse gas emissions. The U of M's goal this year is to save five tons of greenhouse gases from being emitted.
If you're already walking, biking, carpooling or taking the bus to campus, participating in the Commuter Challenge will be a breeze. Simply sign up and see the impact you're making. Once logged in and with your commute entered, the site calculates calories burned, litres of fuel saved, and kilograms of CO2 avoided.
To sweeten the pot, the U of M's Office of Sustainability has a number of fun events planned throughout the week and prizes to giveaway just for participating.
Prizes
All University of Manitoba staff and students who register and participate in Commuter Challenge will be eligible for prizes from Green Action Centre. PLUS, there are prizes exclusively for U of M Participants!
Early Bird Registration Prize
If you registered for the Commuter Challenge before noon on Thursday, June 2 you have been entered to win a Max 5 Winnipeg Transit pass for June 6-10 (Commuter Challenge Week).
Student Grand Prize
All U of M students who register and participate will be entered to win a bike from the U of M Bike Shop.
Other prizes
All U of M students and staff who register and participate will be entered to win the following prizes:
University of Manitoba T-Shirt
10 General Admission Passes (5 pairs) to a Bison Event
10 Day Passes to the Active Living Centre
$25 Cineplex Gift Card
Refreshing drink giveaways
Register for Commuter Challenge and enjoy a bike-blended smoothie.
Monday, June 6 | 11:00 AM-1:00 PM
Duckworth Quadrangle (Fort Garry Campus)
Wednesday, June 8 | 11:00 AM-1:00 PM
Curry Place Pedway (Fort Garry Campus)
Active Transportation Events
Walk or ride with us to campus with our Walking School Bus and Biking School Bus!
Sticker Brigade
Tuesday, June 7 | 7:30-9:00 AM
The Sustainability Office will be handing out stickers on Tuesday, June 7 from 7:30 – 9 AM as part of a sticker brigade. Volunteers on the Fort Garry campus will find people who have walked, biked or bussed to campus, give them a sticker and encourage them to sign up for the commuter challenge. Afterwards, volunteers will be invited to enjoy a pancake breakfast at Daily Bread Café in St. John's College.
Walking School Bus from Fort Richmond
Wednesday June 8 | 7:45-8:15 AM
Meet others from your neighbourhood, get some exercise and join us for this walking school bus to campus. Participants will receive a coupon for a coffee/tea and muffin from Daily Bread Café in St. John's College.
Biking School Bus from Corydon Village and River Heights
Thursday, June 9 | 7:15-8:15 AM
Cycling to the Fort Garry Campus can be intimidating so take the stress out by joining in on a group bike ride with experts who can show you tips and a route that is quick but avoids many busy roads.
Join the group that suits your location. Meeting spots will be at Earl Grey School (Corner of Fleet Ave and Cockburn St N) and McNally Robinson at Grant Park Mall.
Participants will also receive a coupon for a coffee/tea and half-slice of pumpkin or banana bread from Degrees.
For those who want to ride on their own…
If you're coming from just about anywhere north of the U of M, this handy video (and map over here) will help you avoid the busy part of Pembina that crosses over Bishop Grandin.