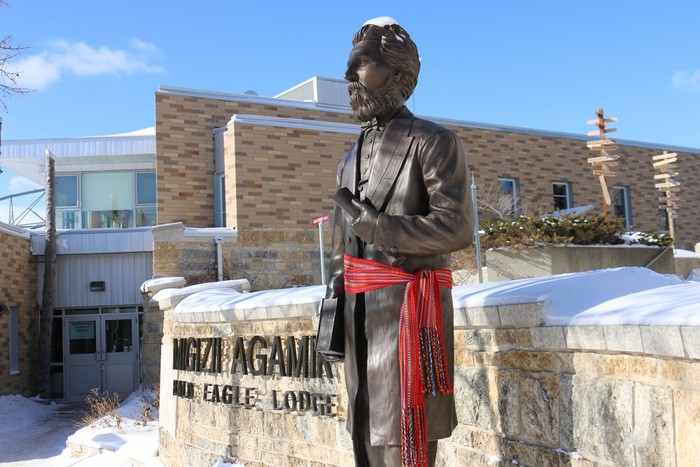 Community Events – February, 2019
February 8, 2019 —
The University of Manitoba has a wide range of public events taking place on campus and in the community this month! Explore our range of accessible programming, from cultural and intellectual events, art exhibits and open houses.
OPEN HOUSE 2019
Explore the U of M and experience a day in the life of a university student at our annual open house for high school students and their families.
New: Visit the Indigenous Community Booth for tours, and to attend a special 2 PM presentation hosted in Migizii Agamik – Bald Eagle Lodge.
February 21 | Free; registration required
Day program for high school students: 9 AM – 2PM
Evening program for students and families: 6 – 8 PM
Fort Garry campus

---
REVA STONE: erasure
Winnipeg artist Reva Stone presents a series of three works that critique how drone technologies are being integrated into society. The 2015 winner of the Governor General's Award in Visual and Media Arts, Ms. Stone was artist-in-residence at the School of Art this past fall.
February 7 – April 26 | Free
Public reception: February 7, 4:30 – 6:30 PM
Public tour with the artist: March 14, 12 PM
School of Art Gallery, 255 ARTlab, 180 Dafoe Road
LOUIS RIEL DAY CELEBRATIONS
Join us for the annual Louis Riel Day celebration/chivaree, which will include fiddle music, jigging, delicious Métis fare and more. Everyone is welcome!
February 15, 11 AM | Free
Migizii Agamik – Bald Eagle Lodge, 114 Sidney Smith St., Fort Garry campus
RADY FACULTY OF HEALTH SCIENCES GRADUATE STUDIES OPEN HOUSE
Explore your options in health sciences graduate studies! The Open House will feature program presentations, Bannatyne campus tours, the opportunity to network with professors, alumni and current students, an information village, and a pizza lunch.
February 20, 9 AM – 3 PM | Free, registration required
Bannatyne campus, various locations
BLACK HISTORY MONTH PANEL DISCUSSION
Join us for a panel discussion to celebrate the important history, people and experience of the African Canadian and African American communities. The discussion "Black Leaders Today" will focus on the goals and vision of our young Black leaders as they look towards our future.
February 21, 8:30 AM – Noon | Tickets $25; free; students, faculty, staff
Registration required
Fort Garry campus – E3-262 Engineering Information and Technology Complex
HEALTHTALKS: HEART SMART GALS WON'T YOU COME OUT TONIGHT
Join us for this FREE, public event brought to you by the Rady Faculty of Health Sciences, University of Manitoba and the Reh-Fit Centre. Take better control of your health with two lectures that will cover making sense of cholesterol test results, and the most important information women should know about cardiovascular disease.
February 21, 7-8:30 PM | Free; registration required (call 204-272-3122 or email)
Reh-Fit Centre, 1390 Taylor Avenue
LEGAL CANNABIS: FITNESS TO WORK, FITNESS TO LEARN
Consider how to determine cannabis users' fitness to work and to learn at this session from Extended Education's Dean's Lecture Series. Speakers include professionals from the U of M, the WRHA/Manitoba Health, and the Legacy Bowes Group. #UMTalkSmart
Feb. 26, 12:15 – 1:30 PM | Free; RSVP required
Carol Shields Auditorium, Millennium Library, 251 Donald St.
GUTH VISITING LECTURE IN LEGAL HISTORY: JOHN P.S. MCLAREN
Join us for Dr. John P.S. McLaren for his talk "Respectable Lawyering and the Perils of Representing Unpopular Causes in British Columbia, 1900 to 1940." Dr. McLaren is an Emeritus Professor at the University of Victoria's Faculty of Law with a research focus on colonial law, social justice, cultural diversity, religion and public morality.
February 28, 12-1 PM | Free
Moot Courtroom B, Robson Hall, Faculty of Law, 224 Dysart Road, Fort Garry campus