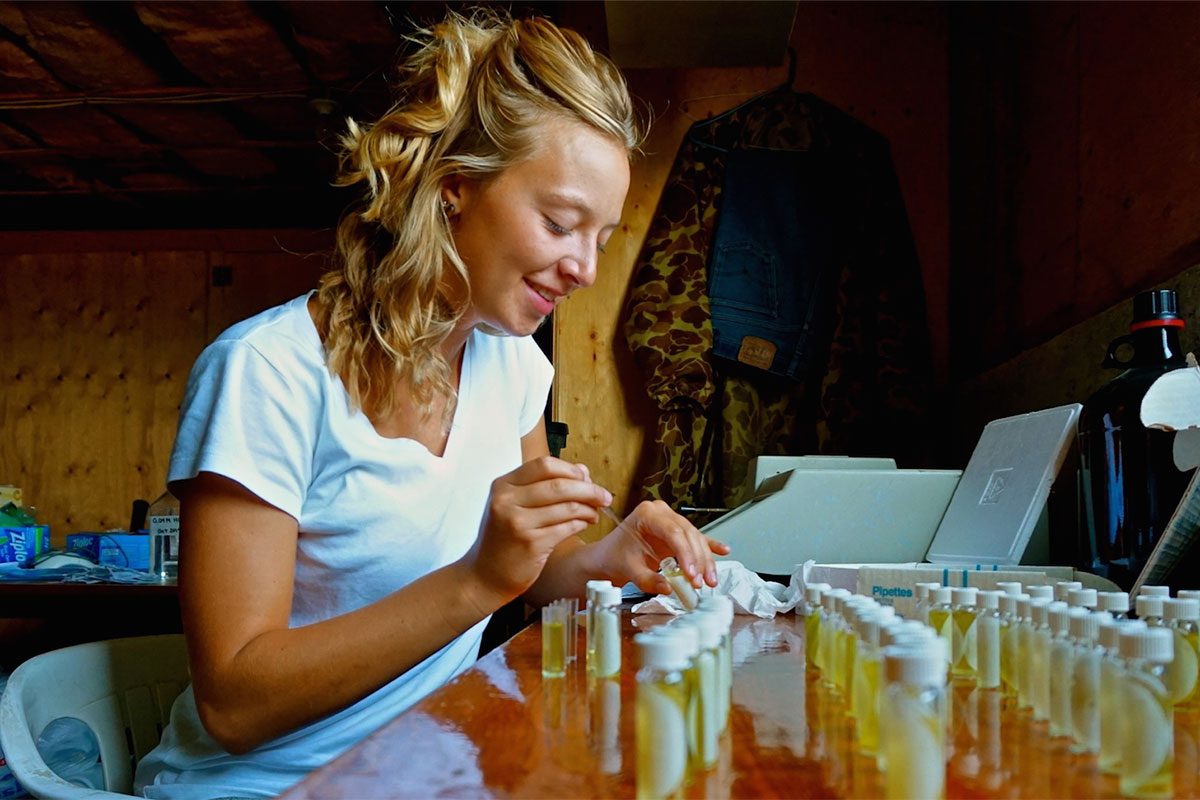 Commending perseverance
October 17, 2017 —
Among the 1,467 students receiving their parchment at this year's Fall Convocation is Madeline Stanley, who finished her coursework for the degree Master of Science in Aquatic Biology/Wetland Ecology this year. As part of her program, she did fieldwork throughout Manitoba, particularly studying water quality and algal blooms.
"After completing my Honours program, I decided to pursue a Master of Science and wanted it to be in aquatic research," says Stanley. "I looked all over Canada to figure out what was the next best thing for me and found that a project here in Manitoba was so appealing to me and so focussed on my interests, I just had to have it. That was the collaboration with Ducks Unlimited and the U of M on a 10 year, multi-collaborative project at Delta Marsh, titled Restoring the Tradition."
"My project was very challenging but very rewarding, despite the sleepless nights and many hours put into the research and preparing my thesis defense," she adds.
Stanley already has a position as Environmental Monitor with AAE Tech Services Inc., monitoring water quality in northern Manitoba lakes, and is a Biosecurity Monitor for the Bipole III Transmission line project.
Studying at the U of M is a family affair. Stanley's oldest sister Katherine graduated from the U of M with a Bachelor of Science in Agroecology and is now a research associate in plant science.
"Katherine and I often talk about research, stats, writing, and of course as sisters we get into arguments about what is the best way to analyze data or and interpret results," she says. "During these arguments, our family usually just laughs at our banter, but in the end, they usually agree with me!"
Stanley's middle sister, Margaret, is currently in a Master's program at the U of M, studying public policy.
Madeline says she looks over Margaret's papers and discusses her studies. "We offer more support to each other during courses than thoughts or ideas, because our studies are completely different than one another. But I did bring her field sampling with me last winter and she didn't complain about the cold once, even though we almost fell through some thin ice. Luckily, we stayed above the water and I only had some sore ribs and a bruised ego."
"I had a great experience at the university," Madeline Stanley says reflectively. "I was given many interesting and exciting experiences that have really shaped my career, leading me toward my future career."
Another student graduating this fall is Brittany Semenchuk (nee Streuber), receiving her Master in Kinesiology and is about to start her PhD in Applied Health Sciences. She says her time at the U of M had both remarkable and stressful moments, both of which shaped her education.
Her academic career began like most students, living at home with her parents, within walking distance from the university, and by the time of her master's program she had a significant other and was enrolled in full time studies. But soon, her life changed dramatically; she married, her husband started a full time job as a paramedic, they moved into their own house outside the city, and had a baby.
"These life events were all positive, but created many barriers to my graduate work," she says. "First, I was no longer able to work long hours, as my daughter needed to be dropped off and picked up from daycare. In addition, at this time we could only afford to send my daughter to daycare three days a week, so I was forced to cut my work week in half."
Semenchuk's husband started a job in northern Manitoba that required him to be gone for weeks at a time, leaving her as primary caregiver of their daughter.
"Unfortunately, the transition to motherhood was definitely not an easy one for me," she explains. "I suffered from post-partum depression very early on, which added to the normal, every day stresses of being a full-time graduate student and a full-time mom."
Nevertheless, Semenchuk found the motivation and perseverance to finish her master's program within two years while working on seven different research projects, and in September 2017 began work on her PhD program in applied health sciences.
She notes reflectively: "These last two years have taught me many very important life lessons. It has showed me what is important in life and how to prioritize these important things."
"In the end, I want to be a role model my children can look up to, and to achieve that I realized I need to work hard and follow my dreams of becoming a tenured professor at a Canadian university, researching in the field of exercise psychology," Semenchuk adds.