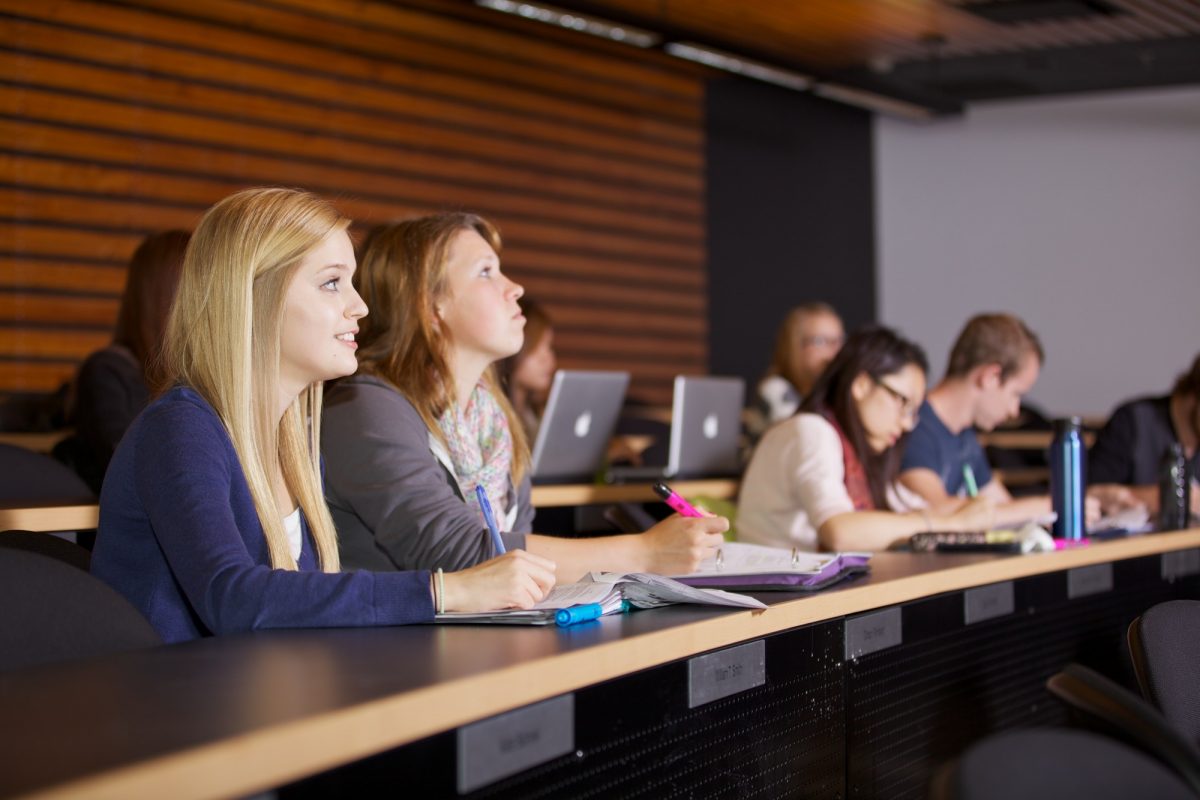 College of Pharmacy students prepare for the leadership imperative
James W. Burns Leadership Institute seminars designed to help emerging practitioners stand out
September 28, 2020 —
For the second year, the College of Pharmacy and the James W. Burns Leadership Institute are partnering to deliver cutting edge leadership seminars and training to UM Pharmacy students.
As one of the key competencies of the Association of Faculties of Pharmacy of Canada (AFPC) educational outcomes, leadership skills are increasingly recognized as important to excellence in the profession, contributing to a high quality healthcare system.
Dean Lalitha Raman-Wilms had the vision for the series in 2018 and working with the new James W. Burns Leadership Institute provided an opportunity to develop a tailored and dedicated seminar series for Pharmacy students.
"Leadership skills help Pharmacy graduates to optimize care, safety and effectiveness as partners in health delivery, through engagement with other professionals and with their clients and stakeholders," said Dean Raman-Wilms." Our program prepares our students to work within collaborative health care teams. Leadership skills – both leading themselves and others – will enable our students to engage and work with others, with the goal of optimization of patients' medications."
To deliver on this vision, the James W. Burns Leadership Institute (JWBLI) at the UM's Asper School of Business designed the seminar series to develop the leadership qualities and skills that will help pharmacy students succeed.
"The Series provides a unique opportunity for College of Pharmacy students to build their knowledge base and capacities in leadership. Not only will this assist them in delivering excellent care but the series works on self leadership and knowing one's purpose, important for foresight and leadership in a changing environment.
We also work on leadership for interprofessional and intercultural teams," says Dr. Suzanne Gagnon, JWBLI director. "Part of our mandate at the Institute is to help UM students in being distinctive in employment markets by designing and providing high-quality leadership education tailored to their fields. We delivered this program in partnership with the College last year and it was a great success; we are pleased to be doing it again."
The Series consists of four large group seminars in the Fall term, and three hands-on workshops in the Winter. Participation is acknowledged on a student's UM co-curricular record, and all College of Pharmacy students are eligible to participate.
The First Session – Oct. 2nd
The first seminar is "Leading in the Profession: The role of leaders and leadership in the changing landscape for Pharmacy in Canada", online on Oct. 2, 2020, from 3­­­­–4:30 p.m.
The virtual event will be a panel discussion with leaders in the profession hosted by Dean Raman-Wilms and moderated by Dr. Gagnon.
Panel members include:
Jane Lamont, Director of Pharmacy, Prairie Mountain Health
Pawandeep Sidhu, President, Pharmacists Manitoba
Derrick Sanderson, Director of Pharmacy, Northern Health
Three additional sessions will be held this Fall from 3:45-5:00PM:
Oct. 26 – " Knowing Yourself as a Leader and the Power of Collaboration for Leadership in Pharmacy" (Led by Dr. Gagnon);
Nov. 2 – "Leading Self and Others: Managing Conflict as a Leader" (Led by Dr. Lukas Neville of the Asper School):
Nov. 23 – "Leading Self and Others: Leading in Intercultural Environments" (Led by Dr. Gagnon).
In the Winter term, the JWBLI will lead three hands-on workshops providing the students with interactive learning opportunities to further hone and apply their leadership skills.
Participation in this unique program builds pharmacy students' leadership knowledge and skills and can enable them to earn the JWBLI-Pharmacy UM co-curricular certificate to add to their transcript and demonstrate their leadership development.
Registration is required. To register, or for more information, please email pharmacy [at] umanitoba [dot] ca or call 204-474-9306.