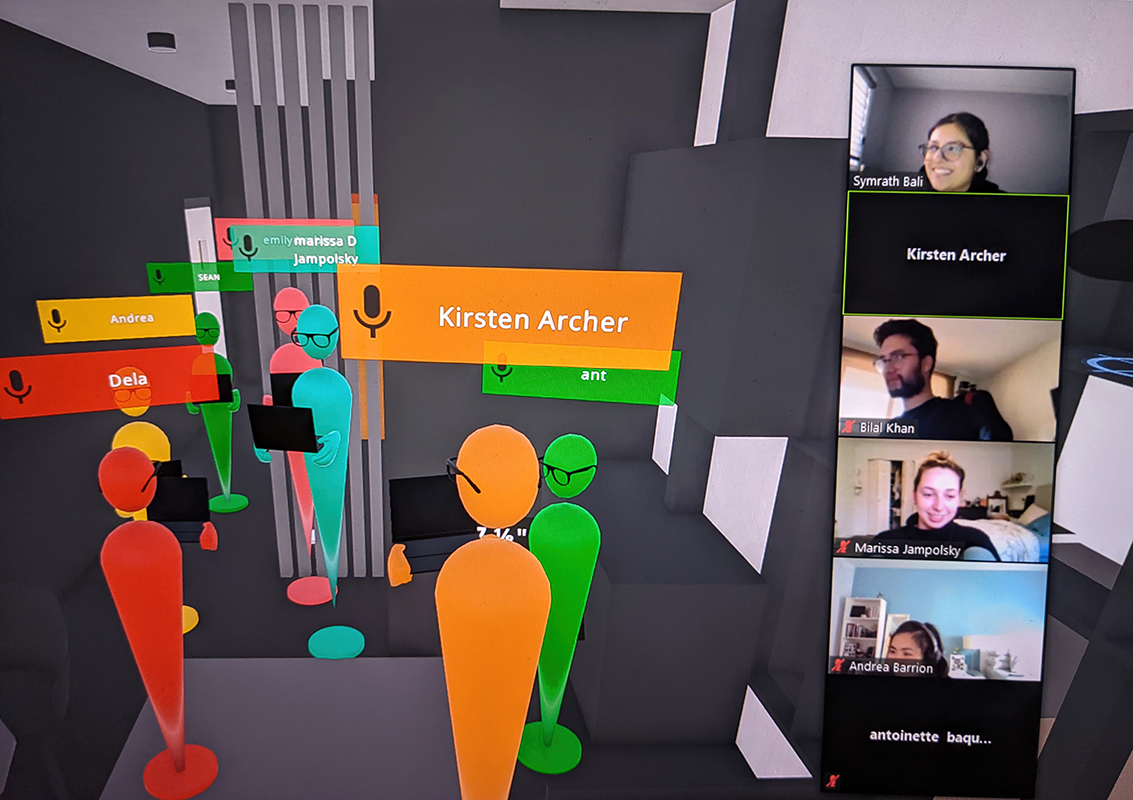 Collaborative Architectural Reviews – Virtual Interior Environments, Virtual Communication, and Virtual Reality
March 8, 2021 —
The fall term offered many exciting challenges and opportunities for conducting remote learning in the Department of Interior Design. One exciting opportunity included introducing new technological approaches to augment existing class frameworks. In contemporary architectural design, work is typically produced in the form of a digital 3D model. Graduate Interior Design courses require each student to produce detailed interior environments and create an accurate digital model of their proposed designs. Work produced in digital models has often been printed off as hard copies and reviewed in-person with instructors and students. However, COVID-19 encouraged us to look at different approaches to these review methods.
In December 2020, nine Masters of Interior Design students (IDES-7200-A01 – Masters Studio) led by studio head Jason Shields (Assistant Professor – Faculty of Interior Design) looked to new technologies to augment the core fundaments of Interior Design. The studio's term objectives required the production of precedent studies, site analysis, programming, concept ideation, and design. During the design development phase, students produce a multitude of design iterations and options. Due to COVID-19, introducing an immersive digital framework to assist in the visualization and critical analysis of the iterative design process was essential. Therefore, during the preliminary design phases, students' digital models were converted into immersive and traversable "virtual interior environments." This allowed students to view their designs in real-time 3D using their own "avatar" (including a name tag) with the ability to walk through each other's works freely.
These virtual environments were accessible to students and guests through a shareable web link—this method can allow for upwards of 30 guests in the model at one time. Each student would be visible in the model with a coloured "avatar" stating their name. The interface can also provide a list of all the collaborators in the virtual environment, helping you coordinate the review. In place of in-person interaction and discussion, the virtual environment created a meeting point to analyze, discuss, and reflect on design solutions in a real-time 3D framework. Instructors can produce measurements, annotations and inspect the model elements synchronously, allowing for both critical and technical analysis of the work. Object properties, materials, and daylighting analysis are also available, allowing for further technical discussion between parties. Students can pre-arrange views of their interior spaces to create a guided 3D tour of their designs to show instructors and peers. Users inside the model are able to roam freely, controlling their "avatar" using a keyboard & mouse or other devices. Students, instructors, and guests can enter the model using their laptops, desktops, or virtual reality headsets. The ability to use a vast array of technological mediums to enter and communicate in the same digital model allowed for an equitable approach. While using a virtual reality headset offers the most immersive experience, anyone was able to engage, traverse and inspect the 3D model as well as communicate with others.
The recent acquisition of Prospect/IrisVR software coordinated by Jason Shields with the FABLab (Faculty of Architecture), VRLab (Faculty of Architecture & Price Faculty of Engineering), and the Student Innovation and Enrichment Fund (SIEF) has allowed for this unique engagement. The Interior Design Department was the first to utilize this new procurement and is excited to research further opportunities it can provide. Not only can students and instructors interact virtually in real-time anywhere in the world, but they could also leave comments, produce digital mark-ups, take photos, measure spaces, inspect materials, analyze lighting properties, and better understand the scale and circulation throughout the space. Future plans for additional VR/AR integration as well as interdepartmental and external collaboration will encourage critical analysis of student architectural works and foster stronger alliances with international collaborators and industry professionals.