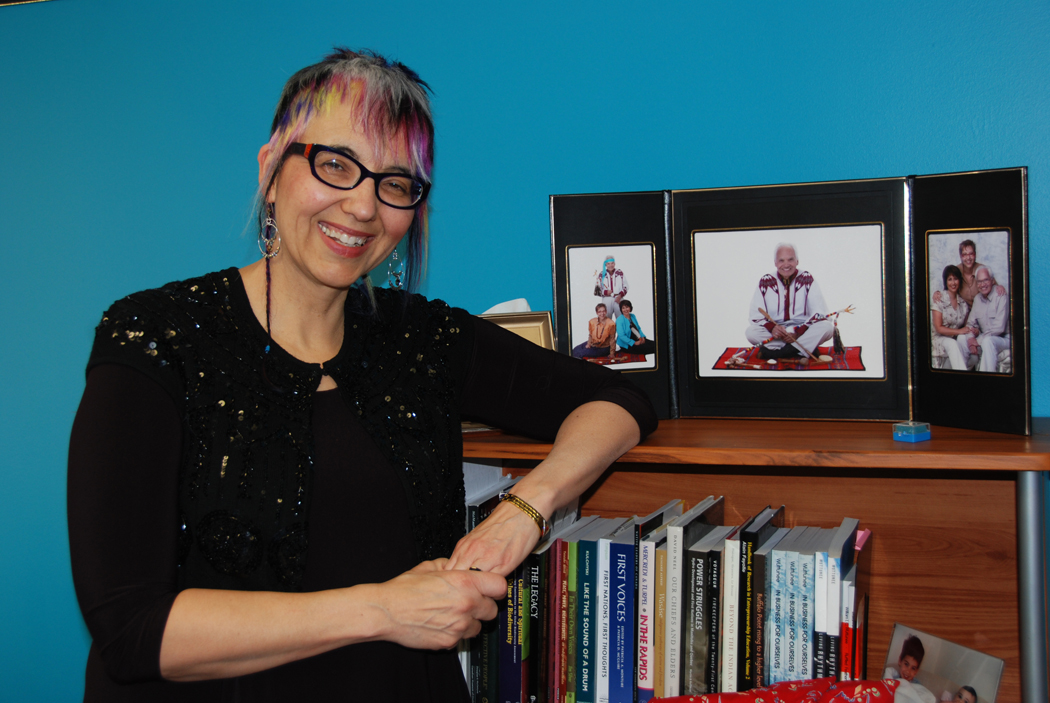 Coffee With a Co-worker: Wanda Wuttunee
January 9, 2014 —
Shine a little light. Wanda Wuttunee knows what it means to be diversified. After finishing her first three degrees in Calgary (in addition to her PhD, she is also a B.Comm., an LLB and an MBA), she interviewed for a position at the U of M, in 1994. There was interest at the Asper School of Business in attracting, retaining and facilitating more Aboriginal students at the business programs here. With her background, Wuttanee was a perfect fit, and in addition to her role as professor in the department of Native studies — where she teaches courses in Aboriginal economy, community economic development, participatory research methodologies and governance social responsibility and leadership — she became associate director of Asper's Aboriginal Business Education Partners (ABEP) program. 19 years later (and now ABEP director), the university and Winnipeg are home to her and she is passionate about her work.
The unusual complement of positions has also allowed her an interesting, interdisciplinary perspective, she says. She has a broad network from business, social activist and academic research communities, and acts as regional co-chair of Poverty Action Research Program. The emphasis on community is integral to the courses she teaches; her Asper courses incorporate organizationplacements, so that students not only learn in a hands-on environment but also start to "give back," which is key to her values, along with the idea of sustainable practices. In fact, giving back is what she most enjoys about her work: "There are so many needs in the community, and I like that I can help to make a difference, and see students make a difference. From education to co-ops to social enterprise to partnering, there are many different ways to improve the community, to share prosperity, to reach out — to shine a light in the dark places," she says.
Q & A
Name one thing that not too many people may know about you.  My husband and I are taking harmonica lessons right now.
What puts a smile on your face? My kids (23 and 21) tell me stories and I can tell that they are doing well.
Where did you grow up? Calgary. I lived there for 23 years.
What did you like about your childhood? I grew up with four siblings. Lots of energy, adventures in a loving family and
we all care about each other now.
Childhood heros? My mother (Ukrainian and French) married my father (Cree) at a time of great opposition from their families on grounds of religion and ethnicity. As a result, I love perogies and cabbage rolls as well as bannock, drumming and singing our songs.
Guiding principle or motto:  No one owes me anything and I have done nothing except through God's grace.
A memorable dinner with friends: A friend and colleague came to town last week. We have known each other for 20 years. My husband and I took him to Wok Box for a relaxing meal and a chat. It was memorable because he enjoyed it as much as we did and since he was getting over the flu — and kept the food down. It was memorable!
What do you appreciate or admire in another person? Integrity, honesty, faith and compassion.
Everyday essential: Fibre One followed by a run, a walk or a circuit training session with weights, exercise ball, kettle bell and tension band.
One of the most unusual experiences you've had is: Being named one of Canada's 100 Most Powerful Women last year was unusual because that kind of recognition doesn't happen every day. I had a sense of unreality (why me?) through the whole recognition event. The best part was I got to take my 21-year-old daughter. We talked most seriously about her dreams and so now she wants to be a graphic artist. She never
had the confidence before to pursue her artistic talent.
Something eye-opening you've experienced. I survived a head-on collision and I can still see the car doing 60, and we had nowhere to go. What do you do when that happens? I closed my eyes and relaxed. There was nothing I could do, anyway. There were five people in two cars. All survived, thanks to seat belts. It was an eye-closing experience.
A recent book you enjoyed? I am reading T.D. Jakes' Reposition Yourself: Living Life Without Limits. I am a bit of a careful person sometimes so his statement, "You cannot win against that which you will not see and confront," is very challenging.
Favourite TV show, film, blog or website: "The Voice," "Grey's Anatomy" and "Dancing with the Stars."
People on campus recognize you because … um, of my hair.
Anything else you'd like people to know about Wanda Wuttunee? For my kids, I think it is important to acknowledge that I earned a PhD, enjoyed and continue to enjoy a productive work life as an academic with wonderful recognition all after I was diagnosed with a mental illness following the car crash I mentioned 20 years ago. I am not crazy (except after eating too much chocolate sometimes) but count all my blessings that I can be bipolar and fit right in and make a contribution in this world. I can't ask for anything more… with a loving husband and family by my side.
Coffee With a Co-worker is a regularly appearing column that features staff and faculty of the university. This article first appeared in the November 22, 2012 edition of The Bulletin.