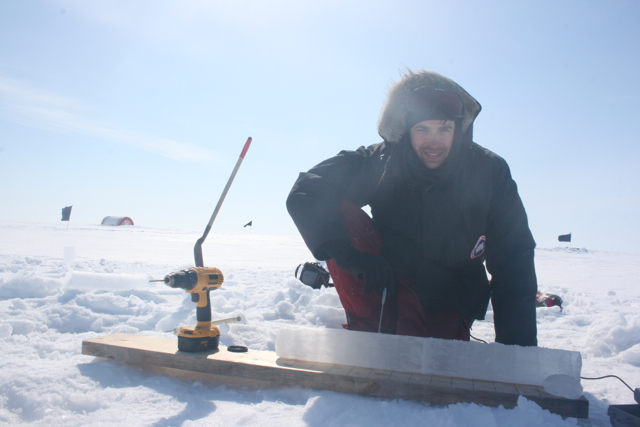 Climate research in the arctic: More stories from the Arctic Science Partnership
July 30, 2014 —
Working in freezing conditions is not for everyone. The researchers from the Arctic Science Project have to deal with the cold and extreme isolation for weeks on end. Here is the second in a series of posts from University of Manitoba researchers and grad students, and their experience working in the arctic under the Arctic Science Partnership. For the first two stories, click here.
---
Quite a different working environment than the Amundsen
By Alexander Komarov, PhD Candidate (CEOS, University of Manitoba)
In the field we stayed in a hunter's cabin with a great view at the frozen ocean! The experimental site was located on the ice about six km away from the cabin; so, we drove there by a snow mobile. Everyone who lived in the cabin had to do different chores which included cooking, collecting snow for washing dishes, filling up and running a power generator, keeping the diesel furnace running, and feeding our cabin husky dog Junior! Quite a different working environment than on the Amundsen!
To read the full story, click here.
---
Equipment blown out to sea
By Sergei Kirillov, research scientist (CEOS) and Vlad Petrushevich, PhD candidate (CEOS)
Despite our best efforts we were not able to recover all of our equipment: one of them was lost in December – blown out to sea when the ice it was deployed on was broken off in a storm. Moreover, the unusually snowy winter weighed heavy on the ice and flooded the surface layer burying the top parts of many moorings in a thick layer (40-50 cm) of slush and ice. We spent hours chipping away at the ice to free our equipment!
To read the full story, click here.
---
About the Arctic Science Partnership
University of Mantioba researchers and grad students are involved in the Arctic Science Partnership and have documented their first-hand accounts of life up north. The project between three internationally-recognized Arctic research centres (University of Manitoba's Centre for Earth Observation Science (CEOS), Aarhus University (Denmark) and the Greenland Institute of Natural Resources) brings academic and research capabilities into joint research campaigns and integrated academic programs. The participants' experiences go far beyond the science behind the project, the collaborative nature of ASP nurtures a love of the barren north, personal growth, and many new friendships. Below you'll find the first two stories reposted  for UM Today. For more, visit asp-net.org.
Research at the University of Manitoba is partially supported by funding from the Government of Canada Research Support Fund.