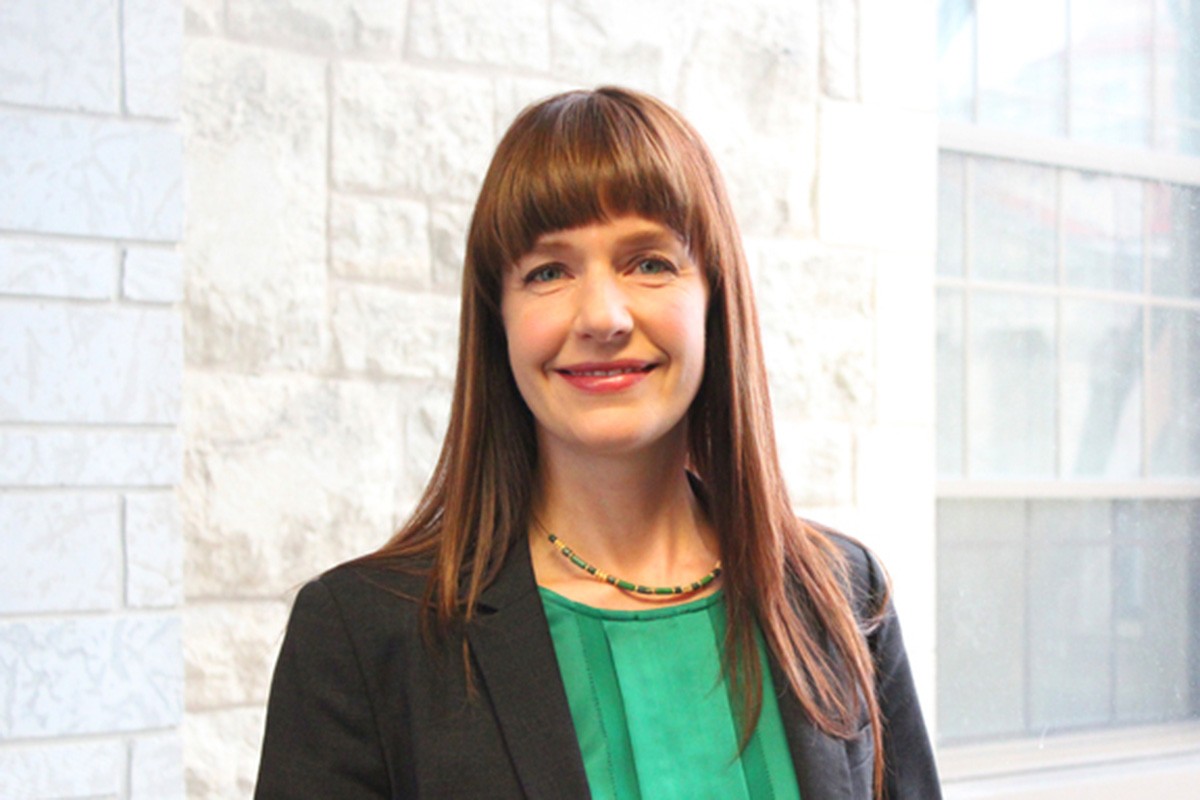 Classroom upgrades aid 'immensely'
Award-winning professor speaks on improvements in wake of Richardson Foundation $10M gift
April 15, 2016 —
On April 14, the Richardson Foundation announced a gift of $10 million to upgrade lab and classroom facilities across the university's campuses.
Associate Professor Michelle Faubert, recipient of an Excellence in Teaching Award, spoke at the event via video from the newly upgraded Room 303 in the Tier Building, discussing how smart classrooms give students a multi-sensory educational experience and can help them understand course material.
Faubert has gained an international reputation for insights into Romantic literature and the history of medicine and has been invited to speak at conferences and universities across Europe, Asia, and North America. She has received the Rh Award for research on Romantic literature, focusing on the history of psychology and insanity in the Romantic period, is a Visiting Fellow at Northumbria University in England and holds a five-year SSHRC Insight Grant.
Faubert spoke with UM Today on the impact for faculty and students of the upgrades to classroom spaces.
UM Today: What does your ideal teaching space look like?
Michelle Faubert: As an Associate Professor of Romantic-era literature, I invite students into the sometimes unfamiliar world of historical literature and aim to interest them in texts that are frequently challenging to them. Romantic-era British literature includes works from roughly 1780 to 1830. The language, social issues, history, politics, philosophical approaches, and formal styles in the literature can seem strange to the students of today.
To bridge this gap and make the poetry and prose we study more accessible, I endeavour to include plenty of images, quotations regarding critical and theoretical approaches to the literature, videos, and audio recordings of well-known actors reciting the work. In doing so, I provide different sensory experiences and voices engaging with the texts at hand. To me, then, the ideal teaching space offers the proper technology to allow me to deliver my lectures with all the multi-media components that I need to provide an engaging learning experience for the students.
Moreover, visual presentation matter is vital to class discussion – and I consider class discussion to be one of the most effective means of engaging students with the literature, as it encourages them to take responsibility for their understanding of the work, as well as to articulate their view of it logically and convincingly as they respond to my comments and those of other students. Class discussion encourages the students to "think on their feet" – to assemble viewpoints and arguments in a nimble and spontaneous way – which is essential to their professionalization and critical thinking. Visual aids – such as a Powerpoint slide of the questions under discussion – can help students to focus their responses.
UM: What impact will the recent upgrades in Tier have on how you teach and engage with students?
Faubert: The upgrades to the classrooms in Tier will help me immensely from the moment that I step into the room. Thanks to these upgrades, I can simply arrive in the classroom shortly before the lecture and easily connect my laptop to the projection equipment – or even show my presentation from a memory stick plugged into the classroom computer! What a wonderfully different experience this is in comparison with the pre-upgrade classroom. Each class is an important event, in my view, and the new upgrades to the classrooms demonstrate the university's devotion to this principle.
UM: How do we prepare for the students of tomorrow when looking at how our classrooms function?
Faubert: We live in a multi-media world now and this trend will only be more pronounced in the future. Children as young as two years old are media-savvy and relate comfortably to screens, videos, and images in a way that was never the case before. We should embrace the opportunities that the heightened sensory experience of the classroom can provide to us through this method of learning.
I am as devoted as I ever was to the beautifully prepared formal lecture, interspersed with probing and appropriate questions to engage students in class discussion and promote self-directed learning, but students increasingly expect – and learn best with – other sensory input than simply the verbal. By celebrating the multi-media classroom and showing my students my passion for their enhanced learning experience, I model my respect for them, my enthusiasm for my job, and my creativity in accomplishing it. Not only will my lectures be more interesting for the students, which will help them to comprehend and think critically about the subject under discussion, but I also thereby demonstrate dramatically what a love of one's work looks like – and, hopefully, by doing so I can inspire the students of today and tomorrow to be engaged, passionate contributors to the workforce themselves.