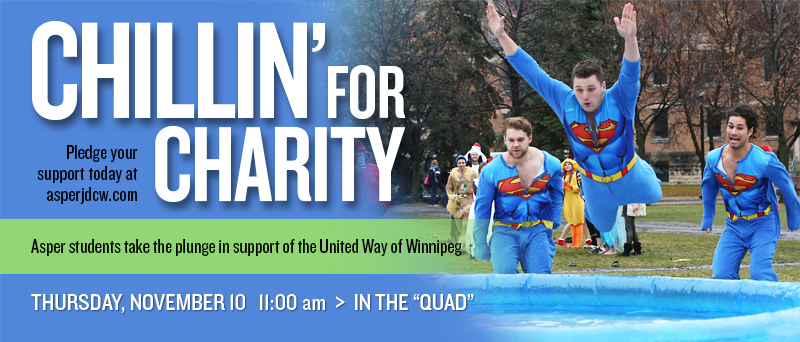 Chillin' for Charity
November 17, 2016 —
A brave team of 48 students from the University of Manitoba's Asper School of Business took part in "Chillin' for Charity" on Thursday, November 10 to raise funds for the United Way of Winnipeg.
Decked out in spectacular costumes, the students took turns leaping into a pool of icy water at the Quad, adjacent to the Administration Building on the university's Fort Garry campus.
The students are members of "Team Toba", the Asper School of Business team competing in an undergraduate business student competition called Jeux de Commerce (JDC) West. Each year, JDC West teams across Western Canada host their own Chillin' for Charity event.
JDC West offers an opportunity for students to showcase their talents in a variety of competitive areas, including academics, sports and spirit. The event consists of 10 academic case competitions, a parliamentary-style debate, a highly competitive sports component, a team spirit competition, and a charity element.
So far, Team Toba has raised over $15,500 in support of the United Way of Winnipeg.
"Each year, members of Team Toba volunteer thousands of hours at local charities," says Team Toba co-captain Gordon Chandler. "Chillin' for Charity is a fun way for our team to celebrate the impact we've made on the community through the year and raise money for a great organization."
Following their frigid plunge, members of Team Toba warmed up under the Manitoba Liquor and Lotteries tent. RBC Royal Bank was also present as the Premier Charity Partner, and donated $5,000 to the cause. Virgin Radio's Ace Burpee and LTI emceed the event.
You can make a donation to the United Way of Winnipeg at www.AsperJDCW.com