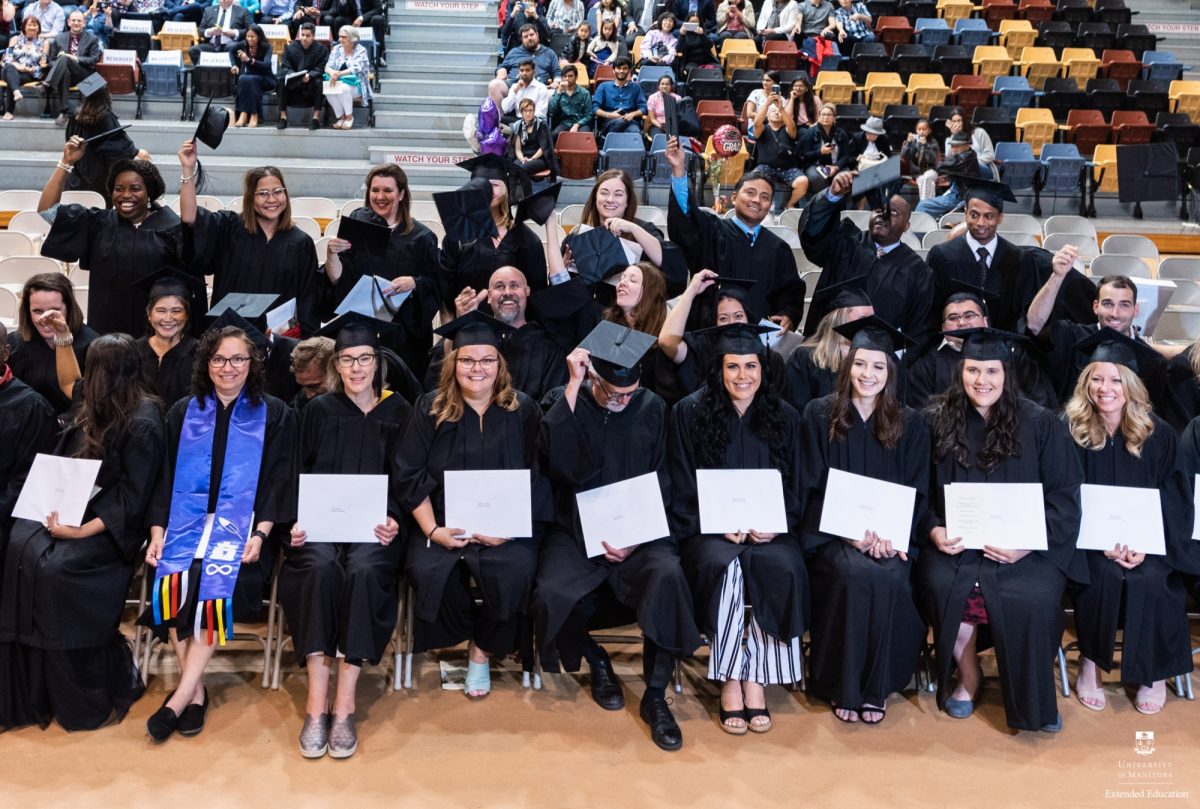 Cheering on our grads
2019 Extended Education Graduation celebrated in style
June 24, 2019 —
On June 17, nearly 1,200 people gathered at Investor's Group Athletic Centre to celebrate the 2019 Extended Education Graduation.
The over 500 graduates of Extended Education's programs were honoured at a formal graduation ceremony. This was the first formal cap & gown graduation for the division, and the first graduation to include all of the current programs.
Graduates, accompanied by their friends and family, celebrated earning their credentials.
"It was a long journey, working full-time and going to school," said Bonnie Murray, Certificate in Applied Counselling graduate. "I'm excited to be done. It was a lot of hard work and I'm looking forward to being able to use these skills and experiences I've gained in the future."
Feeling great
"I'm feeling great," said Rana Muhammad Ahmad Noon, Certificate in Human Resource Management graduate, in anticipation of the ceremony. "My daughter graduated from the U of M with an honours degree in economics last year. Now she will see me graduate."
With a background in human resources in Pakistan, Noon came to Winnipeg in 2015, and decided he needed some local training. He chose U of M. "It's one of the oldest universities. It is a good facility. It was my best choice. The program was very professional. The instructors were knowledgeable and had practical experience. I am getting a Canadian certificate. Now I plan to resume an HR profession."
Gary Hepburn, Dean, Extended Education opened the celebration. Greetings were provided by Todd Mondor, Vice Provost (Graduate Education) & Dean on behalf of the President's Office, Wanbdi Wakita, Access Program Grandfather-in-Residence, and Jeff Lieberman from the U of M's Alumni Association.
Paul Jenkins, Manager, Delivery, presented the Ronald Kristjanson Memorial Scholarship 2019, awarded to two students enrolled in a certificate program. This year's recipients were Belinda Duncan and Bonnie Murray.
19 programs represented
This year's graduates represented 19 Extended Education programs including classroom, online and intensive options.
Extended Education at the U of M is a leading provider of programs and courses designed for working professionals to keep learning and move forward in their career. Registered numbers of students are up over 70 per cent over the past three years, with over 11,500 students in 2019 and growing.
Over 156 courses this year including online options
With Extended Education, students build on their degrees, diplomas, and experience and earn a university credential. Over 156 courses were offered in 2019. A growing number of online programs serve students from across Canada.