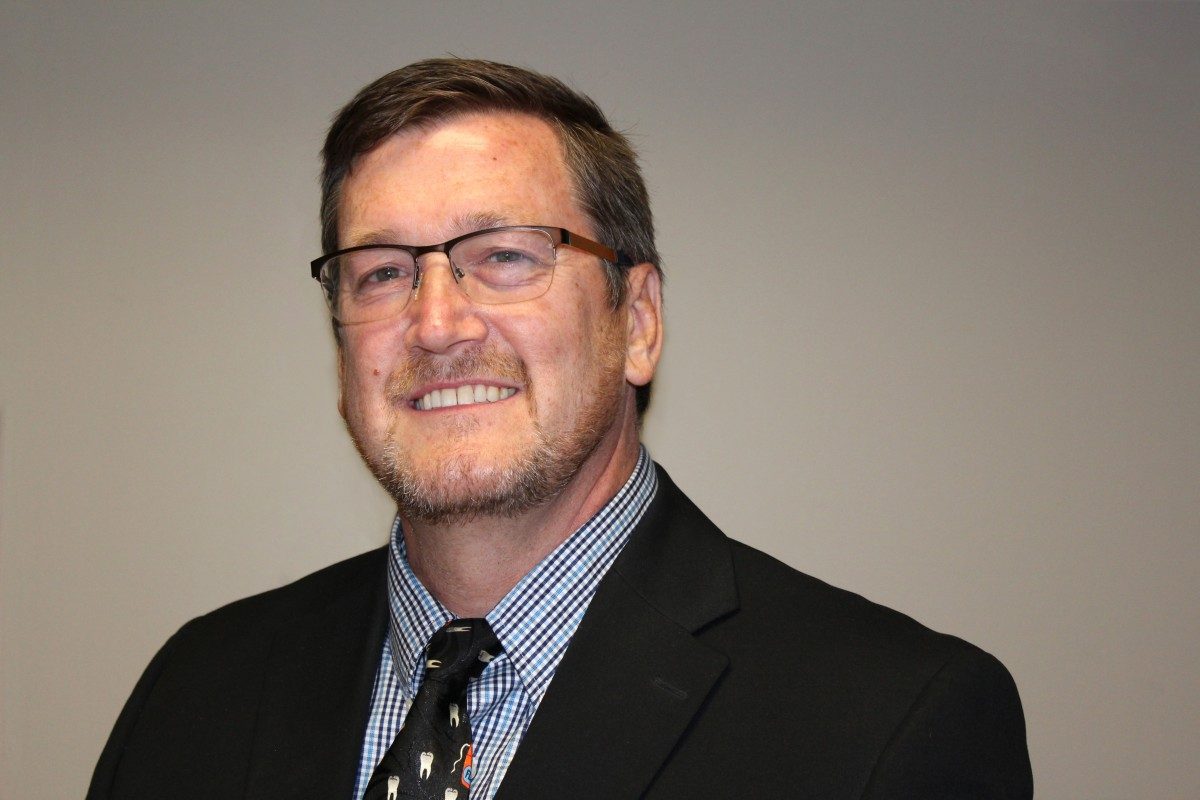 Changemaker heads west
August 23, 2017 —
Dr. Doug Brothwell is runnin' back to Saskatoon.
After 18 years as a professor, head of the division of community dentistry, and most recently associate dean (academic) of the College of Dentistry in the Rady Faculty of Health Sciences, the energetic administrator is returning to his home province.
Brothwell, 57, has been appointed dean of the College of Dentistry at the University of Saskatchewan, the same school where he earned his dental degree in 1984 after growing up in Melfort, Sask.
"It's a homecoming," he says. "I know the school, I know the people, I know the challenges. I'm looking forward to setting the approach and having others work with me in bringing change."
Brothwell, a lifelong learner, holds a bachelor's degree in education, a master's in dental public health and a certificate in quality management.
In his seven years as associate dean, he says, he applied quality-management principles to driving aggressive change. "My approach has been one of finding solutions," he says, cheerfully adding, "You don't do it for the popularity."
He has led major initiatives such as revising the credit-hour system, overhauling the teaching of dental practice management, establishing policies on matters such as attendance and conflict of interest, introducing a peer tutor program and lengthening the academic year.
Dr. Anthony Iacopino, dean of dentistry, says Brothwell has worked tirelessly on "enhancing the student experience, improving the workplace and modernizing the curriculum and calendar."
We dropped by Brothwell's office and asked him to reflect on his U of M tenure.
---
Q: What do you consider your key accomplishment as associate dean?
I'm most proud of improving the relationship between the dental school and the students. When I took over this job, a lot of students felt their voices were not always heard. We've established ways for them to raise concerns and ideas, and feel respected and listened to.
Q: Tell us about one of your initiatives that improved the student experience.
We used to require students to screen patients for the college clinics. It took far too much time, they didn't necessarily accept appropriate patients, and it made diagnosis and treatment planning disjointed. Now faculty members conduct the screening. It has improved the diagnostic and treatment-planning ability of our grads.
Q: What is one of the challenges that all Canadian dental schools are facing?
Students today come in with the mentality that dentistry is primarily a business. They've seen all this advertising by dentists. We have to teach them about their responsibility as health-care professionals to help people and be of service. Having said that, the U of M has a high rate of participation in humanitarian dentistry, so we are transmitting those caring values.
Q: One of your foremost research interests has been in helping patients to quit smoking. Is there a personal angle to that?
Yes. My personal journey to give up smoking was a struggle. I finally quit for good when I was 32. It's become a bit of a life passion for me to help others get rid of the curse of smoking more easily than I did.
Q: You seem driven and action-oriented. Do you have trouble relaxing?
There was a time when work followed me around constantly. I would get up in the middle of the night to write down ideas. But I've found good ways to separate professional life and home life. I have hobbies. I'm a woodworker, and I've taken up making knives, inspired by the TV show Forged in Fire.
Q: Speaking of forged in fire, did some of the initiatives you attempted at the College of Dentistry meet with a firestorm of opposition?
Oh, yeah! I tried to expand our school year and clinical operations from eight months to almost year-round. There was resistance from everybody. With our quality-management approach, we used the feedback and came up with a compromise: an extended academic year that starts in August and goes to mid-May.
Q: What are your priorities at the University of Saskatchewan?
I have a vision to make Saskatchewan a centre of excellence for treating dental patients with special needs. But the school might decide to go in a different direction. It will be a process of listening, and then leading the change.