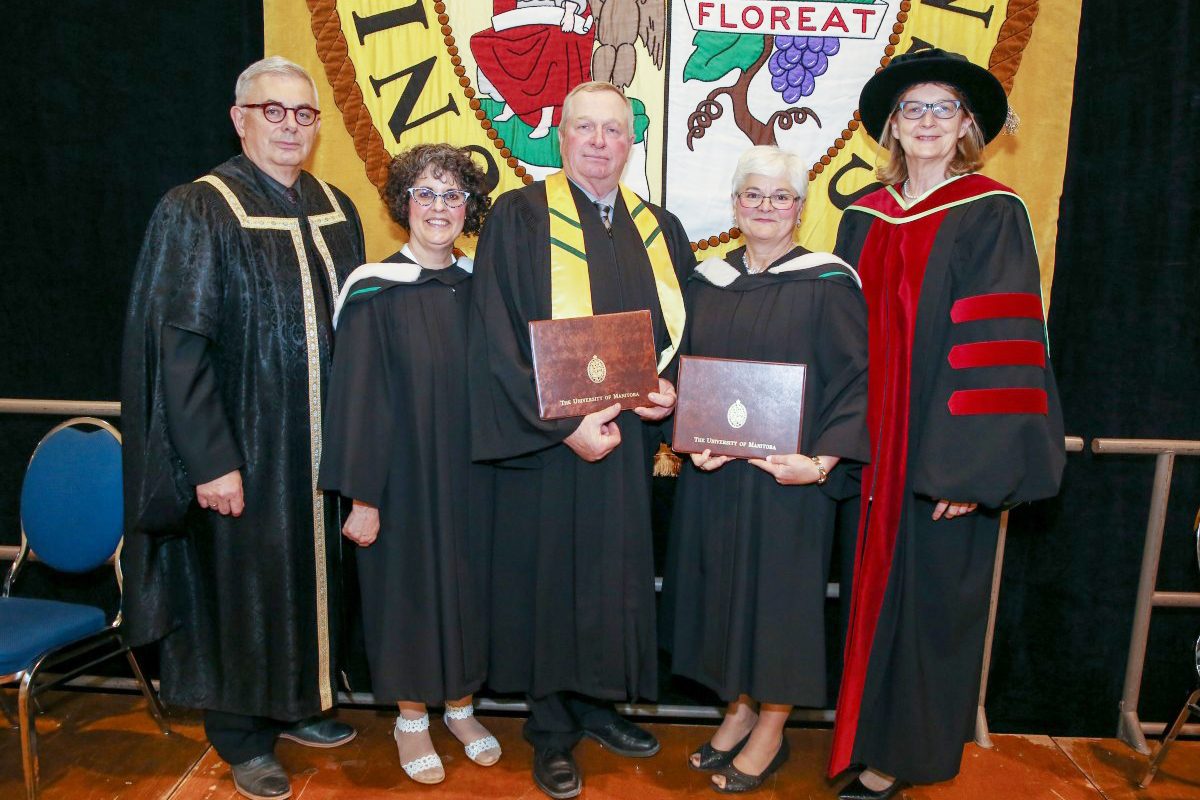 Certificates of Merit recognize U of M agricultural and food sciences alumni
May 7, 2018 —
Two alumni of the University of Manitoba's Faculty of Agricultural and Food Sciences were honoured Friday evening for their outstanding contributions to Manitoba's agricultural community.
Bill Campbell, purebred cattle producer, and Chris Hamblin, former chief commissioner for the Canadian Grain Commission, received Certificates of Merit from the Faculty of Agricultural and Food Sciences at the recent School of Agriculture convocation in recognition of leadership with agricultural organizations and outstanding service to the community at large.
Bill Campbell received his Diploma of Agriculture in 1975 from the University of Manitoba. He returned to the family farm northeast of Minto, MB, where today Bill farms 1700 acres of wheat, barley, canola, corn, oats and soybeans, and 70 head of purebred Limousin seed stock.
Much of Bill's career has been dedicated to the improvement of the Limousin cattle breed. Bill has served on the board of the Manitoba Limousin Association for 41 years, currently as president. At the national level, he has provided leadership to the Canadian Limousin Association, and was a Canadian delegate at International Limousin Congresses in Denmark and Ireland.
His contributions to the agricultural community stretch even further, as he has been a member of Keystone Agricultural Producers since its inception and is currently vice-president. He has been a 4-H Leader for the Beef Club in Minto, MB, and has served on the Minto Restaurant Committee, Boissevain and Area Vet Board, and as a coach and volunteer for many sports over the years. In his free time, Bill has played hockey, baseball and fastball.
Chris Hamblin graduated from the University of Manitoba with her Bachelor of Home Economics in 1977 and a Certificate of Education in 1978. In addition to teaching home economics, Chris and husband Lorne Hamblin operated a grain and seed farm in the Morris area before passing the farm's daily operations over to son David in 2012.
Chris has provided leadership to the agricultural community in numerous ways, serving on the boards of Keystone Agricultural Producers, Secan, Agriculture in the Classroom and Manitoba Rural Adaptation Council. She was appointed Chief Commissioner of the Canadian Grain Commission from 2002 to 2007. Chris has also been a tireless community volunteer with organizations such as the Valley Agriculture Society, Morris Curling Club, Band Parents, Cubs and Scouts, Morris Agricultural Marketing Club and Ag Expo.
What she and Lorne may be most recognized for is their dedication to and love of the sport of curling. Chris coached high school, pre-junior and junior curling teams, and offered school curling programs to students from Lowe Farm, Morris, St Jean and Rosenort. Together Chris and Lorne coached teams at Manitoba, Canadian and international events including the Europeans, the 2010 Olympics and 2015 Deaflympics. Today, Chris is manager and instructor for the state-of-the-art Cargill Curling Training Centre located in Morris.