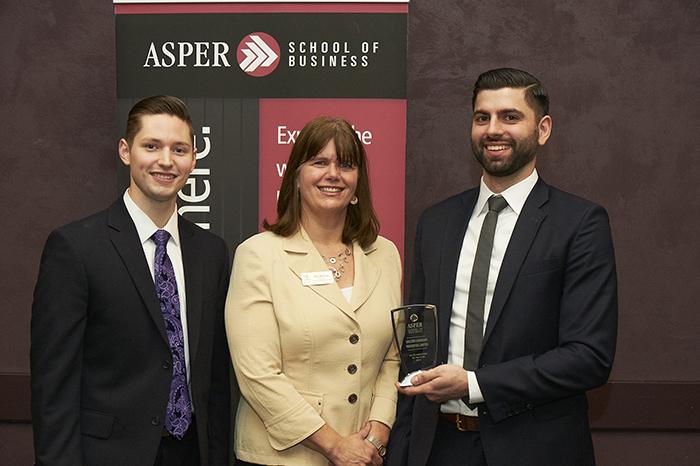 Celebrating Asper Co-op
February 4, 2016 —
The Asper School of Business Co-operative Education Program continues to grow thanks to our strong partnerships with leading businesses in Manitoba and across the country. This year, enrolment in Asper Co-op increased by 30 per cent, and our co-op graduate employment rate is 98 per cent – the highest ever.
We're enormously proud of our students and what the program has helped them accomplish. We celebrated their achievement on January 20 at the annual Celebrating Co-op gala, sponsored by the Young Associates.
Indigo Adam-Grant received the 2015 Co-op Student of the Year award for her outstanding work as an account development manager at PepsiCo. Her employer praised Indigo for her outstanding sales skills and initiative, and her ability to hit the ground running in a fast-paced environment. Indigo "has shown us what is possible and how much can be accomplished in a four-month term. Truly a new standard has been set for hiring."
Indigo also maintained a 4.22 GPA and received multiple scholarships throughout the year. She volunteers as a business mentor for the Entrepreneurship Adventurers Program at Joseph Teres Elementary School and has coached a girls' basketball team for the past three years. She serves as the basketball convenor for the Fort Garry Community Centre. Last year she was a member of the CSA's volunteer and promotions team, and currently contributes to the promotions team for the Asper Students Cooperative Association.
Shelter Canadian Properties Limited received the 2015 Asper Co-op Employer of the Year award. Asper co-op student Michael Teichreib, who nominated the company for the award, identified several key qualities that made his co-op experience there an exceptional one:
"My manager and the team I worked with have been the greatest contributors to my professional growth yet. The amount of knowledge I have gained has impacted my career and academic development immensely. My employer gave me the chance, the knowledge, and the trust to take part in the redesign and implementation of key business processes within the department and to create lasting change in the company. This experience will remain with me as I progress through my studies and throughout my professional career."
Interested in hiring top talent this summer? Hire an Asper Co-op student!
Deadline to post summer 2016 co-op positions (for May-August placements) is February 8, 2016 on the Asper Career Portal.
For more information contact:
Jill Latschislaw
Co-op Coordinator, Asper School of Business
Jill [dot] Latschislaw [at] umanitoba [dot] ca or 204-474-8118
Meredith Bara
Co-op Coordinator, Asper School of Business
Meredith [dot] Bara [at] umanitoba [dot] ca or 204-474-6673