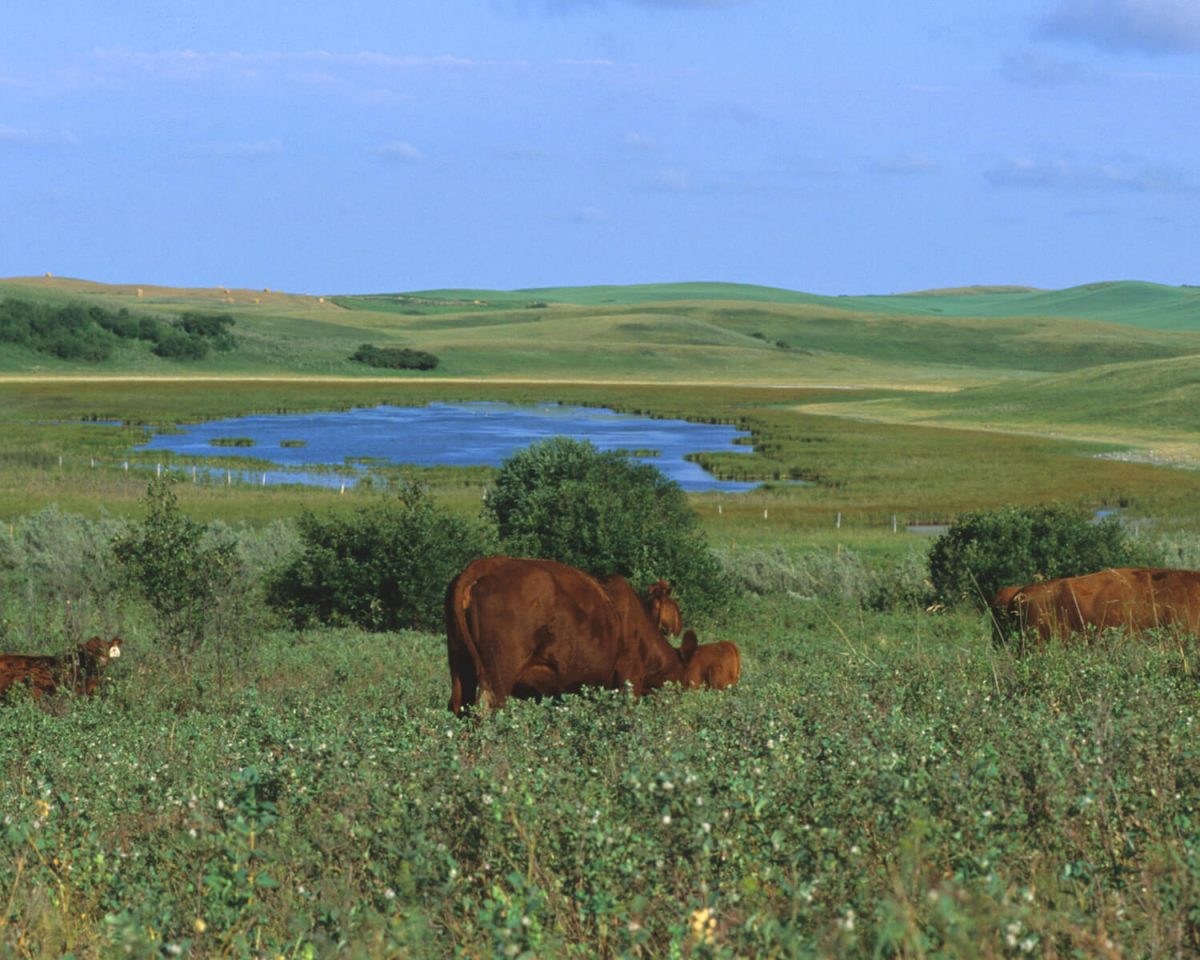 Cattle Country: Sustainable Agriculture – Exploring Net Zero, Indigenous Agriculture, Biodiversity
May 24, 2023 —
The following article was written by Peter Frohlich, National Centre for Livestock and the Environment (NCLE), University of Manitoba. It was originally published in Cattle Country in May 2023.
More than 300 researchers, farmers, policy makers, and industry representatives attended the 9th Annual Sustainability of Canadian Agriculture Virtual Conference held March 7-9th 2023 which tackled timely topics including the possibility of achieving net zero emissions, exploring the role of Indigenous agriculture and understanding how biodiversity is linked to agriculture production. The virtual event co-hosted by the National Centre for Livestock and the Environment (NCLE) and Agriculture and Agri-Food Canada (AAFC) featured thought-provoking panel discussions, a GHG farm emissions modelling workshop and more. This year's theme was a deep dive into exploring how new and traditional knowledge can work jointly to enhance sustainable food production in Canada and pave the way to achieving net zero emissions targets in agriculture.
The keynote address: Are net zero emissions achievable?
Internationally recognized speakers Henry Janzen and Tim McAllister with AAFC kicked off the workshop by critically examining the concept of net zero emissions in farming and its feasibility. Janzen, speaking from a land perspective, discussed the challenges associated with net zero emissions, including the obstacles that the industry, academia and society must navigate to reach ambitious international emission reduction targets. McAllister provided an overview of livestock as a contributor to the circular bioeconomy, highlighting advancements the Canadian livestock industry has made that lead to mitigating methane emissions intensities. Both speakers agreed that the solutions lie in the transformative reconfiguration of farming including restoring large areas of land to natural systems like grasslands, enhancing biodiversity, and reducing food waste – to name just a few.
Achieving net zero emissions Anne Mottet with Food and Agriculture Organization at the United Nations, David Burton a soil researcher with Dalhousie University and Korb Whale a 7th generation dairy farmer and a director with Dairy Farmers of Canada (DFC) shared their perspectives regarding avenues to reach net zero emissions. Mottet provided a profile and breakdown of emissions from livestock production on a global scale. She proposed that livestock should be viewed as a climate change solution and proposed strategies to reduce emissions through improving animal and herd efficiency, increasing soil carbon sinks, reducing waste and increasing recycling. Burton discussed strategies to manage soil health and emphasized sound nitrogen fertilizer use including adoption of the 4R's (right source, rate, time and place) and strategies to increase soil carbon. Burton suggested that a paradigm shift is required to achieve net zero emission targets, focusing on soil health rather than maximum yield. He suggests that along with traditional commodity production farmers must be rewarded for their role in maintaining environmental goods and services including storing carbon, building soil organic matter, reducing nitrous oxide emissions, encouraging activities that promote renewable energy production and biodiversity. Whale, whose farm recently won a DFC sustainability award shared perspectives from the Canadian dairy industry regarding adoption of on-farm management practices to reach net zero. He emphasized the importance of considering all management practices simultaneously to make them effective and profitable. He reinforced the importance of adopting a national tool to measure GHG emissions on-farm and the need to effectively transfer knowledge from research to farmers.
Role of Indigenous Agriculture in our food systems
Dan Benoit is a Manitoba Métis from the Red River area, a manager with the Indigenous Science Liaison Office at AAFC, a farmer, hunter, trapper and a fisherman. Benoit's presentation focused on the history of First Nations farmers prior to colonial settlements. He explored archeological evidence of farming by First Nations dating back 800 years which included corn seeds and stalks, and the importance of bison as a source of food, clothing and early tools to work the land. He described a Métis seasonal food harvesting cycle that included planting, fishing, a bison hunt and a garden harvest. These activities were carried out in a way that respected the land and preserved biodiversity. Kyle Bobiwash, an Assistant Professor at the University of Manitoba and an Indigenous Scholar discussed the loss of original Indigenous territory in favor of colonial settlers. He reminded us that current farming activities used today to enhance sustainable agriculture are rooted, in part, in traditional Indigenous practices. These include no till farming, select pest management practices (pest predator dynamics), integrating fertility management in soils, the use of fire to reconfigure ecosystems to build ecological capacity and expand ecological ranges. Bobiwash urged the audience that it is important to bring Indigenous practices to the table to help re-design the structure of modern food systems and to train the next generation of decision-makers to create space for Indigenous leaders. Melissa Arcand, Associate Professor at the Department of Soil Science at the University of Saskatchewan and Anthony Blair Dreaver Johnston, Special Advisor to Mistawasis Nêhiyawak, a Cree community north of Saskatoon introduced the Bridge to Land Water Sky Living Lab project. This novel project is a first Indigenous Agricultural Climate Solutions Living Lab lead by Mistawasis Nêhiyawak in collaboration with Muskeg Lake Cree Nation, as well as other Indigenous partner organizations, U of S and AAFC. The "Bridge" refers to relationship building not only with people but those between land, water and sky. The project addresses carbon sequestration, GHG emissions and includes unique goals of improving local food security and creating learning opportunities within the community. Re-introduction of bison in this First Nations community is a unique and exciting element of the project which will be implemented over time. Johnston closed the presentations with a message that Bridge to Land Water Sky is the expression of hope for the Indigenous communities to join the Canadian agricultural community.
Is biodiversity the new carbon?
As we strive to enhance the sustainability of agriculture and make changes to production methods, we also must address biodiversity. Majid Iravani with the Alberta Biodiversity Monitoring Institute at the University of Alberta is gathering information on how livestock production affects biodiversity. He is studying the wellbeing of many species of birds, insects and other organisms that are a part of the livestock landscape. Iravani says that natural grazelands contribute to habitat connectivity and to biodiversity by encouraging many native species of plants, birds and insects to prosper. Sarah Pogue with AAFC talked about the protection and conservation of biodiversity as one of the goals of Canada's Federal Sustainable Development Strategy. Ecosystem and soil biodiversity, hydrological cycling and other natural processes are used as capital to produce natural contributions that effect human wellbeing also known as ecosystem services. Pogue discussed production management changes on farm that enhance ecosystem services including widespread adoption of conservation tillage, decreasing summer fallow, enhancing structurally diverse pastures that contribute to pollinator biodiversity and enhancing shelter belts around the farm. Birds are good indicators of ecosystem health said Ian Cook, Grassland Conservation Manager with Birds Canada. Keeping grasslands intact and preserving the natural habitats for birds is the best natural
climate solution available in Canada. Birds Canada has adopted a tool to assess the status of bird communities on the prairies. The Bird-friendliness Index is an outcome-based indicator designed to represent and communicate the impacts of production management systems and conservation measures on a bird community. This tool may contribute to guiding agricultural management practices and to incentivize biodiverse production systems while halting and reversing biodiversity loss in our agricultural working landscape.
Living Lab
An overview of Canada's Living Lab initiative was an addition to this year's conference agenda. Kevin Anderson, Living Labs Climate Change Lead for AAFC, shared highlights of this new and unique approach to innovation and research in agriculture. Unique elements of this project include collaboration between farmers, ranchers, and researchers working together to co-develop innovative farm management practices. This approach to research, routed in farm scenarios aims to increase the likelihood and the speed of adoption of management practices on the farm. These solutions, developed in partnership, are expected to be innovative, economically viable and desirable in both human and social contexts. There are currently thirteen living labs across Canada focused on challenges such as climate change, but also reducing water contamination, improving water and soil conservation and maximizing habitat capacity and biodiversity. The Living Labs initiatives are funded through AAFC's Agriculture Climate Solutions Program.
Student videos, Holos workshop and the Barley Sandwich Sessions
Graduate students were encouraged to pitch their research projects in 3-minute pre-recorded videos featuring the benefit of their work to improve the sustainability of Canadian agriculture. Five creative entries were submitted which featured a range of innovations to improve system sustainability including increased abundances of beneficial insects, wheat flour functionality, and adoption of smart farm technology to address food challenges in Northern Manitoba. Winners included first place Michael Killewald, a graduate student at the Department of Entomology. Second place and the People's Choice Award went to Breanne Semenko and the third place to Nancydeep Kaur, both with the Department of Food and Human Nutritional Sciences at the University of Manitoba.
More than 130 conference participants joined the Holos model training workshop and received hands-on training using the Holos model, designed to estimate and reduce greenhouse gas (GHG) emissions based on information entered for individual farms.
Back this year were the Barley Sandwich Sessions. Two end-of-day sessions were designed to stimulate conversations between conference attendees, scientists, producers and industry on a wide range of topics related to agricultural sustainability in Canada. The 2023 Sustainability of Canadian Agriculture Conference organizing committee, comprised of researchers, industry and producers was co-chaired by Kim Ominski, Director of NCLE, and Roland Kröbel with AAFC. The organizing committee would like to thank all those who attended and helped to make this annual conference a success. A special thanks to the group at EventCamp who worked hard to ensure a seamless online delivery of the conference. See you all next year!
Please visit the SCAC 2023 conference website to view recorded presentations, information about speakers, student research videos and more. https://umanitoba.ca/agricultural-food-sciences/sustainability-canadian-agriculture-2023
Information on Canada's Living Labs Program can be found here: https://agriculture.canada.ca/en/programs/agricultural-climate-solutions-living-labs