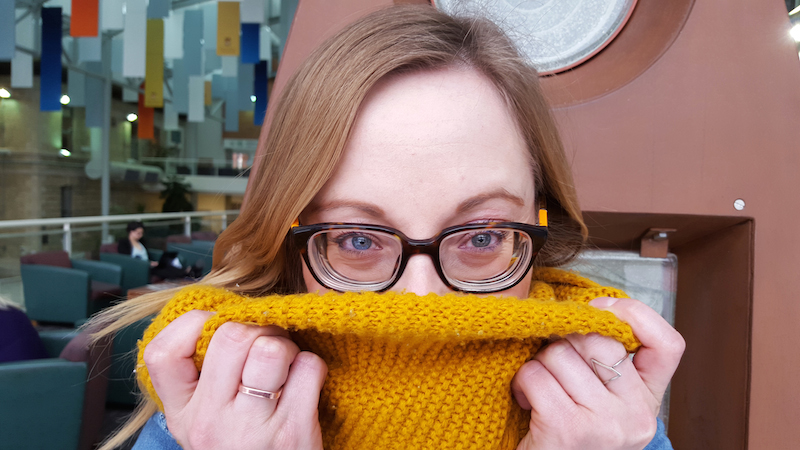 CANDID: Meet Amy Dytnerski
January 18, 2016 —
Amy Dytnerski seems to like everything, except cilantro and math. She is one of the roughly 3,800 students enrolled in the University of Manitoba's Faculty of Graduate Studies and UM Today wanted to know more about how she came to be a nurse who is passionate about food security.
Master's student: Amy Dytnerski
Studying in: Community Health Sciences
Advisor: Professor Robert Tate, director of the Manitoba Follow-Up Study
UM Today: Where are you from?
Amy Dytnerski: I'm originally from Calgary. I ended up moving here because after I graduated from the University of Calgary with my nursing degree there was a hiring freeze in health care in Alberta.
I had done my final practicum of nursing in Australia in a emergency room, so when I came back from Australia there were no jobs in Alberta. So I started applying elsewhere and I have a brother who lived here because he's a pilot and there's a big industry here for flying up North.
He was here, so I thought, "Why not?" So I applied and got a job and stayed since. It's been six years.
Now you're here doing your master's in Community Health Sciences. What are you looking at?
I've been looking at food security as a way to reduce diet-related chronic diseases.
This makes sense because your Game Changer was on food.
Yeah.
How did you go from nursing to being so passionate about food?
It started when I was working as an ER nurse. It wasn't my cup of tea. So I took a job with the university through the Northern Medical Unit and I worked for them as a nurse. I traveled and worked up North on First Nations reserves and I worked with diabetic clients. It opened a whole new world to me.
I was mainly working with type 2 diabetics, which is largely related to diet. So you're telling people in First Nations reserves the type of food they should be eating to control their diabetes and yet that healthy food is not readily available or was not remotely affordable for people to purchase. So it became this huge thing where I really saw the connection between food and health: If you don't have access to such basic healthy food, you're at such a disadvantage with your health. So that got me interested.
I originally got into the program because I was really interested in diabetes programming and I thought we needed better comprehensive care for First Nation diabetics living on reserves and a greater investment in diabetes prevention in Indigenous populations. But then I kind of went on this food tangent.
Are you going to stay on this path?
I think so.
You're in your final bit of your master's right now, right?
I'm wrapping up my last two courses and then I'm doing a practicum with the WRHA in the winter term looking at how we can improve food skills at a population level, which is an important element of food security.
You applied to the Game Changer competition with your food security problem. Are you entering a solution too?
Yes, I put together a team and we just registered. Now we have to start thinking about what we're going to do. We have a basic idea of what we think would need to happen, but we're trying to figure out the logistics of how it would be sustainable and fundable.
What do your parents do? Are they scientists?
No. My mom's a teacher and my dad's a social worker.
If you were on jeopardy, what would be the anecdote you'd tell Alex Trebeck when he asks the contestants about themselves?
I don't know. People say I'm dramatic. [Laughing]. No, I'm kidding.
I don't know. I think I'm just determined. Some people say I have a Napoleon complex. I'm this tiny pint-sized person but I'm very ambitious and want to take the world by storm.
How tall are you?
I'm only 4-10. Sometimes I lie and say I'm 4-11. Reaching 5 feet will forever be an impossible goal for me. [Laughs].
Have you ever read a book about Napoleon or anything?
No, but my boyfriend is French and he is obsessed with Napoleon. We actually have a painting of Napoleon in our apartment.
What did you want to be as a kid?
I wanted to be a doctor. I had this whole elaborate plan: in high school I thought I could do my medical training through the military but it turns out they don't want people this short.
What!? Really?
Yeah, I went to recruitment booth and they were like, "Yeah, no."
So they said No. Then what happened?
I went in a whole new direction and decided I wanted to be a journalist because I love to write. So I started university and it actually took me like six years to do my undergrad because I kept changing majors.
I started in the faculty of communications at the University of Calgary. I was taking general courses and I was thinking I'd be a journalist but my parents convinced me not to do it because they were worried I wouldn't have financial stability or whatever.
So I reached this point where I didn't know what to do in life. A lot of my friends went into nursing and were really liking it. I don't really have a good reason for why I went into nursing other than my friends were doing it and they liked it.
Who is your advisor?
When I first started the program my advisor was Dr. Joel Kettner and now current Director of the MPH program and advisor is Dr. Robert Tate.
Did they give you any good advice?
Both of my advisors have been very supportive. I have had moments where I stress out about focusing in food security because it's super popular in public health right now – this idea of food and health. And I get worried –what if it's just a fad and I can't get a job after?
But both have encouraged me to keep plugging away. Do what I want to do. Also, there's no courses in my department that look at food and health and food security so I took a course in food security in a different department on the Fort Garry campus with Dr. Shirley Thompson at the Natural Resources Institute. A lot of her research is focused on the environment and food supply and Indigenous food security. Stuff like that. Dr. Tate was very supportive in helping me take a course with her out of my department so I could learn more about food security.
Any hobbies?
Yes! I like to be outdoors so in the winter I snowshoe and I just bought cross-country skis so I'm going to get into that. I am also super into rock climbing and during the summer I love to ride my bike everywhere.
I am also a big supporter of the arts. I have season tickets to the WSO and to MTC and I absolutely love Fringe Fest – I've been volunteering at Fringe Fest for the past 3 years.
I also have a pretty fierce travel addiction.
Any regrets?
Yes actually.
I feel like I was a very serious, studious person for most of my life and after my undergrad I learned to relax and just enjoy life. And I feel like I wished I had just been more relaxed about life.
Were you always very concerned about marks?
Yes! And now I still am, but I think I am more relaxed – learning to get more of the work-life balance thing.
Do you have any strong memories?
I don't have any strong ones from childhood but my strongest resounding memory was from five years ago, when I climbed Mount Kilimanjaro. My memory of being at the top was like the most vivid, amazing moment – I felt like I could do anything.
I went with one of my friends from nursing school. After we graduated we were like, "let's do something amazing." So we went on this whole month-and-a-half tour of Africa and it was one of the most memorable, amazing experiences of my life.
Where else have you travelled?
Croatia, other parts of Europe like France and England, Australia, New Zealand, Mexico, the Dominican Republic and parts of the States like New York and Las Vegas. If I had unlimited funds I would just drop everything and just travel the world – that would be living the dream.
Favourite place?
When I went to the Great Barrier Reef, I snorkelled around and I thought, "This is probably the best place on Earth." Then I went o Africa and did a safari in Tanzania and slept under the stars in the Serengeti. And I was like, "No, this is the best place on Earth."
I want to keep traveling and continue to be awed by the beauty of new places.
What's the best part of your job here?
Throughout my time as a [Master's of Public Health student] I've worked as research assistant for Dr. Meghan Azad on something called the CHILD study – Canadian Healthy Infant Longitudinal Development study. The study looks at early-life factors and outcomes of asthma and allergies. It's just been so amazing to take part on that because what we're looking at can have a real impact for children. Asthma and allergies have really skyrocketed in the pediatric population. It's been really just awesome to be a part of that, to know that whatever we're doing will truly make a difference in people's lives one day.
You strike me as a person who likes everything. Would you say that's the case?
Absolutely.
Is there anything you don't like, food or otherwise?
I don't like math and working with data. That's not my thing. And I don't like cilantro. I hate cilantro.
Favourite food?
I love mangoes. They are so good. I could back to Africa just for the fresh mangoes.
Least favourite type of music?
Heavy metal and techno.
Favourite music?
I'm like the biggest indie hipster ever. And my boyfriend is into 80s hair metal, so we can never agree on what music to play.
Research at the University of Manitoba is partially supported by funding from the Government of Canada Research Support Fund.