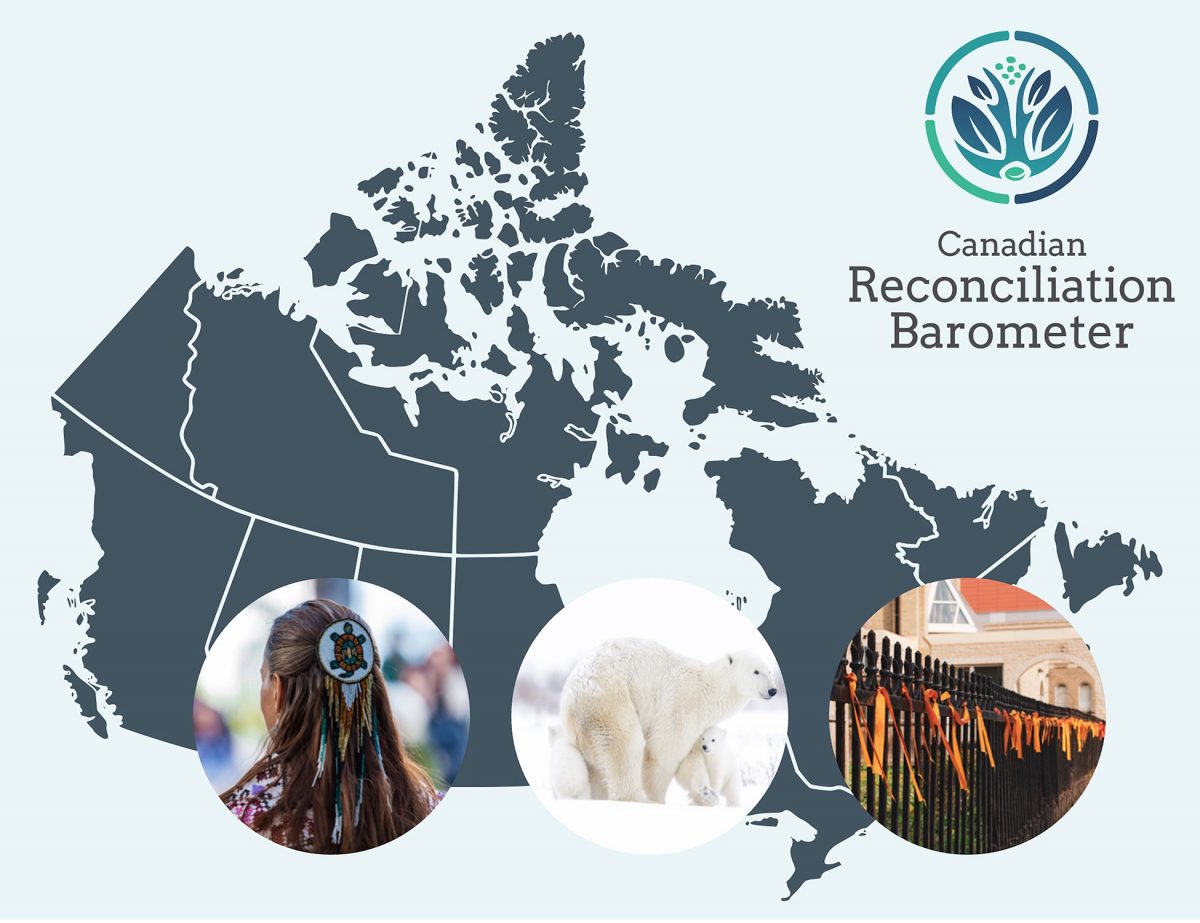 Canadian Reconciliation Barometer Project releases its first report—highlights the path forward
February 15, 2022 —
The first report from the Canadian Reconciliation Barometer, which measures progress toward Reconciliation, has been released. Highlighting gaps in understanding between Indigenous and non-Indigenous peoples in Canada and comparing progress across sectors of society, the findings can inform public policy.
For example, the report highlights that, while both Indigenous and non-Indigenous people agree that Residential Schools and governments in Canada have harmed Indigenous Peoples, there's a worrisome gap in understanding between the groups. The implication of this finding is that we need to continue to invest in education about Residential Schools—as well as Indigenous Peoples experiences in Canada more broadly.
"The walk toward Reconciliation will be a long one and lead us down many paths. Our report suggests we have begun our walk—there are some bright spots in our findings—and that we have a lot of work ahead of us." said Dr. Katherine Starzyk, associate professor in psychology at the University of Manitoba and the project's principal investigator.
The report was developed by a team of Indigenous and non-Indigenous researchers who polled 3,225 Indigenous and non-Indigenous people on 13 indicators of Reconciliation, with several statements for each indicator.
Some main indicators: Good understanding of the past and present; Acknowledgement of ongoing harm; Respectful relationships; Personal equality; and Systemic equality.
Main takeaways from the report:
Both Indigenous and non-Indigenous respondents believed they have a good understanding of Indigenous Peoples' past and present experiences, but there was a knowledge gap between Indigenous and non-Indigenous peoples in this understanding.
Generally, Indigenous people did not think that we have built true nation-to-nation relationships (honoring Indigenous nations' rights and Indigenous nations' decisions) between Indigenous nations and the governments in Canada.
Both Indigenous and non-Indigenous people acknowledged that Indigenous and non-Indigenous people do not have equal personal outcomes. Of all the indicators, respondents saw the least progress in the area of equality.
Indigenous respondents did not think Indigenous cultures were thriving, whereas non-Indigenous respondents somewhat believed they were.
Indigenous respondents also did not believe groups who have harmed Indigenous Peoples have showed remorse, provided sincere apologies, or accepted responsibility.
"People in Canada are learning about this horrific history and the inequalities that exist, however there is still so much more work needed in education and policies. Having a measure of the Canadian public's perceptions on progress toward Reconciliation is a key tool to guide policy makers in their decisions to support Reconciliation" said Brenda Gunn, academic and research director at the National Centre for Truth and Reconciliation.
"Indigenous and non-Indigenous people live in a different Canada," added Ry Moran, associate university librarian (Reconciliation) at the University of Victoria.
Some good news is that respondents are beginning to understand and acknowledge how past harms continue to impact Indigenous Peoples today. Indigenous peoples also reported being engaged in their communities and proud of their identities.
"Everyone agrees that much room for progress remains and there is a gap in perceptions across groups." By tracking progress over time, the Canadian Reconciliation Barometer can be one mechanism to increase transparency and accountability so that those who come after us enjoy good and just relations between Indigenous and non-Indigenous Peoples.
The full report of the Canadian Reconciliation Barometer Project is available online here.
Research at the University of Manitoba is partially supported by funding from the Government of Canada Research Support Fund.