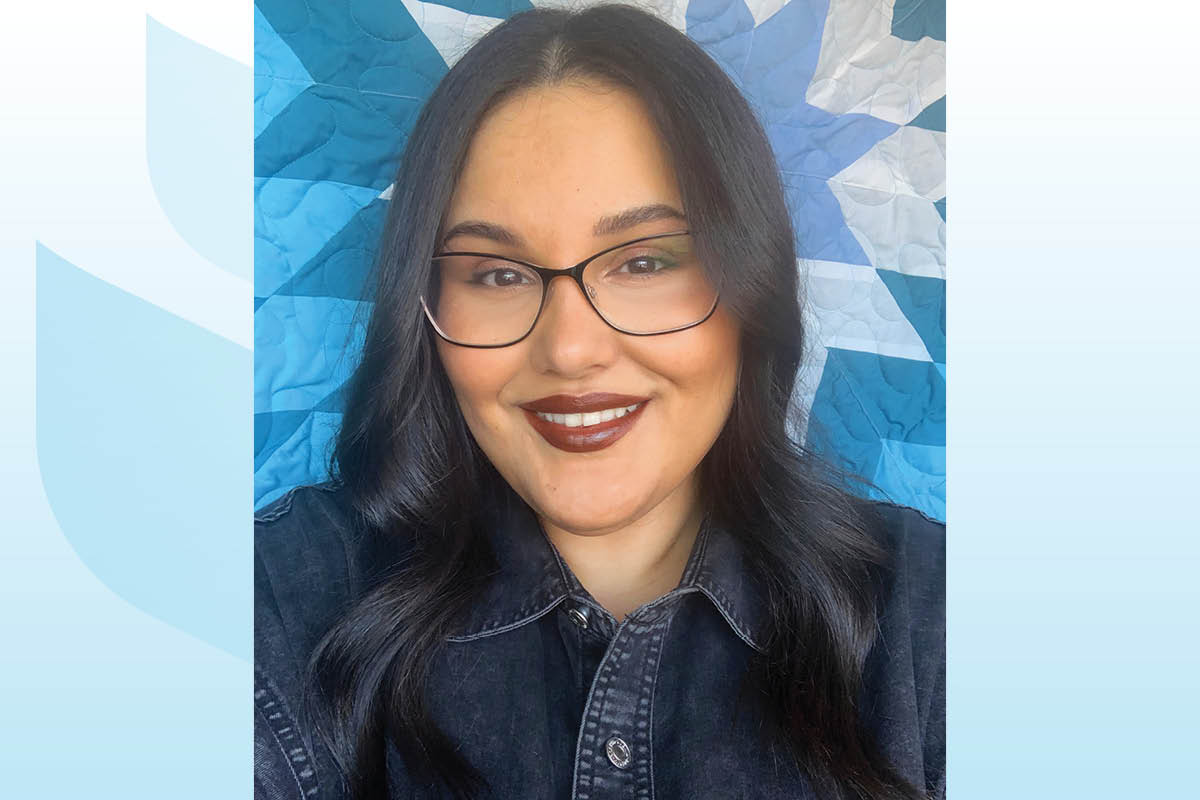 Canada's Top 100 Most Powerful Women: Teassa MacMartin
UM researcher named among Canada's Top 100 Most Powerful Women
October 19, 2022 —
Teassa MacMartin first came to study at the University of Manitoba as a mature student, with a one-year-old at home.
Her son is now 10, and in just under a decade, she has obtained a bachelor of science in biological sciences, participated in UM's Science Co-Op Program and is now pursuing doctoral studies in microbiology. MacMartin is also a Canada's Most Powerful Women: Top 100 Award Winner in the Community Impact category.
"This is all for my son so I can show him that you can do this, no matter what your life stage," she says.
During her undergraduate co-op, she started working in a lab with her current supervisor, where she has remained through her studies.
"Our lab focuses on a bacterium called Legionella pneumophila. It's very well-studied because it causes a lot of infections in humans, but there are a lot of other species that also cause infection," she says during a phone interview from the lab. "I'm focusing on some of those lesser-known species. In particular, I'm looking at its persistence in drinking water or potable water because it's a waterborne bacterium."
Water, it seems, has played a significant role in MacMartin's career. She started out as a mentor in the Verna J. Kirkness Science and Engineering Education Program at UM in 2018, hosting visiting Indigenous students who took part in science activities like water sampling.
She also won two NSERC Aboriginal Undergraduate Research Awards for her involvement in the CREATE H2O program with the department of microbiology, participating in water sampling trips to First Nations communities, where she enjoyed talking to people about their concerns first-hand.
"Obviously, my research is very important to me, but I think a lot of the motivation I've had along the way is that outreach," says MacMartin. "I really enjoy working with young Indigenous people, particularly those from outside the city. I want them to come into the research lab and see that it's not scary, and tell them, 'If I can do this, you can totally do it.'" She also volunteers her time with UM's Indigenous Summer Student Internship Program, working side-by-side with students in the field.
Despite her many accomplishments, including an Indigenous Award of Excellence for Outstanding Student Achievement in 2019 and NSERC Canada Graduate Scholarships – Master's and now Doctoral, MacMartin remains humble and offers the following advice to others who may be interested in pursuing a similar path.
"Be patient and recognize that sometimes, it takes a little bit longer to get to where you want to be, but you will get there eventually," she says. "Don't be so set in stone in terms of next steps; take the opportunities as they come. That's been an important thing for me to realize."
MacMartin says the fact that she works "in a fantastic lab with fantastic people" has also helped her realize her dreams. In fact, she was working in the lab when she found out she had been selected for the Top 100 Award.
"I was confused and talked to the people who nominated me to clarify," she recalls, laughing. "It feels fantastic to have the mentors in your life recognize what you're doing and put your name forward for an award like this."