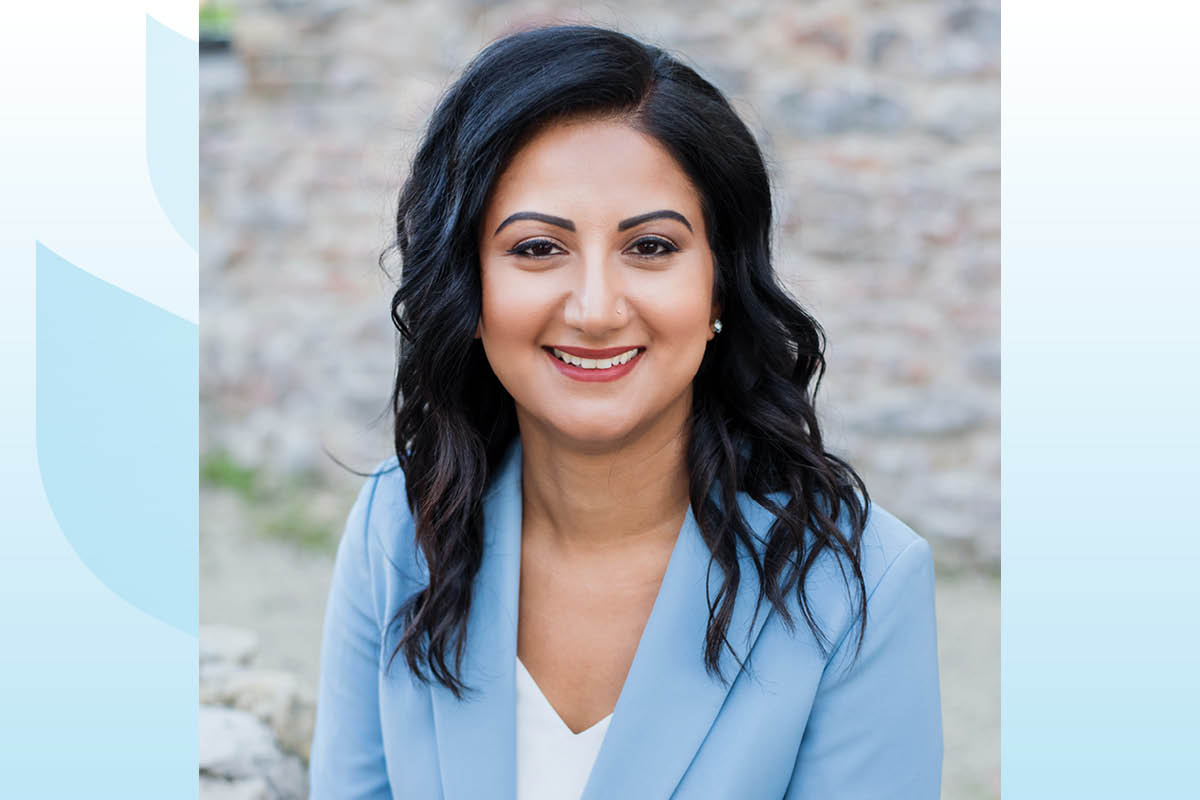 Canada's Top 100 Most Powerful Women: Raman Dhaliwal
UM alum, key player in Manitoba's COVID-19 response named among Canada's Top 100 Most Powerful Women
October 19, 2022 —
A key player in Manitoba's COVID-19 response, Raman Dhaliwal was recently named a Canada's Most Powerful Women: Top 100 Award Winner in the Emerging Leaders category. "I feel very honoured and humbled," she says of the nomination by her colleagues.
A UM alum with a bachelor of commerce in actuarial mathematics and finance, Dhaliwal maintains an unprecedented dual role within the University of Manitoba, acting as both associate vice-president (administration) and executive director of the Rady Faculty of Health Sciences.
"Despite the fact that these roles seem very different, there are actually many synergies between the two jobs," she says. "I also think it's helped bring our two largest campuses together."
Notably, she is also the first woman of colour in the associate vice-president (administration) position. "Most of the time, when I'm at different meetings, there aren't a lot of people my age, my colour and even my gender sitting around the table with me," she says. "It goes to show that if you work hard and are open to learning new things, you'll be rewarded for the time and effort you put in."
Dhaliwal counts her parents—who left their homes in India to start a new life in Canada—as her biggest inspiration. "They worked tirelessly to give my siblings and me a better life. If it wasn't for them and their decision to move, I would not be where I am today and for that, I am forever grateful."
A seasoned higher education administrator, Dhaliwal is a forward-thinker with years of experience in leading, designing, developing and implementing administrative structures and advancing priorities at UM. When the pandemic hit, she sat on the university's COVID-19 Response Steering Committee, where she played an instrumental role in getting the UM community set up to study and work from home.
She also assisted the province in organizing the first COVID-19 clinics for health-care professionals to receive their vaccines. "The first COVID-19 vaccines for the province actually came in my name and I signed for them at the Bannatyne campus," she says.
Another notable accomplishment was helping to coordinate the hiring and onboarding of 300 staff over a two-week period to immunize in First Nations communities across the province. "Giving back to the community and making a difference motivates me every day," she says.
With approximately 800 staff reporting to her across both of her UM roles, collaboration is integral to Dhaliwal's leadership style.
"Everyone has a key role. That's how I like to lead teams—we work together and collaboratively to get the work done, whatever it is," she says. "I will get right in there and help, just to lead by example and show that all jobs are important."
Dhaliwal is currently pursing her master's in business administration through the I.H. Asper School of Business. As a mom and student who also works in a demanding role, she stresses the importance of taking time for oneself. "That's so important so you can come back to work and your personal life feeling refreshed and able to give your best self."
She feels fortunate for the opportunities she's been awarded through the years, and strives to lift other women up in their pursuit of excellence.
"I've had a lot of supporters along the way, who have been very helpful in getting me where I am today," she says, offering this piece of advice to other women in leadership: "Remember: There are women who are going through the same thing as you, so give them a hand and help lift them up along with you."