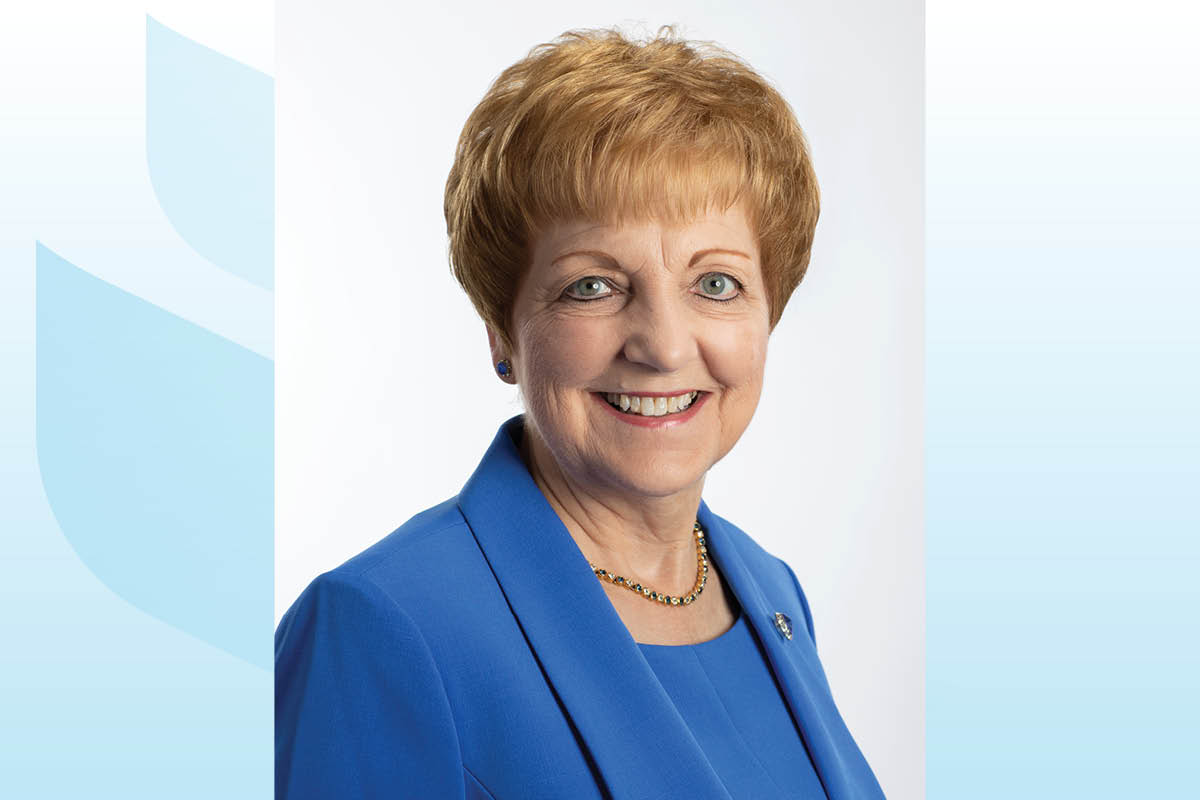 Canada's Top 100 Most Powerful Women: Netha Dyck
UM dean named among Canada's Top 100 Most Powerful Women
October 19, 2022 —
Netha Dyck was working in her office on campus when she learned she was named a Canada's Most Powerful Women: Top 100 Award Winner in the Executive Leaders category.
"I thought, 'Wow, that's amazing,'" she says. "It's such an honour to be nominated for this prestigious award and when it comes from your own team, it's extra special."
A University of Manitoba nursing alum from Winkler, Man., Dyck has enjoyed a diverse nursing career that spans nursing practice, leadership and education, earning multiple awards from provincial, national and international bodies. Through the years, she has served in leadership roles in nursing practice overseeing the delivery of patient- and family-centred care, both in acute care and long-term care, as well as in academic leadership positions.
"I've had a wonderful, very rewarding career in nursing, mainly in leadership roles," she says, recalling her first leadership role, where she was appointed head nurse of the operating room in a rural hospital after having practiced as a new registered nurse for only six months. "I was very grateful for the experience. It really set me up for a career in leadership."
Prior to her appointment as dean of UM's College of Nursing in the Rady Faculty of Health Sciences in 2018, she spent more than a decade as the dean of the School of Nursing and School of Health Sciences at Saskatchewan Polytechnic in Saskatoon. She was also director of the Winnipeg Regional Health Authority's personal care home program from 1998 to 2005.
"I have a deep sense of commitment to my profession and my leadership position, as well as a deep sense of accountability to my organization," she says.
She is also results-oriented. To assist in addressing the critical nursing shortage, Dyck is leading her team in a major initiative that will result in a 120-seat increase—or 50 per cent expansion—of UM's bachelor of nursing program and an accelerated time to completion of the program.
Another of her most memorable projects stems from her time at Saskatchewan Polytechnic, when she was also completing her doctorate in higher education leadership at the University of Calgary. She helped spearhead the development of a collaborative nursing degree program, modeled after her dissertation research on transitioning from a college to a degree-granting institution.
"Within a couple of years, we were successful in achieving degree-granting status," she says. This led to a partnership with the University of Regina, which had previously not delivered nursing education, and development of a baccalaureate nursing education program that was delivered in both Regina and Saskatoon.
Through her career, she has sought to advance her education and has remained engaged in various boards and committees. She encourages women interested in pursuing a similar career to engage in life-long learning and to take the time for reflection.
"Reflect on your actions and performance on a regular basis to determine opportunities for improvement, and reframe challenges as opportunities for learning, innovation and growth," she says, adding, "Seek out mentors to learn from their experience and to engage in dialogue about your ideas, experiences and concerns."
Though she counts a number of people among her mentors, her parents marked the first. "They were very innovative and service-oriented," she recalls. "Even in my youth and as a young adult, I would volunteer my services. That's how they lived their life and how I got onto this path."
In the end, she says, successful leadership boils down to the foundational practices of listening and developing relationships. She seeks to facilitate active engagement on her team at UM, supporting them in working together to achieve their shared vision.
"My values of dignity, respect, integrity and valuing the unique contribution of everyone on our team guide my practices every day. I try to be a leader who is supportive and encouraging, and who sets a clear vision with strategic priorities," she says.
"I'm always inspired and energized by people who are innovative, creative and passionate. Our faculty and staff have many great ideas. I see my role as listening, facilitating and supporting the implementation of those ideas."