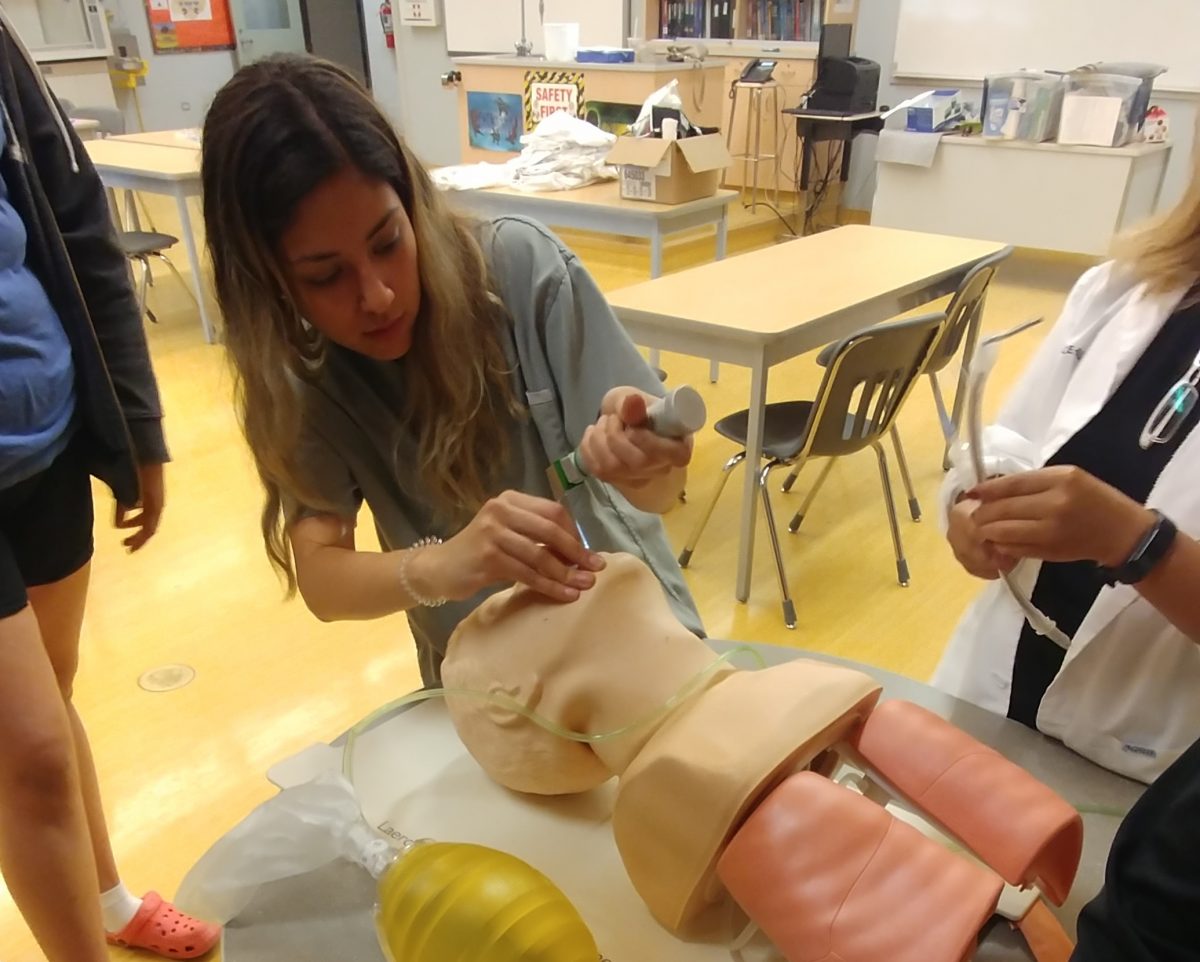 Camp exposes Northern youth to health sciences: 'You cannot be what you cannot see'
October 7, 2019 —
The Biomedical Youth Program (BYP) Northern Camp, now in its fifth year, has opened up possibilities for Northern youth – while also serving as a learning experience for the University of Manitoba student volunteers.
The Office of Community Engagement in the Rady Faculty of Health Sciences has sent Rady Faculty students to northern communities since 2014 to share their knowledge of their respective health professions and passion for science and health care.
Andrea Soriano, a second-year medical student in the Max Rady College of Medicine, was one of the three students who volunteered to visit Opaskwayak Cree Nation this summer to lead activities related to the health sciences. The kids, ranging in age from 13 to 17, had the opportunity to dissect pig hearts, learn how to properly use a stethoscope, participate in an intubation simulation and play games related to the periodic table.
Soriano said the camp – that took place from July 23-25 – was not only a great exposure to something new for the students.
"I learned a lot about the community," she said. "I've never been up North and I had not been on a reserve before. I learned a lot about how things work on the reserve and the great sense of community."
This was second-year medical student Francis Diaz's second BYP Northern Camp. He said that participating in the camp has helped him better understand Indigenous issues.
"I felt that after this experience, my passion for Indigenous issues grew more because you see these kids and you hear about their stories," he said. "They're amazing kids, but the systems around them are just preventing them from succeeding and reaching their potential."
And Soriano and Diaz saw plenty of potential. There were a couple of the kids that did an exceptional job during the pig heart dissection, Soriano said.
"We told them 'you have good hands. We see a future for you in health care.' So they were really happy about that. They were smiling, and they seemed really encouraged to hear that," Soriano said.
Karen Cook, co-lead, Office of Community Engagement, said they hand out lab coats to the kids to add to the unique experience.
"The kids feel like, 'now I'm different this week. I'm going to do something that's out of my comfort zone or something that's related to science and health.' It just puts them in a different context," Cook said.
Diaz said the camp is important because it exposes young people to the health sciences.
"It goes back to the idea that you cannot be what you cannot see," Diaz said. "So just getting these youth involved in the activities they will start to see that maybe science is for me, or maybe medicine is for me. It just plants that seed in the back of their mind."
Camp runs for four-and-a-half-hour each day, allowing Cook to organize opportunities in the free time for the university students to shadow health-care professionals in the communities they visit.
Cook said it's important for Rady Faculty of Health Sciences students to experience life in communities that might not have an occupational therapist, physical therapist or a doctor, and for them to imagine what it would be like without access to those services.
"It is definitely a learning experience for our students," Cook said.