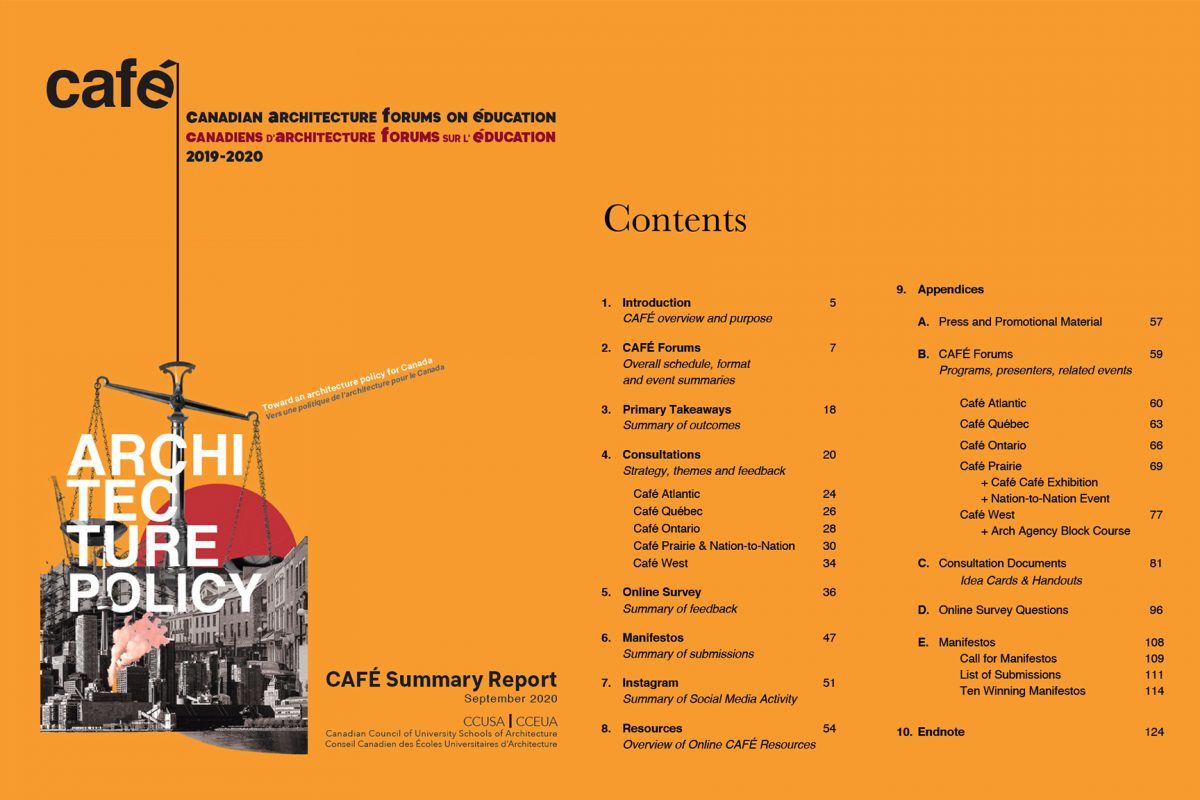 CAFÉ Summary Report now available!
September 28, 2020 —
Download the full report here.
This 128-page document provides an overview of the Canadian Architecture Forums on Education (CAFÉ), a one-year initiative to discuss and debate the role of architectural education and research in shaping Canada's future.
The project involved nearly 1000 participants and 12 schools of architecture in five in-person forums between October 2019 and March 2020. Engagement strategies continued through summer 2020 via an online survey, manifesto competition and social media.
The CAFÉ Report includes descriptions of the forum events, presentation summaries, analysis of the feedback from the consultations and online questionnaires, manifesto winners, and more!
Special features include two short animations: Why Canada Needs an Architecture Policy, and Architecture Is _____ (how to describe architecture in just five words); and a 3.5-minute CAFÉ Prairie video montage of highlights from presentations and the Nation-to-Nation Conversation on Indigenous principles, perspectives and practices in shaping Canada's architecture, held February 28, 2020 at the University of Manitoba's Faculty of Architecture.
Overall there are a number of key take-aways. The main outcomes of the CAFÉ initiative include:
• Renewed commitment and urgency to foster more sustainable and equitable built environments.
• Meaningful dialogue between academic and professional sectors.
• Community-building and networking among students from different parts of Canada.
• Leadership development and empowerment of the next generation of architects.
• Enhanced awareness of the interdependence of design excellence and enlightened policy.
Top concerns and enthusiasms of the next generation of architects (as revealed by the forums) include:
• Climate change and environmental stewardship.
Engaging architecture as a tool for climate action!
• Equity and inclusion.
Possibilities for radical diversity!
• Mental health and well-being.
Possibilities for architectures of healing!
• Meaningful community engagement.
Engaging architecture as a tool for social action!
• Culturally-relevant and regionally-meaningful design amid dominant forces of capitalism.
Possibilities for advancing public understanding of the value of architecture!
The knowledge and ideas mobilized through these events is helping to develop a framework for an architecture policy for Canada.
The CAFÉ forums and report were led by Lisa Landrum in the Faculty of Architecture, with support of students, academics and professionals from across the country – including 17 University of Manitoba students: Alex Bartmanovich, Nichola Basford, Faith Campos, Chelsea Colburn, Danielle Desjarlais, Shannon Furness, Benita Kliewer, Alixa Lacerna, Andria Langi, Nicole Luke, Teresa Lyons, Reanna Merasty, Emma Onchulenko, Jessica Piper, Mackenzie Skoczylas, Tia Watson and Rhys Wiebe.
CAFÉ was an initiative of the Canadian Council of University Schools of Architecture (CCUSA), with support of the Canadian Architectural Licensing Authorities (CALA), the Royal Architectural Institute of Canada (RAIC), and the Canadian Architecture Students Association (CASA). Funds were provided by a Connection Grant from the Social Sciences and Humanities Research Council of Canada (SSHRC), the 12 participating schools of architecture, and other local organizations. The Manitoba Association of Architects supported the Nation-to-Nation conversation, organized by the University of Manitoba Indigenous Design and Planning Student Association.
Find out more on the CAFÉ website: https://architecturecanada.ca/ and on Instagram @archcanadacafe.