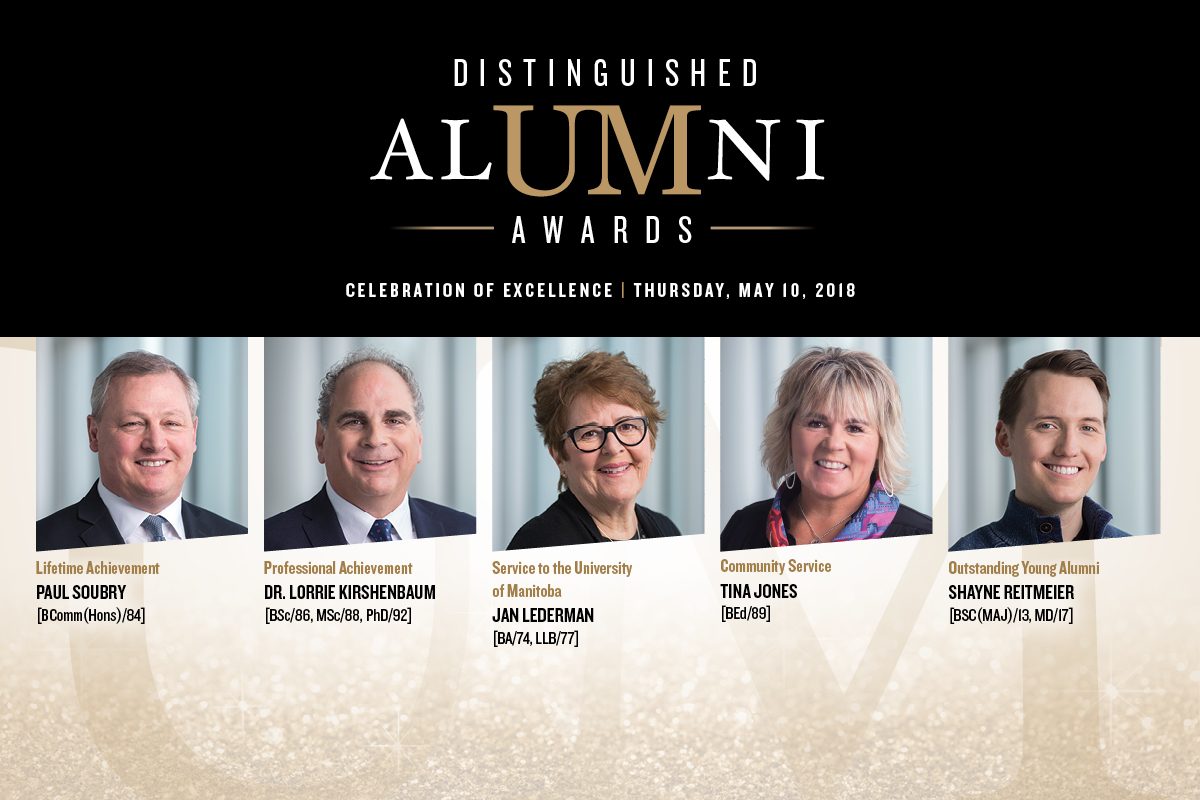 Building us up: The 2018 Distinguished Alumni Award recipients
January 12, 2018 —
The five recipients of this year's University of Manitoba Distinguished Alumni Awards are accomplished community builders and leaders, who have made an indelible impact both within our province and around the world.
Mark May 10, 2018 on your calendars to join us as we recognize and celebrate these outstanding individuals at the Distinguished Alumni Awards Celebration of Excellence. Tickets for the event can be purchased online. Don't miss your chance to be a part of this extraordinary and inspiring event.
The recipients of the 2018 Distinguished Alumni Awards are:
Paul Soubry – Lifetime Achievement Award
Paul Soubry [BComm(Hons)/84] thinks big. For that reason, Canada's top CEO has accomplished in his career what few can do in a lifetime. He has transformed two Manitoba companies into Canada's greatest international success stories and revolutionized product development in the aerospace and transportation industries.
Dr. Lorrie Kirshenbaum – Professional Achievement Award
Dr. Lorrie Kirshenbaum's [BSc/86, MSc/88, PhD/92] research may sound like science fiction, but the advances he has made in human health are very real and the implications have had a global impact. His discovery that several of the world's deadliest diseases – cancer, heart disease, vascular disease – can be treated by "switching off" select cells is a major leap forward in medicine.
Tina Jones – Community Service Award
Philanthropist Tina Jones [BEd/89], of Banville & Jones Wine, is gifted with the ability to not only see—but bring to life—a better future for Manitobans. Her visionary spirit and business-savvy have driven fundraising efforts in all areas of our community, leading to improvements in health care and innovative, internationally-accredited educational programming.
Jan Lederman – Service to the University of Manitoba Award
Renowned corporate lawyer Jan Lederman [BA/74, LLB/77] is a champion for innovation. She is at the helm of numerous non-profit organizations, programs and clinics, helping hundreds of startups founded by University of Manitoba students, researchers and alumni bring their products and services to the world.
Dr. Shayne Reitmeier – Outstanding Young Alumni Award
Dr. Shayne Reitmeier [BSc(Maj)/13, MD/17] began changing the face of health care while still in medical school. Balancing academics with advocacy, he created safe spaces for and dispelled myths against LGBTTQI* individuals on campus, while pioneering research into the unique needs and experiences of LGBTTQI* patients and health-care professionals. Today, he is a rural physician in family medicine.
This "class of 2018" joins an esteemed group of past recipients that includes inventors, innovators, activists and artists.