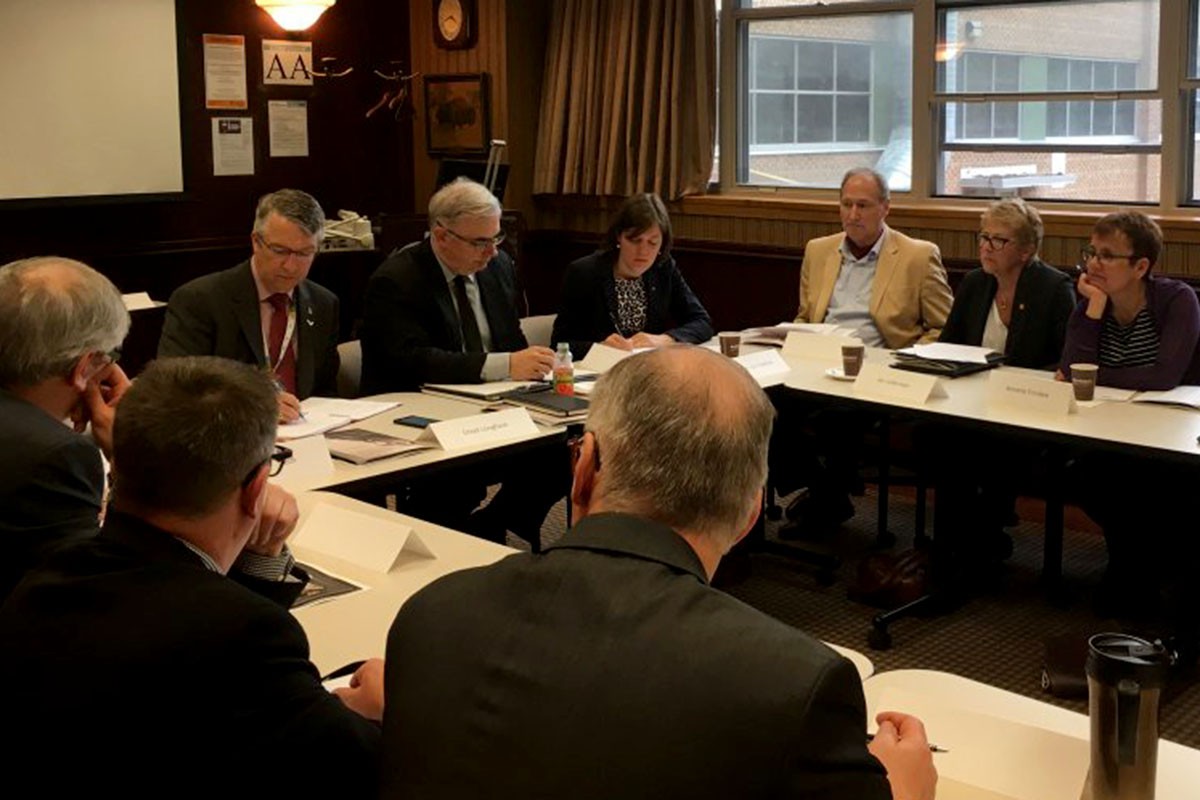 Building on Manitoba's innovation landscape
U of M President discusses opportunities with Liberal MPs
May 27, 2016 —
Ramping up Canada's research and innovation systems formed the focus for talks between post-secondary institutions, Manitoba innovation leaders and members of the federal government on May 27.
University of Manitoba President and Vice-Chancellor David Barnard co-chaired the roundtable discussion with Lloyd Longfield, MP for Guelph, chair of the Liberal Innovation and Post-Secondary Education Caucus and alumnus of the U of M (BA/2002). The discussion took place Friday morning at the Faculty of Health Sciences on the Bannatyne campus.
MP Longfield was joined by Terry Beech, MP for Burnaby North-Seymour and Parliamentary Secretary for Science, and Greg Fergus, MP for Hull-Aylmer and Parliamentary Secretary for Innovation, Science, and Economic Development. New Provincial Minister of Growth, Enterprise and Trade Cliff Cullen also joined the conversation.
President Barnard spoke on the benefits of Manitoba's close-knit innovation community and the province's collaborative spirit as helping foster development, opportunities and partnerships.
Following the talk, caucus members toured the Regenerative Medicine Laboratories on the Bannatyne campus. The facility is at the forefront of regenerative research in Canada, investigating the potential for living tissue to be used to replace or repair lost tissue or organ functions, which could lead to new treatments for patients.
In the afternoon, Liberal members of Parliament visited the National Centre for Truth and Reconciliation on the Fort Garry campus to tour the facility and get an overview of its mandate to preserve the memory of Canada's Residential School system, enabling the public to access historical records and other materials to help foster reconciliation and healing.
Liberal MPs are in the city during the Winnipeg 2016 – Liberal Biennial Convention.
Prime Minister Justin Trudeau, Ontario Premier Kathleen Wynne and Chief Dr. Robert Joseph of the National Assembly of First Nations Elders Council were among the speakers scheduled for the Liberal Biennial Convention.
Discussing Indigenous issues
At the 2016 Liberal Biennial Convention in Winnipeg, CPAC's Holly Doan is joined by Niigaan James Sinclair, head of the Department of Native Studies at the University of Manitoba, and Manitoba Keewatinowi Okimakanak Grand Chief Sheila North Wilson to discuss the Liberal government's talks with Canada's Indigenous peoples.