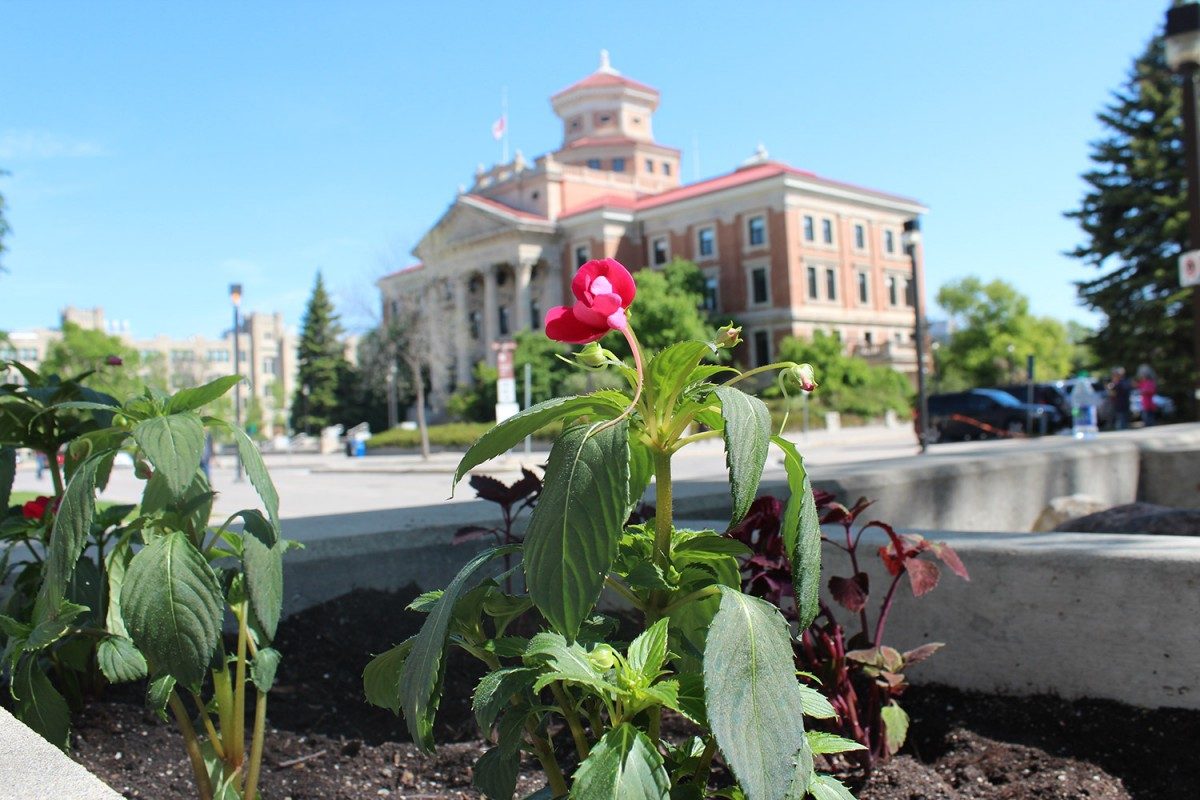 Building campus community, one flower at a time
Campus Beautification Day is so much more than making things pretty
May 30, 2017 —
Each year, approximately 25,000 plants, including annuals, perennials, shrubs and trees are planted on the University of Manitoba campuses. The vast majority of this is done on Campus Beautification Day, says Lyle Morin, manager of grounds and general services in U of M's physical plant department.
Campus Beautification Day was on June 2. The U of M community left their classrooms, lecture halls and offices to spend time outside getting dirty planting flowers and pulling weeds. The theme this year celebrated the 140th anniversary of the University of Manitoba, as well as Canada 150. The event concluded at noon with a barbeque lunch where everyone, even those who remained indoors, were invited.
"Without this large annual contingent of volunteers, physical plant could not possibly establish and maintain the number of planting installations we currently do, and campus would be poorer for it," says Morin. "Whether this is an individual beautifying the space they look at outside their window every day, or a group of people taking on a larger project, every contribution is vital in making our outdoor environment as beautiful as it can be. This event would not be possible without the cooperation and enthusiastic participation of all the bargaining groups on campus, including UMSU."
To help prepare for 20th annual event, approximately 150 cubic yards of soil was spread throughout the campuses' turf areas and planting beds. An additional 200 cubic yards of wood mulch was also used. Most of this mulch is produced on campus from physical plant's forestry management program.
The primary purpose of Campus Beautification Day is rather obvious, however there are additional benefits that go far beyond simple aesthetics. The annual event builds upon the campus community for those who work and study at the U of M and emphasizes and enhances the university's place in the larger community as well.
While many units, departments, faculties, and groups at the U of M regularly hold team-building events, Campus Beautification Day is one of the few occasions which welcomes each and every member of the campus community to participate, says Morin.
"It is an opportunity to work alongside people we may not normally encounter in the course of a work day, and to get to know those outside our immediate circle. Participation in Campus Beautification Day gives people a way in which to contribute that they would not normally be afforded, and instills a sense of ownership and pride in the campus."
For example, some of the most notable and popular outdoor features on the Fort Garry campus came from suggestions by the campus community. These include the butterfly garden at the south entrance of the Education Building and the vegetable gardens on University Centre patio. Morin says additional suggestions from individuals and groups are welcome as well.
"Campus Beautification Day affords all members of the campus community the opportunity to escape their daily routine and assist in improving the campus environment," says Morin. "In addition, we welcome visitors and dignitaries from outside the university to join in helping us to make the campuses a place in which the whole city and province can take pride."
More information on the day is available online.
For photos from Campus Beautification Day 2017, check out our gallery below.
---
2017 Prize Winners
Please make arrangements to pick up your prize from Physical Plant, 89 Freedman Crescent.
Contact Leah at 474-8912.
Prize #1 – Fire pit, gloves and Lacoste gift card
Winner: Michelina Violi (Research Services)
Prize #2 – 4 gift cards for 18 holes at Southside Golf Course, 2 pair gloves, Lacoste gift card, U of M Bookstore gift card
Winner: Sandra Dufour (Psychological Service Centre)
Prize #3 – Pressure washer, Keg gift card, Cineplex gift card, Lacoste gift card
Winner: Kristina Manaigre (Parking Services)
Prize #4 – Fishing package, Tony Roma gift card, Tim Horton gift card, Lacoste gift card, Hub gift certificate
Winner: Jordan Shapera (Animal Science)
Prize #5 – Bike, hat, gloves, Hub gift certificate, U of M Bookstore gift card
Winner: Peter Kielich (Caretaking Services)
Prize #6 – 2 Bombers tickets, Bombers store gift card, hat, gloves, Hub gift certificate
Winner: Terry Hnatiuk (Research Information Systems)
Prize #7 – 2 Bombers tickets, Bombers store gift card, hat, gloves, Hub gift certificate
Winner: Antoine Brownlee (IST Client Services)
Prize #8 – 2 Bombers tickets, Bombers store gift card, hat, gloves, Hub gift certificate
Winner: Holly Musto (Legal)
Prize #9 – Patio set, umbrella, Carbone gift card, Tim Horton gift card, Home Depot gift card
Winner: Stu Reid (Groundskeeping Services)
Prize #10 – BBQ, Tools, Carbone gift card, Tim Horton gift card, Home Depot gift card
Winner: Maureen Forrest (HR)
Prize #11 – Carbone gift card, Tim Horton gift card, Home Depot gift card, U of M Bookstore gift card
Winner: Greg Massey (Mechanical Services)
Prize #12 – Cooler bag, shirts, hat, gloves, Hub gift certificate, Lacoste gift card
Winner: Beniamino Di Geronimo (HR)
Prize #13 – Sweatshirt, shirt, hat, gloves, Lacoste gift card, Hub gift certificates
Winner: Kevin McEvoy (Caretaking Services)
Prize #14 – Bluetooth speaker
Winner: Janice Yates (VP Office)
Prize #15 – WestJet Tickets
Winner: Steve Schau (Caretaking Services, Bannatyne)
Bannatyne Prizes
Prize #1 – Box of 12 Nike golf balls
Winner: Virginia Danyluk
Prize #2 – Set of two mugs
Winner: Bev Girouard
Prize #3 – Umbrella
Winner: Firura Vuldasheva
Prize #4 – Sweatshirt
Winner: Meredith Provon
Prize #5 – Sweatshirt
Winner: William Toms
Prize #6 – Backpack
Winner: Travis Tetrault
Prize #7 – Golf shirt
Winner: Elaine Hill
Prize #8 – Tim Hortons gift card
Winner: Usha Pammi
Prize #9 – Tim Hortons gift card
Winner: Brenda Gerwing
Prize #10 – Tim Hortons gift card
Winner: Maureen Stefishen
Prize #11 – Boston Pizza gift card
Winner: Sara Dyk
Prize #12 – Thermea gift card
Winner: Stu Reid