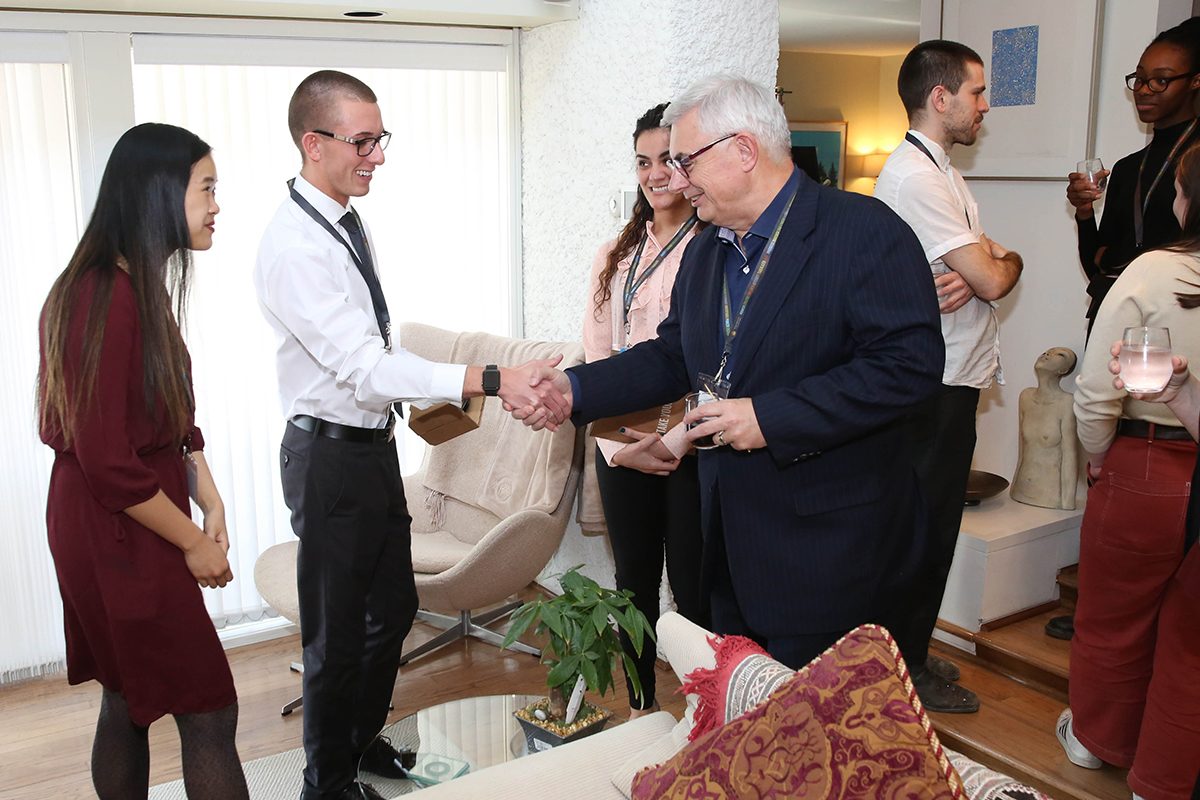 Brushing up on generosity
April 26, 2018 —
If someone were to search your bathroom, they'd probably find an object we all take for granted. After all, most of us have been taught how to use it since we were young: floss.
But for newcomers to Canada, the basics of dental care are not always learned skills and that's something students in the School of Dental Hygiene have voted to remedy.
They are one of eight faculties, colleges, and schools who held a student vote in 2017, a process which sees students vote on the how much of their tuition fees should be donated to their faculty, and for what purpose.
Dental Hygiene voted overwhelmingly in support of Smiles for Miles, largely because of the personal experiences they've had through the program, which sponsors dental care for newcomers.
"I remember a client telling me they bought floss but didn't know how to use it correctly," recalls Nicole Saive, Senior Stick. "They were eager to learn as they could see the damaging effects poor oral hygiene has on teeth, but they didn't have any baseline knowledge on oral health. It was up to me to explain everything to them."
Students taking the lead on giving is unique to the U of M: no other student giving program in North America is both student-led and student-run. It's a formula that many student groups have turned into an opportunity to help others.
Students from the faculty of Kinesiology and Recreation Management voted this year to fund the renovation of their study carrels so that they can be fully accessible for people with disabilities. Faculty of Agriculture and Food Sciences students developed a student bursary fund to provide financial aid to five students every year.
For Saive, she sees helping those in need as just another part of her role as a future health-care professional.
"As students, we feel very privileged to have the equipment and amenities that we are provided at the school. All of our essential needs are fulfilled whereas other individuals are struggling to meet these everyday needs. Oral health is a very important aspect to overall health, we wanted to utilize our clinical skills to provide periodontal therapy to those who cannot receive this care on their own."
On April 3, student leaders from the 14 referenda groups currently supporting the U of M were recognized at a private reception hosted by President David Barnard at his residence. Honoured this year, were:
Agricultural and Food Sciences (grad): Endowment
Art: Endowment, Student Initiative, and Visiting Artist
Asper: Management Student Services
Asper (grads): Management Student Services
Dental Hygiene: Smiles for Miles
Dentistry: Student Initiative
Economics (grads): Graduate Students Endowment
Interior Design: Endowment, and Student Initiative
Kinesiology and Recreation Management: Endowment, and Student Initiative
Law: Endowment, and Student Services
Music: Endowment, and Student Initiative
Nursing: Endowment, Student Initiative, Student Lounge and NSA Office Improvements, and Humanitarian
Nursing (grad): Endowment
St. Paul's College: Student Initiative