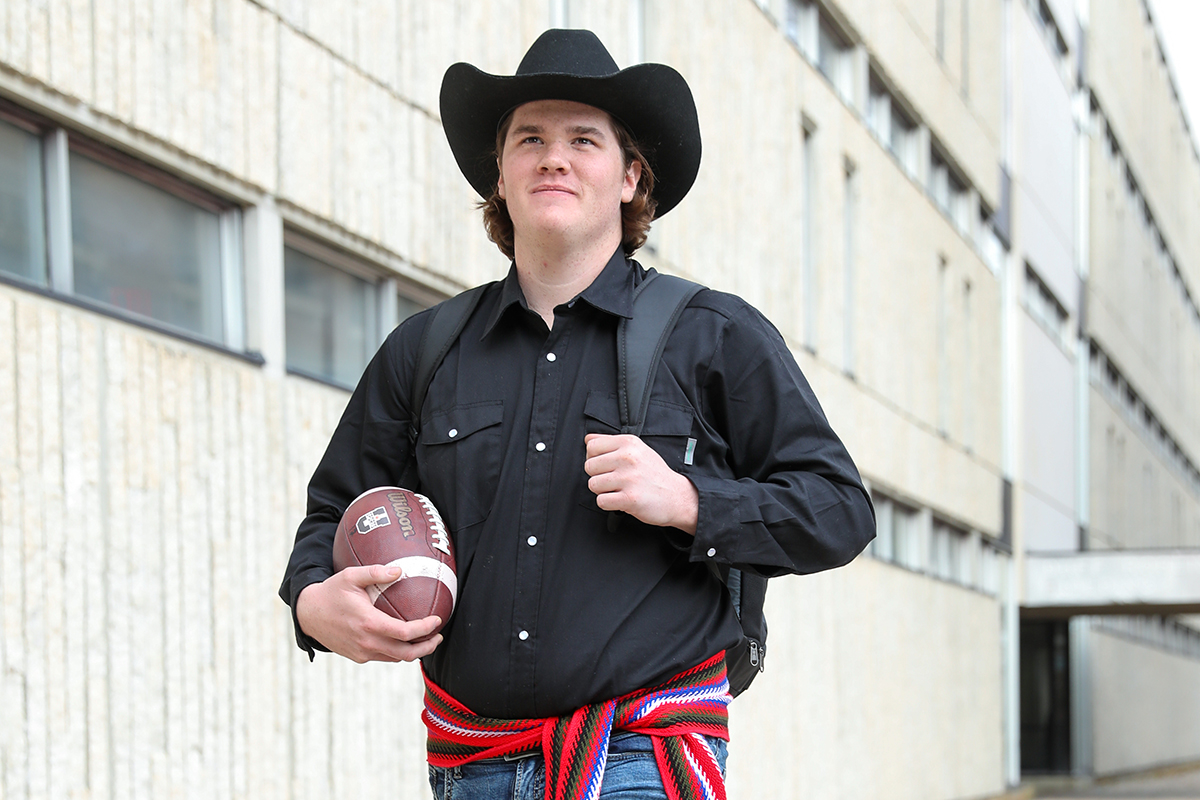 Scholarship helps make university dream a reality for a first-year student
Bisons football player Keenan Karish became the first UM student-athlete to receive a BMO Indigenous Leader of Tomorrow Scholarship
November 2, 2022 —
"Growing up, sometimes it felt as though post-secondary was not a realistic goal due to high living costs and university fees," says Karish who is Red River Métis. "With minimal support from family, it would have been extremely difficult to further my education."
Born and raised in the Interlake, he says his teachers at Gimli High School encouraged him to apply for the scholarship, which provides $16,000 over four years. Receiving the scholarship this year has already had a huge impact on how well he made the transition to city life.
"A cultural change from a rural to urban setting is already a lot to adjust to, and I don't know how I would have felt entering that environment and having to work as well as play football and attend classes," says Karish. "This award means so much to me [since] I have more time to focus on classes and football rather than finances."
Karish grew up on a family farm and is now studying in the Faculty of Agricultural and Food Sciences. He says his career choice was influenced by his childhood experiences, and he wants to someday give back to the small, rural communities in the Interlake by helping to grow a sustainable agricultural sector. He sees himself involved with animal care.
"From the bottom of my heart, I want to thank BMO for helping me achieve my dreams of pursuing a degree in animal sciences, and maybe one day becoming a veterinarian."
Every year, the University of Manitoba awards six Leader of Tomorrow Scholarships and three Indigenous Leader of Tomorrow Scholarships. Applicants must have at least a 90 per cent average in Grade 11, show community involvement and leadership qualities, and have excellent communication skills. BMO has been gifting these scholarships for 6 years.
"Education is a key driver in BMO's Purpose-driven commitment to grow the good for an inclusive society," says John MacAulay, Regional President, Prairies Central Region at BMO. "It's our privilege to partner with the University of Manitoba in supporting these young leaders whose contributions will enrich our society and help pave the way toward a collective brighter future."
Applications for the 2023 Leader of Tomorrow Scholarships are now open.
Whether you are supporting health as a human right, advancing reconciliation and promoting Indigenous achievement, climate change research, or transforming the learning experience, you are making the world a better place.
Read more in our Gratitude Report