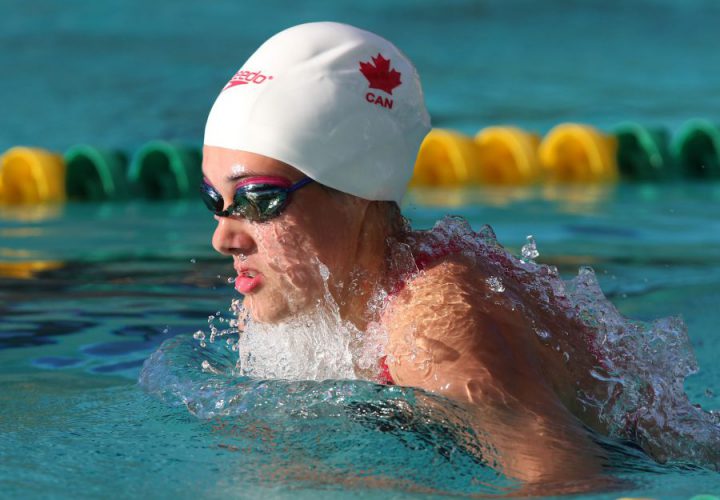 Bisons' Wog wins 200m breaststroke at Canadian Swim Trials, next stop Pan Pacific Championships
July 23, 2018 —
Bison swimmer Kelsey Wog pulled off of her most impressive performance to date topping the women's field in the 200-meter breaststroke at the 2018 Canadian Swimming Trials on Sunday. With the world rankings still to be updated, her winning time of 2:23.83 is unofficially the eleventh fastest in the world.
"This win is really great because I've been struggling with nerves and I finally had a breakthrough," says Wog.
Wog also won a silver medal in the 200-metre individual medley (IM), earning her a spot on the Canadian team that will travel to Tokyo, Japan, next month to compete in the Pan Pacific Championship, where Wog hopes to repeat her performance.
"I have a few things I can work on and change in the next two weeks but my goal for the Pan Pacs is to win."
After a performance setback in 2017, Wog took time to gather herself, reflect on lessons she carries and refocus. Her quiet maturity and acceptance to be a role model to the next generation of swimmers has helped Kelsey breakthrough and perform to a level unmatched by any Bison swimmer before her.
"We're very proud of Kelsey. She is the most successful Bison we've had in our program so far," says Vlastmil Cerny, Bison Swimming Head Coach. "Her performances put her well under Olympic standard and gaining valuable international experience next month will have her on the right path to the 2020 Games in Tokyo."
Wog is coming off an incredibly successful U SPORTS competition season having won 4 medals (3 gold and a silver) this past March. Her continued success at the trials this past weekend catapults her into the upper echelon at the world level, and strikes down any doubt about her capabilities.
"Kelsey's result in Edmonton comes from great team work and her hard work," says Cerny. "It's a sign that the training approach we take towards race specific training and continuous improvement is paying off."
Visit gobisons.ca for more swimming news.