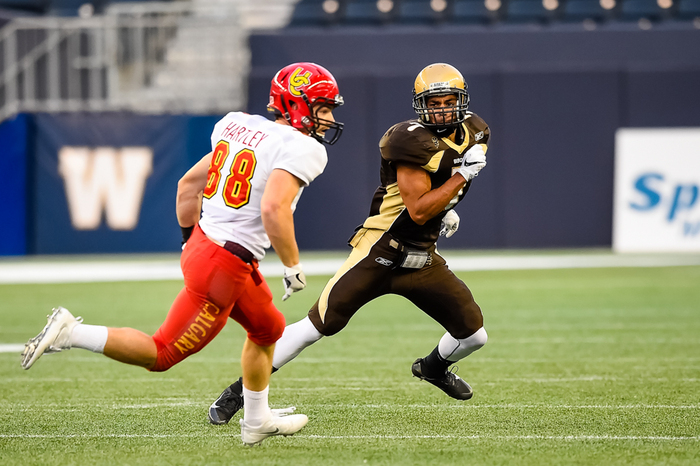 Bisons take on Dinos
Annual Homecoming game brings fun and festivities
September 13, 2017 —
The Manitoba Bisons football team takes on the Calgary Dinos at Investors Group Field this Saturday for the annual Homecoming game at 1 p.m.
In Homecoming games since they started back in 1999, the Bisons are 10-and-5 and have won all four played so far at Investors Group Field.
The Vanier Cup trophy will be at the game and the Bisons will celebrate the 10th anniversary of 2007 Vanier Cup Champions during 2017 Homecoming game weekend.
"I am so very proud to welcome back our 2007 National Championship Team," said head coach Brian Dobie. "It will be so special to watch them walk out onto the field at IGF at halftime this Saturday, carrying with them the Vanier Cup."
In addition to these festivities, there is a Bison Football fundraising breakfast on September 15 from 7:30 a.m.-9:30 a.m. in the Pinnacle Room at Investors Group Field. The breakfast will also recognize the 2007 champs and proceeds from the breakfast will support student athletic scholarships for Bison Football.
The Bisons will also unveil their new uniforms at the Homecoming game. The new football jerseys are NIKE and UMSU (University of Manitoba Students' Union). UMSU is a proud supporter of Bison Sports and helped the team return to the championship tradition using the same colour scheme (black and gold) as the 2007 Vanier Cup team. There is also a Canada West and UMSU patch on each shoulder.
Tickets for the annual Homecoming game are available through all Ticketmaster locations and also at Investors Group Field on game day. Fore more information, visit gobisons.ca.