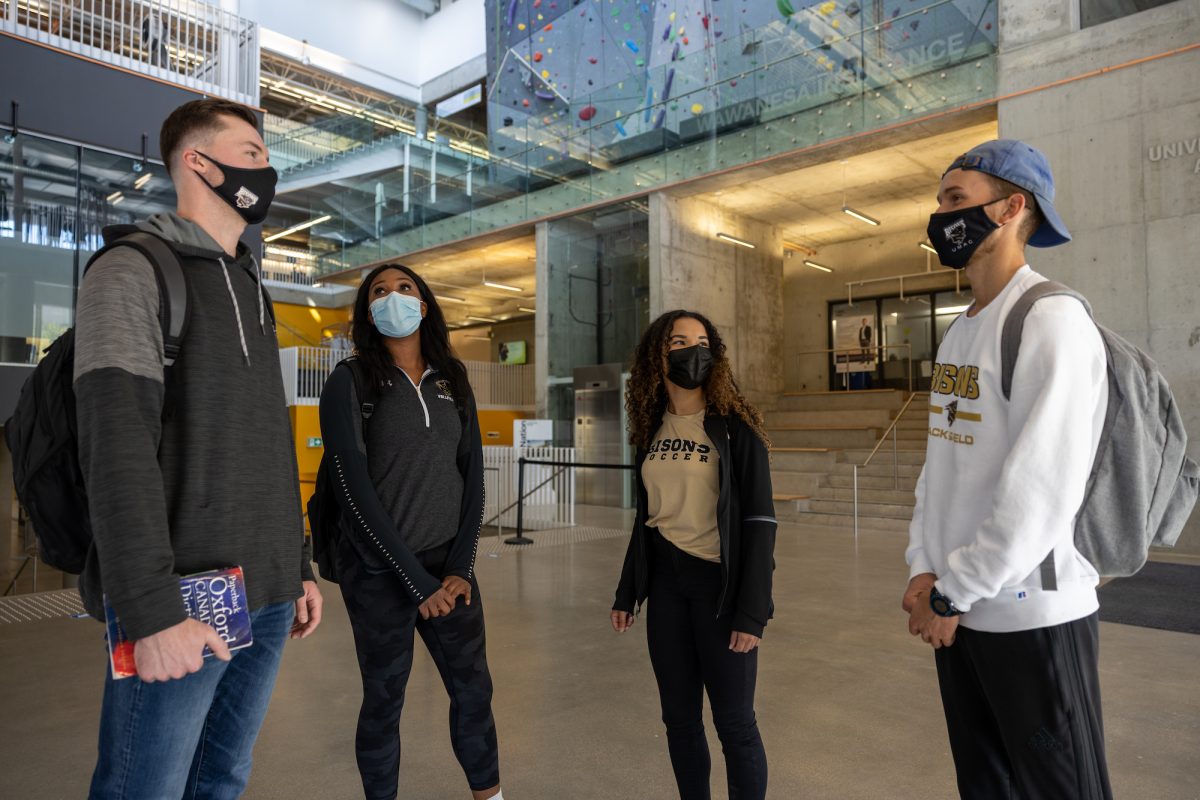 Bisons raise academic bar for fifth straight year
New record set as 188 student-athletes earn Academic All-Canadian recognition
October 22, 2021 —
At the completion of the 2020-21 season, 188 of the 360 University of Manitoba student-athletes qualified for U SPORTS Academic All-Canadian status.
This accomplishment of 188 Bisons student-athletes represents the most ever in one season and is the fifth straight season that a new record has been set. It's also the 11th straight season that 85 or more student-athletes have achieved this national recognition.
The status is earned by maintaining a minimum grade point average of 3.5 (80 per cent) or better in their field of study at the University of Manitoba.
Some major academic highlights include seven Bisons student-athletes to achieve this U SPORTS recognition in five varsity years: Keziah Brothers (women's basketball), Jenai Buchanan (women's hockey), Déric Kornelson (men's cross country / track and field), Sarah Millns (women's cross country / track and field), Megan Neduzak (women's hockey), Sheridan Oswald (women's hockey) and James Wagner (men's basketball).
In addition, eight Bisons student-athletes have achieved the recognition in four varsity years and 22 have achieved it in three successive varsity years.
"This is a remarkable achievement," said Gene Muller, Director of Athletics and Recreation. "The last two years have not been short of adversity and challenges. The record number of Academic All-Canadians is testimony to the application, determination and potential of our student-athletes. They recognized the opportunity and worked so hard to excel academically — we are so proud of them."
Other highlights include 92 Bisons student-athletes who had a 4.0 or higher mark (an A – 90%), making up 48.9 per cent of the total. Female and male athletes split the 188 student-athletes equally, with 94 men and 94 women qualifying for the honour.
2020-21 University of Manitoba Bisons – U SPORTS Academic All-Canadians
Women's Basketball
Autumn Agar, Faculty of Science
Lauren Bartlett, Asper School of Business
Deidre Bartlett, Asper School of Business
Keziah Brothers, Faculty of Arts
Dana Inglis, Faculty of Science
Emily Johnson, Asper School of Business
Lauryn Manaigre, Faculty of Kinesiology and Recreation Management
Izabella Marquez, Price Faculty of Engineering
Emerson Martin, Faculty of Kinesiology and Recreation Management
Talia Peters, Faculty of Kinesiology and Recreation Management
Men's Basketball
Samuel Jensen, Faculty of Kinesiology and Recreation Management
Elijah Lostracco, Faculty of Arts
Isaac Miller-Jose, Faculty of Arts
Cameron O'Hara, Faculty of Science
Cieran O'Hara, Faculty of Science
Mark Tachie, Price Faculty of Engineering
James Wagner, Faculty of Science
Risto Zimbakov, Faculty of Science
Football
Cole Adamson, Price Faculty of Engineering
Jarrett Alcaraz, Price Faculty of Engineering
Marcus Colangelo, University 1
Stefan Conway, Faculty of Arts
Tristan Francis, Faculty of Arts
Liam Grace, Faculty of Kinesiology and Recreation Management
Tristen Hutter, Faculty of Science
Steven Koniuck, University 1
Collin Kornelson, Faculty of Arts
Colby Kyliuk, Faculty of Kinesiology and Recreation Management
Kai Madsen, Asper School of Business
Noah Paulic, University 1
Christian Phillips, Faculty of Science
Mark Rauhaus, Faculty of Science
Jack Shaffer, University 1
Kundanji Sinkala, Faculty of Arts
Brandon Slobozian, Faculty of Kinesiology and Recreation Management
Bojan Stevanovic, Faculty of Science
Jackson Tachinski, University 1* (also on men's basketball team)
Nick Thomas, Faculty of Arts
Birhanu Yitna, Asper School of Business
Ndaba Zulu, Faculty of Kinesiology and Recreation Management
Men's Golf
Derek Benson, Faculty of Kinesiology and Recreation Management
Anthony Leicht, Faculty of Science
Cole Peters, Faculty of Arts
Connor Stewart, Faculty of Science
Women's Golf
Dayna Dubnicoff, Faculty of Kinesiology and Recreation Management
Mckyla Poponick, Faculty of Arts
Bryn Todd, Asper School of Business
Women's Hockey
Jena Barscello, Faculty of Science
Jenai Buchanan, Faculty of Agricultural and Food Sciences
Kaitlyn Chatyrbok, Faculty of Kinesiology and Recreation Management
Madison Cole, Faculty of Arts
Brielle-Dacquay-Neveux, Faculty of Kinesiology and Recreation Management
Sarah Dennehy, Asper School of Business
Camryn Gillis, Faculty of Kinesiology and Recreation Management
Polina Goncharova, Faculty of Arts
Molly Kunnas, Faculty of Science
Émilie Massé, Faculty of Architecture
Megan Neduzak, Faculty of Arts
Sheridan Oswald, Rady Faculty of Health Sciences, Max Rady College of Medicine
Aimee Patrick, University 1
Meagan Relf, Faculty of Science
Samantha Sichkaruk, Faculty of Science
Lauren Warkentin, Faculty of Kinesiology and Recreation Management
Men's Hockey
Noah Basarab, University 1
Carter Doerksen, Asper School of Business
Mitchell Dyck, Faculty of Kinesiology and Recreation Management
Keaton Jameson, Asper School of Business
Geordie Keane, Faculty of Science
Nicholas Labossiere, Faculty of Kinesiology and Recreation Management
Jeremy Link, Faculty of Kinesiology and Recreation Management
Hayden Ostir, University 1
Brady Pouteau, University 1
Liam Schioler, University 1
Samuel Stewart, University 1
Dylan Thiessen, Faculty of Science
Women's Soccer
Karina Bagi, Faculty of Arts
Britney Blunderfield, Faculty of Kinesiology and Recreation Management
Bianca Bucci, University 1
Haydn Burdeny, Faculty of Kinesiology and Recreation Management
Mackie Burdeny, Clayton H. Riddell Faculty of Environment, Earth, and Resources
Emma Burzynski, Faculty of Arts
Dalima Chhibber, Faculty of Graduate Studies
Jordan Cistarelli, Faculty of Science
Gabrielle Clark, Faculty of Science
Jaeleen Cox, University 1
Nicole Davis, Price Faculty of Engineering
Brea DeBettignies, Faculty of Science
Shaylyn Dyck, Faculty of Kinesiology and Recreation Management
Katelyn Isfeld, University 1
Jenna Kunkel, University 1
Hailey Lavarias, Faculty of Kinesiology and Recreation Management
Lauren Martens, Faculty of Kinesiology and Recreation Management
Katherine Meo, Faculty of Kinesiology and Recreation Management
Jessica Tsai, Faculty of Science
Rebecca Waterman, Faculty of Kinesiology and Recreation Management
Women's Swimming
Jamie Alexiuk, Faculty of Kinesiology and Recreation Management
Kara Dziadek, Asper School of Business
Sydney Glover, Faculty of Science
Dora Modrcin, Price Faculty of Engineering
Megan Mozill, Faculty of Arts
Georgia Pengilly, Faculty of Arts
Taylor Smith, University 1
Men's Swimming
Daniel Boguski, Faculty of Science
Reid Glatz, Asper School of Business
Liam Rohatynsky, Faculty of Science
Women's Cross Country / Track and Field
Keara Andrew, Rady Faculty of Health Sciences
Amina Ayoade, University 1
Abby Bestland, Faculty of Science
Jordan Charney, Faculty of Agriculture and Food Sciences
Kaitlyn Clarke, Faculty of Arts
Courtney Friesen, Faculty of Kinesiology and Recreation Management
Shayna Giesbrecht, Faculty of Science
Darby Goodall, Faculty of Science
Donnae Gordon, Faculty of Science
Divyjot Grewal, Faculty of Arts
Asha Gurney, University 1
Amy Klippenstein, Asper School of Business
Angela Kroeker, Faculty of Kinesiology and Recreation Management
Madisson Lawrence, Faculty of Kinesiology and Recreation Management
Rachel Mann, University 1
Anna McConnell, Faculty of Kinesiology and Recreation Management
Sarah Millns, Faculty of Kinesiology and Recreation Management
Emily Morrison, Faculty of Kinesiology and Recreation Management
Chioma Nwagbo, College of Nursing
Nicola Odaisky, Faculty of Science
Eniola Odeleye, Faculty of Science
Danika Passler-Bates, Faculty of Science
Dinu Rajapakse, Rady Faculty of Health Sciences
Aspen Shier, Asper School of Business
Sarah Smith, Faculty of Science
Lily Staib, Faculty of Kinesiology and Recreation Management
Hayley Turner, Faculty of Science
Emily Watson, Faculty of Kinesiology and Recreation Management
Men's Cross Country / Track and Field
Tristan Allen, Clayton H. Riddell Faculty of Environment, Earth, and Resources
Justin Benjamin, Faculty of Science
Ethan Boyda, Faculty of Arts
Carson Cortvriendt, Faculty of Science
Quinn Desrochers, Faculty of Engineering
Luc Duleau, Asper School of Business
Derick Deleon, Faculty of Kinesiology and Recreation Management
Maxwell Dragojevic, Faculty of Science
Matthew Exner, Faculty of Science
Scott Friesen, University 1
Colin Harbeck, University 1
Noah Hoffman, Faculty of Kinesiology and Recreation Management
Quenton Hurdal, Clayton H. Riddell Faculty of Environment, Earth, and Resources
Josh Joseph, Faculty of Engineering
Tristan Karuba, Rady Faculty of Health Sciences
Déric Kornelson, Faculty of Science
Dawson Mann, Asper School of Business
Miguel Morrison, Faculty of Science
Derek Onraet, Faculty of Kinesiology and Recreation Management
Robert Plischke-Graham, Faculty of Kinesiology and Recreation Management
Sébastian Régnier, Faculty of Science
Calvin Reimer, Faculty of Kinesiology and Recreation Management
Jesse Rosenthal, Asper School of Business
Jordan Soufi, University 1
Tallon Sparks, Asper School of Business
Jack Taylor, Faculty of Kinesiology and Recreation Management
Thane Tomlinson, Faculty of Science
Ryan Tran, Price Faculty of Engineering
Isaac Turon, Asper School of Business
Noah Wiens, Price Faculty of Engineering
Michael Wood, Faculty of Science
Graham Wright, Faculty of Kinesiology and Recreation Management
Women's Volleyball
Julia Arnold, University 1
Simone Crevier, Asper School of Business
Chloe Ellerbrock, University 1
Keziah Hoeppner, Asper School of Business
Julia Horne, University 1
Angela Lawrence, Asper School of Business
Olivia Schuster, Faculty of Arts
Light Uchechukwu, Faculty of Arts
Soleena Vasquez, Faculty of Arts
Men's Volleyball
Joshua Bond, Price Faculty of Engineering
Matthew Campbell, Faculty of Arts
Ben Carleton, Faculty of Kinesiology and Recreation Management
Isaak Fast, Faculty of Science
Ted Glass, Asper School of Business
Darian Koskie, Faculty of Arts
Mathieu Lavoie, Price Faculty of Engineering
Kyle Martens, Faculty of Education
Connor Morphy, University 1
Eric Ogaranko, University 1
Amirali Paknahad, Faculty of Arts
Owen Schwartz, Faculty of Kinesiology and Recreation Management
Brendan Warren, Faculty of Kinesiology and Recreation Management