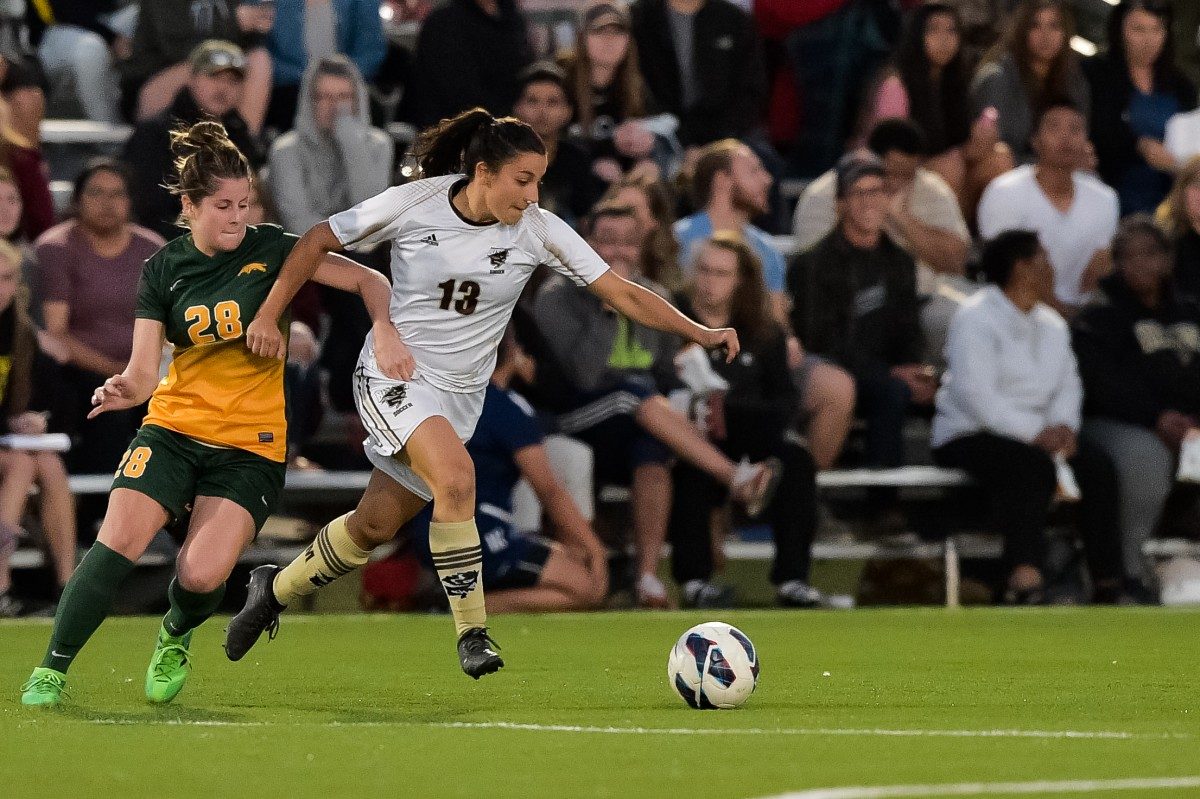 Bisons quest for first national title
U Sports women's soccer championship runs Nov. 9-12
November 7, 2017 —
The Bison women's soccer team makes history this week as the program competes in its first U SPORTS national championship, in what marks the 13th year since the program began at the University of Manitoba.
The Bisons will take on the number two ranked Trinity Western Spartans on Thursday, Nov. 9 at 6:00 p.m.
The Trinity Western Spartans are also the Canada West champions.
It will be the only guaranteed match up for the Bisons as the first round is a win-or-go-home scenario. A call to all Bison fans to come and cheer on their herd is going out throughout the week to attend Thursday's match. Be there!
This is the first time in the 30-year history of inter-university women's soccer competition that the championship has made its way to the Prairie provinces.
Good news came late last week when tournament organizers learned that U SPORTS had granted the event to be moved indoors to the Subway Soccer South Indoor Soccer Complex (211 Chancellor Matheson Road at the U of M campus).
Tickets for the four-day event are now on sale at usports.ca. Adult tickets are only $10 for a single game and $35 for the weekend with fans 17U and U of M students getting in for free.
For full details, visit gobisons.ca.
Tournament Schedule:
DAY 1– Thursday, Nov. 9
10:00 a.m. Quarter-Final 1: Laval vs. Western
12:30 p.m. Quarter-Final 2: Cape Breton vs. Victoria
3:00 p.m. Quarter-Final 3: Guelph vs. Montreal
6:00 p.m. Quarter-Final 4 Bisons vs. Trinity Western (Opening Ceremonies)
DAY 2– Friday, Nov. 10
1:00 p.m. Consolation Semi-Final 1 – Loser QF1 vs. Loser QF2
4:00 p.m. Consolation Semi-Final 2 – Loser QF3 vs. Loser QF4
DAY 3– Saturday, Nov. 11
1:00 p.m. Championship Semi-Final 1– Winner QF1 vs. Winner QF2
4:00 p.m. Championship Semi-Final 2 – Winner QF3 vs. Winner QF4
DAY 4– Sunday, Nov. 12
10:00 a.m. Consolation Final
12:30 p.m. Bronze Medal match
3:00 p.m. Gold Medal Match
5:00 p.m. Awards Ceremony