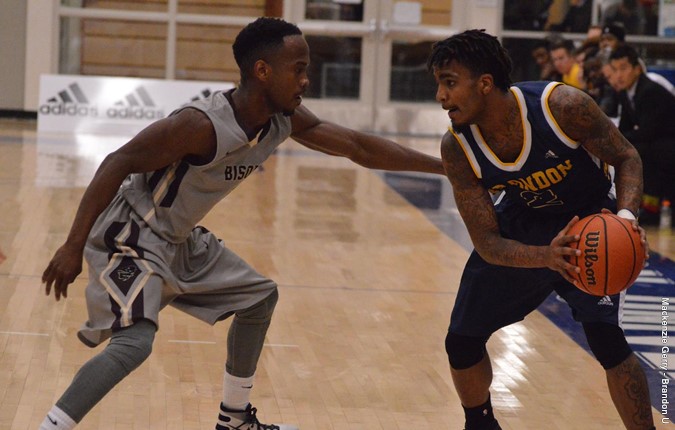 Bisons first-half report
Herd on holiday break until January 2016
December 22, 2015 —
Men's Basketball
In this conference men's basketball season, the Bisons are second in scoring offence at 87.9 points per game and 12th in scoring defence at 77.6 points per game.
Five Bison players are averaging at least ten points per game (AJ Basi – 19.34; Justus Alleyn – 15.0; Keith Omoerah – 12.1; Wyatt Anders – 10.9; Ilarion Bonhomme – 10.6).
The Bison men takes their 6-2 record into the 49th annual Wesmen Classic at the University of Winnipeg December 28-30.
Women's Basketball
The Bison women's basketball team finished with an 0-8 record for the first half of the 2015-16 season and look to bounce back in January.
Men's Hockey
The Bison men's hockey team are 7-and-9 at the end of the first half of the 2015-16 season.
One of the highlights was Jordan DePape being named to the CIS men's hockey roster announced for their series against the national junior team prospects.
The two-game set will take place in Toronto on Saturday, December 12 at 6:30pm Central time and Sunday, December 13 at 1:00pm Central time as part of the National Junior Team's preparation for the 40th IIHF World Junior Championship in Finland (Dec. 26-Jan. 5).
Women's hockey
The Bison women's hockey team finished the first half of the season with a 9-and-7 record.
The puck will drop again for the Bison women after the winter break, in Edmonton against the Alberta Pandas, on January 8.
Men's volleyball
The Bison men's volleyball team was on fire the first half of the season with a 10-and-2 record.
The men resume play in January.
Women's volleyball
The Bison women's volleyball squad finished the first half of their season with a 2-and-10 record.
Their next game is at home against UBC on January 8 at 7:30pm.
Swimming
In the first half of the Bison swimming season, Kimberly Moors came in third in Women's 50M freestyle and butterfly. Anthony Iluiouchetchev was seventh in men's 50M backstroke and 11th in 100M backstroke.
In late November, Moores came in first in 50M butterfly and second in 50M freestyle. Dillon Perron came in second in men's 100 & 200M breaststroke and 3rd in 50M butterfly.
Cross Country
In the CIS cross country championship, Bison Rebekah Sass earned 28th spot while Abduselam Yussuf was the top male Bison in the 27th spot.