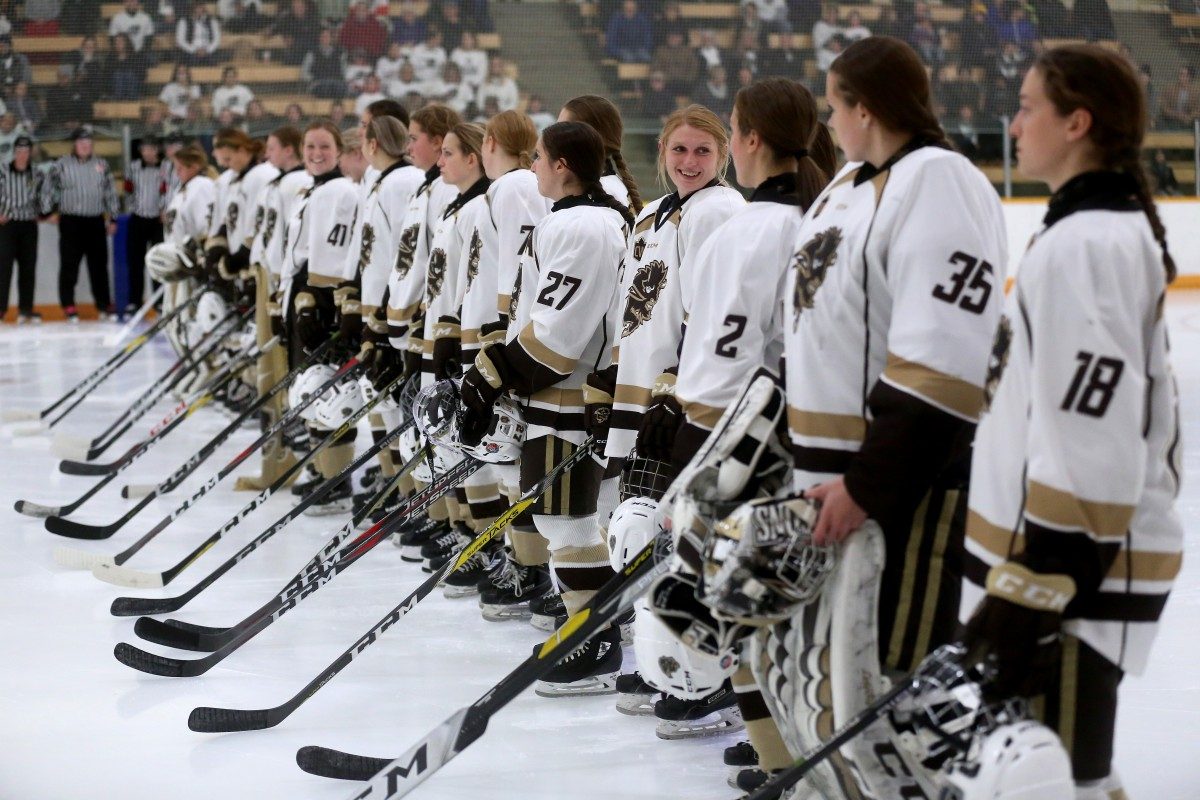 Bisons blast into the post-season
Women's hockey look for repeat title, women's volleyball on the road
February 19, 2019 —
The nationally third-ranked University of Manitoba Bison women's hockey team will officially being their quest for a second national title in as many years when they take on the UBC Thunderbirds in the Canada West semi-finals this upcoming weekend.
The best-of-three series will play out Friday and Saturday, Feb. 22 and 23 at 7 p.m. (and Sunday, Feb. 24, if necessary) on home ice at the Wayne Fleming Arena. Tickets will be available at the door for $12. U of M students and fans under 17 are free.
The veteran Bisons are coming through to the playoffs after being granted a bye in the first round due to their 20-8 regular-season winning record (.714). Between October and February, the herd floated around the top of the rankings only falling out of the top three for one short week.
Time to Make Some Noise
If there were ever a match up that the Bison squad could use a push from their home crowd, it would be this one. Squaring up evenly during the regular season with a head-to-head tally of 2-2, UBC's visit to the U of M campus earlier this month ended in a 3-2 overtime win by the Bisons followed by a 2-1 shoot out loss.
The Bisons are now ready and prepared to go the distance again but a little help from a full house of brown and gold at the Wayne Fleming Arena will be sure to give them an inspired boost.
U of M Faculty and Staff Buy One, Get One
All U of M faculty and staff will have access to special two-for-one pricing for the weekend. Tickets will be available at the Active Living Centre in advance or on game days an hour before game time. Simply show your U of M staff ID at the time of purchase to receive this special offer.
Women's Volleyball head to Calgary
The Bison women's volleyball team have shown positive signs in their play at a crucial point in their journey to the playoffs. Taking on the fifth-ranked Trinity Western Spartans last weekend, they managed to fight back and take a 3-2 win in the first match of the double-header coming back from a slow 0-2 start.
That performance led Bisons to a 13-10 season finish, setting them up for a Canada West quarter-final against the third-ranked University of Calgary Dinos. The herd head West for the best-of-three series that gets underway Friday, February 22.
U SPORTS Track & Field Championships
The University of Manitoba Bisons will to host the 2019 U Sports Track and Field Championships, March 7-9 at the James Daly Fieldhouse.
Buy championship tickets today.
For all Bison news and ticket information, visit gobisons.ca.