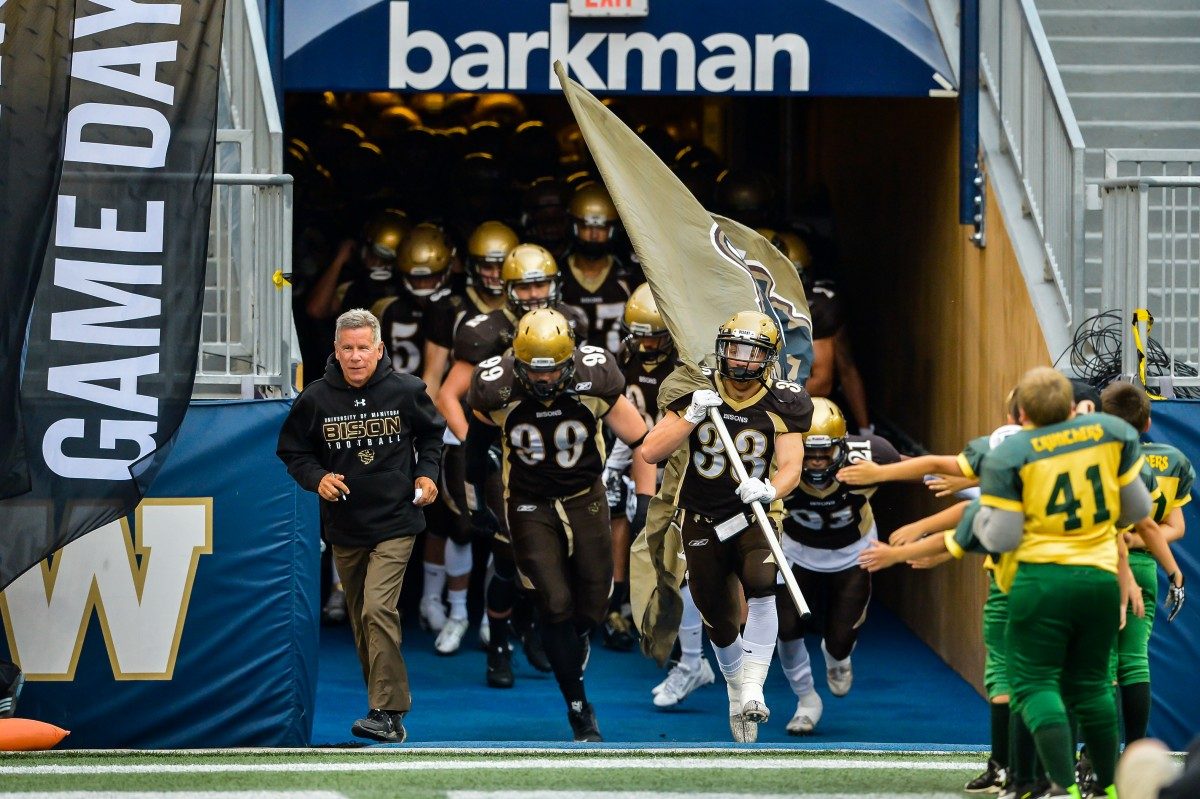 Bisons battle the Bears and students have a chance to win big
Finish your work day, finish your classes and get to the game Friday afternoon
September 26, 2017 —
If you haven't been to a Bison football game yet this season, mark your calendar for Friday afternoon. When the Alberta Golden Bears hit the grid iron against our Bison herd, it will be the first time ever a football game has been played at U of M on a weekday afternoon. Game time is 4:30 p.m. at Investors Group Field.
It's all about convenience. Students don't have to go home before coming back to cheer on brown and gold; they can grab a burger at The Hub then head straight to the stadium for kick-off. For staff it's as easy as shutting down computers for the weekend, making their way across the street and spending time with colleagues alike to wind down before the weekend. The timing is perfect.
Not only are the Bisons on a high after an exciting 18-16 win over the #6 Regina Rams last weekend but with the win it gave coach Brian Dobie his 100th win at the helm of his alma mater's team.
"That win for me represents what I love about coaching," says Dobie. "I can't tell you how proud I am of this team and how they responded last weekend on the road, after the loss to Calgary [on September 16]. Coming back from defeat is character building. This team you're coming to see on Friday is exactly what you want your team to be. Fierce. Disciplined. Exciting."
Tickets for Friday's game are $15 at ticketmaster.ca while U of M students, high school students and kids 12U get in for free.
Big bonus for students
Another perk for students this week is the chance to enter a draw to win $1,000 from The Student Life Network. The draw will be held after halftime at the game on Friday and one lucky student will walk away a little richer – not a bad way to kick off the weekend. Visit gobisons.ca for full contest details.