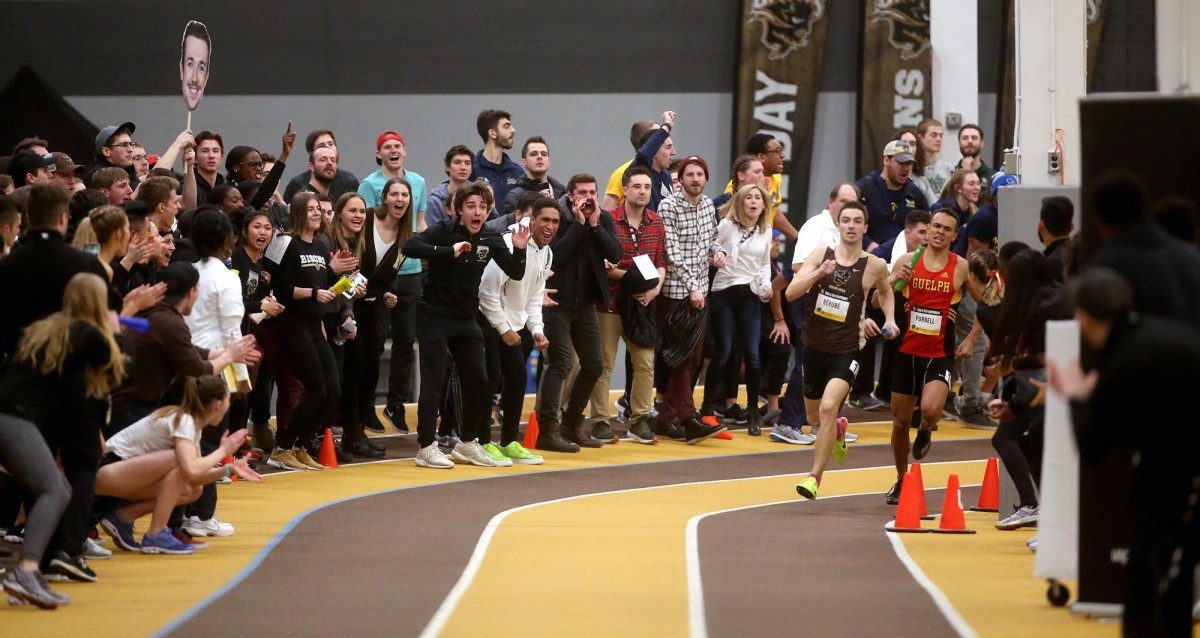 Bison track and field boasts first national podium finish in more than 20 years
Kelsey Wog sets record, captures four golds at U SPORTS Championships
March 11, 2019 —
It was a memorable weekend for the University of Manitoba track and field teams. Competing in the 2019 U SPORTS Track and Field Championships on their home surface at the James Daly Fieldhouse, both Bison men's and women's squads improved on last year's finishes with the help of the home crowd. The Bisons were represented by 29 athletes finding the podium in six events with the women's team recording a ninth place finish and the men's capturing a national bronze medal.
"I did a bit of research and that's the first time our men's team has been on the podium since 1996," head coach Claude Berube said after the meet. "It was the perfect storm this year and super exciting. Our women were also top ten which is great. On a scale from one to 10, this was an 11."
By the end of day two, Bison athletes had collected two gold and two silver medals across three events. In men's high jump, gold and silver were taken by Faculty of Arts student-athletes, Alhaji Mansaray and Oyinko Akinola respectively. Mansaray, the provincial record-holder jumped 2.15 metres to earn the gold medal.
In women's pole vault, second- year Faculty of Kinesiology and Recreation Management student-athlete, Emily Blackner took the silver after clearing 3. 95 metres, both a personal and school best.
"It feels incredible," Blackner said. "To get another PB and break the school record feels awesome. I'm just going to back into training after this, work hard and progress."
Friday evening's highlight came on the feet of the top-ranked 4×800 metre men's relay team. After an incredible come-from-behind anchor performance from fourth-year Arts student, Simon Berubé the team of Jack Taylor, Connor Boyd, Matthew Van Schepdael, and Berubé finished with a time of 7:37.29 and gave the fieldhouse an uproarious moment.
On the third and final day of the meet, the Bisons secured two more medals. Third-year Kinesiology and Recreation Management student, Miguel Morrison finished second in the men's 600-metre, posting a 1:19.64 and nearly chasing down his competition in the final stretch of the three-lap race. A silver medal went to the Manitoba women's 4×200-metre relay team, who won bronze with a time of 1:38.89. The team consisted of Tegan Turner, Tayo Babalola, Erin White, and Brianna Tynes.
For full results visit the U SPORTS Championship site.
---
Kelsey Wog sets record, captures four golds at U Sports Championships
As reported by Bison Sports – On the final day of the 2019 U SPORTS Odlum Brown Swimming Championships, Bison third-year swimmer Kelsey Wog finished with a splash.
The 20-year-old Agricultural and Food Sciences student won the 200-metre breaststroke and set a new U SPORTS record in the process (2:25.50). It was the Winnipeg native's fourth gold medal of the meet, her best performance yet as a Bison student-athlete.
RECORD ALERT! Kelsey Wog breaks @USPORTSca record, winning gold in the 200m breaststroke in 2:25.50

Women's 200 Breaststroke / 200m brasse féminin
🥇Kelsey Wog (@umbisons) 2:21.84
🥈Renae Ledoux (@BearsandPandas)
🥉Jasmine Raines (@WLUAthletics)#ChampSZN pic.twitter.com/oxxddcrMHM

— U SPORTS Swimming (@USportsSwimming) February 24, 2019
Adding to the tally, Wog swept her other individual breaststroke events — winning the 50-metre on Thursday (31.80) and the 100-metre on Friday (1:06.84). She also placed first in the 200-metre individual medley (2:13.98).
The four gold medals are a new best for Wog, earning her U SPORTS First Team All-Canadian recognition. It's a mark that improves on a three gold (50m, 100m, 200m breaststroke) and one silver (200m IM) performance at the 2018 U SPORTS Championships and is the best performance to date by a Bison swimmer.
Check out the full series of Bison success stories from the 2018-19 season.